2023 Audi E-Tron and 2023 Audi Q8, which one do you choose? It is a hard question, isn't it? Both of these SUVs are luxury with stylish models. In this case, you should know the similarities and differences between Audi E-Tron and Audi Q8. Here, we have the specification of these vehicles so you can battle between Audi E-Tron vs the Audi Q8 and pick the best one for you. 
Design Comparison Between 2023 Audi e-Tron & 2023 Audi Q8 
Audi offers up to nine different metallic colors for Audi E-Tron, including Galaxy blue metallic, Navarra blue metallic, Manhattan gray metallic, Florett silver metallic, and Typhoon gray metallic. The taillights are eye-catching when seeing them at a glance. It is because Audi uses sleeker horizontal and 3D aesthetic elements. It makes the exterior design more attractive. 
The manufacturer also wants to minimize resistance and maximize range. That's why Audi uses an aerodynamic design, along with a low-drag coefficient. Specific characteristics, such as the 5-double-V-spoke black wheel and orange brake calipers make the Audi E-Tron easy to see among other SUVs. 
At a glance, the Audi Q8 and E-Tron are similar. Audi also produces the Q8 as a luxury SUV for up to 5 passengers. Audi offers more colors for the Q8, up to 10 different hues, including Dragon orange metallic, Vicuna beige metallic, and Samurai gray metallic. 
This manufacturer keeps the metallic color model to strengthen the luxury sense. This vehicle also uses a 5-V-spoke black wheel and colorful brake calipers. The E-Tron uses yellow brake calipers, whereas the Q8 uses red brake calipers. 
Exterior Comparison Between 2023 Audi e-Tron & Audi Q8 
The high-gloss exterior elements strengthen the luxury and sporty senses of this car. An S-line exterior and digital matrix design LED headlights make the exterior perfect.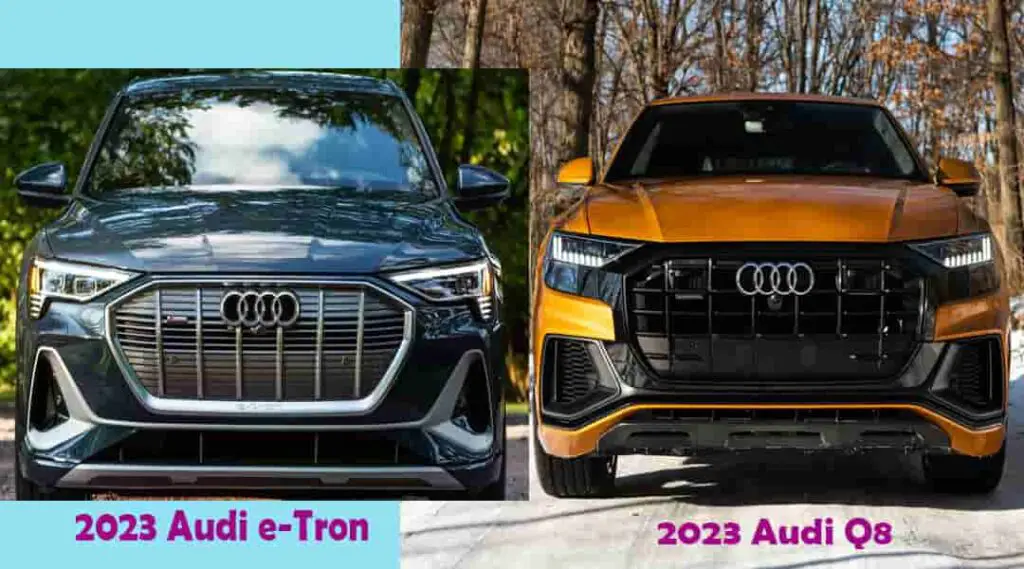 Just like the E-Tron, the Audi Q8 exterior looks luxurious and sporty because of the metallic style. The HD Matrix LED headlights also strengthen the stylish sense of this car. Indeed, this simple touch makes the exterior of the Q8 more eye-catching. You can easily notice this vehicle in the parking area. 
Interior for 2023 Audi e-Tron & Audi Q8
Audi designs the E-Tron for up to five passengers. The dashboard may steal your attention since you are about to see high-resolution screens. It includes Virtual Cockpit by Audi. You can also feel the luxury sensation inside the car. One of them is on the seats. The front seats are wrapped in Valcona leather. Best of all, it has a heated massage function and ventilation to prevent back pain or other health issues after driving all day long.   
Audi uses the same Valcona leather for both the E-Tron and Q8. The manufacturer even adds a massage function on the front seat of the Q8. The dashboard is also aesthetic enough with its leather material.  
Interesting Things about 2023 Audi e-Tron & Audi Q8 
One of the most interesting things about the 2023 Audi E-Tron is the system. You are about to drive a fully-electric SUV. Audi even adds a sophisticated charging system to make the process faster. Imagine that the car can charge its battery up to 80 percent in only 30 minutes. 
You need to wait for up to 9 hours for a fully-recharged battery for up to 218 to 222 miles. Despite the use of an electric system, this car can produce up to 355 horsepower and 414 pound-feet of torque.  
Audi gives a lot of additional options in this car. The option varies depending on the package you choose. For instance, the Q8 Premium package includes adaptive cruise control with lane-keep assist. The Premium Plus allows you to add dual-pane glass. You can also choose more metallic colors to be applied in the car. 
Engine about 2023 Audi e-Tron & Audi Q8
Unlike the E-Tron which is designed as an electric vehicle, the Q8 is powered by a turbocharged 3.0-liter V-6 engine. Audi supports this engine with an eight-speed automatic transmission and Quattro all-wheel drive. Best of all, the Q8 also has a hybrid system. It is an alternative power when there is something wrong with the main engine. 
2023 Audi E-Tron vs 2023 Audi Q8, Which One to Choose?
It is a little bit hard to choose the best one because Audi E-Tron and Audi Q8 have so many similarities. Therefore, you can choose the 2023 Audi E-Tron as a more environmentally-friendly option. The electric system in the E-Tron is good enough. You don't need to worry about getting late because of the charging process. Audi supports it with a fast-charging feature to keep the car ready to go anytime and anywhere. 
Interestingly, you still get the same power from this electric SUV. Both of the vehicles produce up to 335 horsepower. E-Tron even comes with up to 10 packages, including Premium, Sportback Premium, Premium Plus, Sportback Premium Plus, and Prestige. 
It is a great start for those who want to change direction from engine-powered vehicles to hybrid vehicles. The Sportback Premium version is more expensive than the Q8 but it is worth it with the features and performance you get.