Canoo Pickup Truck EV coming to the market with clean energy in 2023. Vehicles powered by electric motors are not subject to the same design constraints as those powered by internal combustion engines. The Ford F-150 Lightning, for example, goes its own way when it enters the electric vehicle market.
The Canoo Pickup Truck is one of those trucks that follow its own path. A concept car, the Canoo Pickup is well on its way to becoming an electric truck. With a design vaguely reminiscent of the forward control pickups of the 1960s, the Canoo Pickup maximizes cabin space, functionality, and cargo hauling capabilities.
An electric van and cargo vehicle will also be offered by the California-based company that developed the Canoo Pickup. 2023 will be the expected arrival date if all goes smoothly.
Importance of Canoo Pickup Truck EV
A compact gas powered pickup cannot offer the kind of pickup bed the Canoo Pickup provides without adding a heavy engine up front.  Due to its size and maneuverability, the Canoo fits in urban areas where today's full size pickup trucks cannot fit.
Canoo's truck will demonstrate that small automakers can compete toe to toe with the world's top automakers if they can successfully bring the truck to market. A company like Tesla was the last to do this.
Uniqueness of Canoo Pickup Truck EV
It is a two seat truck that's shorter at 184 inches than a mid-size pickup, but has a cab-forward design that allows it to accommodate a 6 foot bed with a novel extension that can extend it out to 8 feet, making it a two seat vehicle. We know so far that it will have either RWD or AWD, a range estimate of more than 200 miles, and a payload capacity of over 1,800 pounds. It includes a variety of storage spaces as well as flip-down bed sides that can be turned into work surfaces when needed. Recently, the startup's co-founder and CEO was replaced, and a revised business plan now shows that production will take place at a new plant in Oklahoma that is scheduled to open in the near future.
Exterior & Interior Design of Canoo Pickup Truck EV
Exterior Design of Canoo Pickup Truck EV
Canoo Pickup's new electrical design resembles those of early Forward Controls but features a safer seating arrangement behind its front axle. Unlike most trucks with horizontal hoods, the truck's windshield curves from its vertical front end to its roof.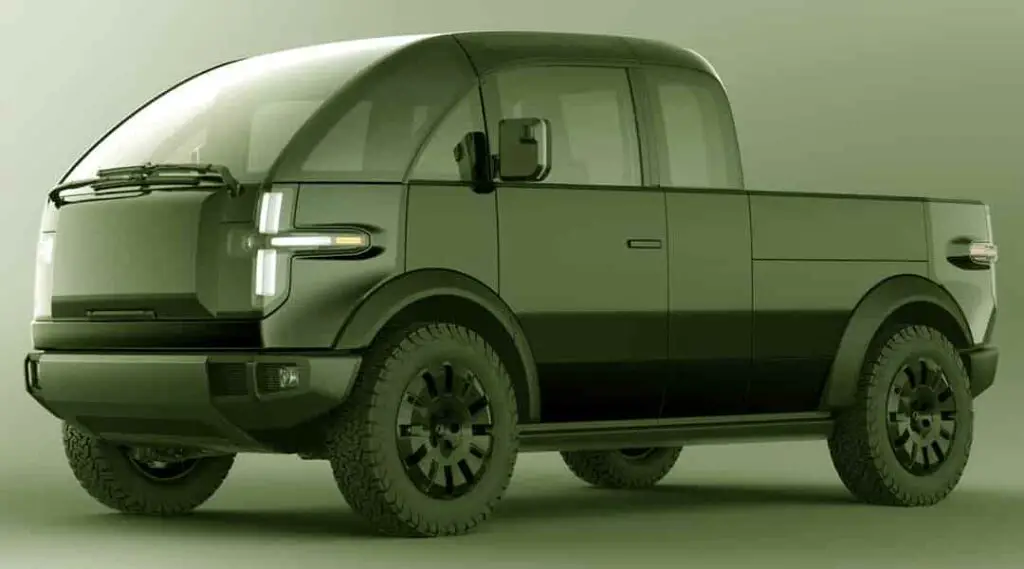 As is the case with many electric cars, the Canoo has a wide wheel base that puts its wheels far from the corners. A design with a unibody construction ensures that there is no gap between the extension cab and the 6 foot bed of the truck. There will be only one color available, as custom wraps will be created when it comes to other colors.
Cargo Space of Canoo Pickup Truck EV
Canoo electric pickup trucks excel at cargo carrying versatility. A fully stretched 6-foot bed is possible with its unique cab-forward design, which makes it possible to stretch it to 8 feet. Extensions are stored underneath the bed and are simply slid into place.
Instead of a fold-down tailgate, the truck has split swing-open doors. The sides of the bed can be folded down, creating flat workspaces and allowing easy access to the bed. You will find plenty of cargo aircraft-style tie-downs on the bed's floor.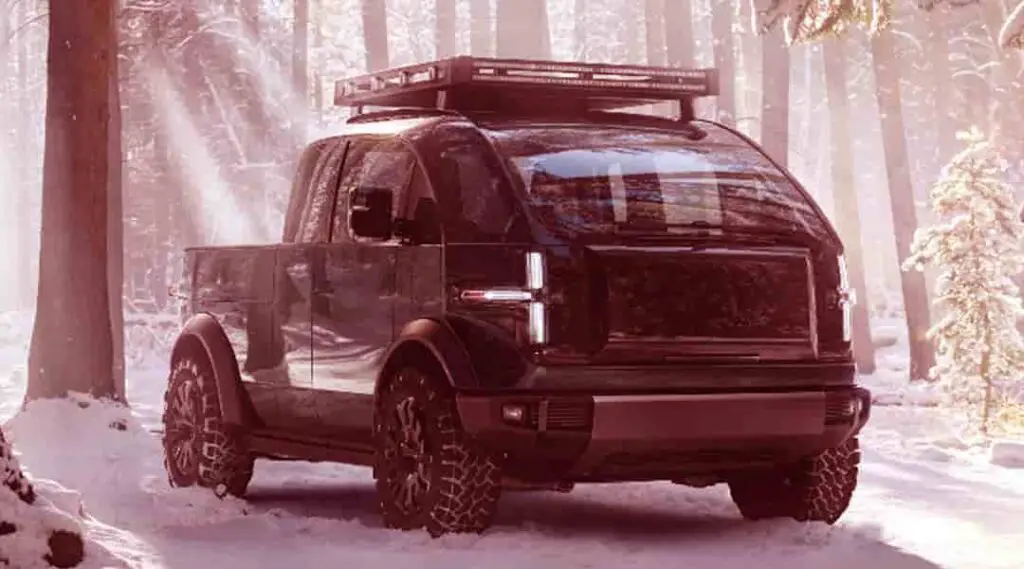 The sliding drawers ahead of the rear wheels serve as storage compartments and side steps when opened and closed, respectively. A large front trunk with a foldable flat workspace replaces the engine's usual location in the front. There are robust power outlet banks and bright LED lighting in both the bed and the front trunk.
Interior Design of Canoo Pickup Truck EV
Until Canoo announces when and where the pickup can be ordered, there are no details about the standard and optional features. The cabin is designed to be modular, so there is a good chance that you will be able to equip it with modules that will meet the demands of your project.
Cabin Design for Passenger Space of Canoo Pickup Truck EV
Its interior is unlike anything else currently available, just like its exterior. Two small jump seats are available behind the front seats, along with seating for two. A vehicle designed around functionality has an oddly rectangular steering wheel.
Behind the large, digital display instrument panel, the driver is positioned behind the front axle with a long windshield stretching forward. It shares many of the high-tech steering column's buttons or switches with many electric vehicles. Above the rearview mirror, you can find the climate controls.
There is no center console in the Canoo Truck, since the front seats are positioned well inboard of the doors.
Engine of Canoo Pickup Truck EV
It is still unclear exactly how much power Canoo's electric pickup will be able to produce, as it has just announced it expects to be able to produce a maximum power output of more than 500 horsepower.
It is possible to make some educated guesses about the Pickup Truck by looking at the previously announced Canoo Lifestyle Vehicle, since the van and pickup ride on the same electric car platform as the van.
A 300-horsepower electric motor will likely be found in rear wheel drive Canoo Trucks.
Canoo Trucks with all wheel drive will have two motors, one for each wheel. 
A total of more than 500 horsepower is expected to be produced by this all-wheel-drive truck. It is estimated by Canoo that the single-motor van will take 6.3 seconds to accelerate from zero to 60 mph. Compared to a single-motor pickup, the dual-motor pickup should be substantially faster over the same sprint distance.
Battery & Charging for Canoo Pickup Truck EV
A single Canoo Pickup charge can travel 200-plus miles, according to Canoo's estimates. Single-motor trucks may, however, have a range closer to the Canoo Lifestyle Vehicle's 250 miles.
The Canoo Pickup Truck should be able to be charged from Level One household outlets and Level Two 240 volt and DC fast charging stations. American EV chargers now use SAE Combo charging ports, which are rapidly becoming the standard not just for Tesla but for other non Tesla EVs as well.
When connected to an appropriate DC fast charging device, the Lifestyle Vehicle's 80 kWh battery pack can charge from 20 percent to 80 percent in 28 minutes. It is reasonable to expect that the van would have the same specs when it comes to battery and charging.
Safety Features of Canno Pickup Truck EV
Currently, Canoo has not released a list of safety technologies that are included and optional in the Canoo Pickup Truck.
Off Road Capability of Canoo Pickup Truck EV
The company has not yet discussed the truck's off-road capabilities, but judging by its appearance, it appears that it will have the capability to go off the beaten path when needed. Consequently, it will offer steep approaches and departure angles due to the fact that the wheels are pushed far into the corners.
Release Date & Cost of Canoo Pickup Truck
The price of the electric pickup truck has not been released by Canoo. Before federal, state, local, and utility incentives, the Canoo Lifestyle Vehicle is expected to cost $34,750. It would be surprising if the truck's price differed significantly from the van's.
According to the website for Canoo, its Pickup Truck will be available as early as 2023, so it is still a long way off. It should be noted, however, that in light of the current chip shortages and disruptions in the supply chain, that timeline should be taken with a fair amount of caution.
The Canoo could be one of the cheapest electric pickups on the market, if not the cheapest. The price of the truck will increase significantly if the dual-motor model is added as well as options.
Competition of Canoo Pickup Truck
It is expected that the Canoo Pickup Truck will find an interesting niche in the American car market. As an affordable new choice for aspiring Overlanders, it offers flexibility, affordability, and green credentials.  The Toyota 4Runner, the Jeep Wrangler, and even the Mercedes-Benz Sprinter Van could all be replaced by this product.
Aside from competing in the compact pickup market, it will also compete with Ford Ranger, Chevrolet Colorado, and Toyota Tacoma on the compact pickup market. In the years to come, there is a good chance that other traditional automakers will also have introduced compact electric pickup trucks of their own by the time it arrives on the scene.
It is possible that the Canoo Pickup Truck could be competitive with the Ford F-150 Lightning electric full-size pickup and the Chevrolet Silverado EV Work Truck, which are both electric full-size pickups.  
Related News of Canoo Pickup Truck
Even in the best of times, starting a new car in the Canoo company can be challenging. As the electric vehicle industry becomes more competitive, the company faces supply chain disruptions, labor shortages, economic uncertainties, tightening financial markets, and disruptions in supply chains.
One unexpected buyer, however, just gave a huge vote of confidence to the company. Earlier this week, Walmart ordered 4,500 of the Canoo vans it will use for delivery purposes.