As a luxury vehicle that competes on the same level as legacy luxury sport sedans, the G70 impresses with performance focused on the driver, and that's no surprise since it's a highly-competitive vehicle. Compared to other sports sedans in this class, the Genesis G70 for 2023 is a more affordable alternative to other luxury vehicles
The humble beginnings of Hyundai make it hard to believe Hyundai has become one of the top luxury automotive brands with its luxury branded vehicles today, rivaling top luxury automotive brands such as Mercedes-Benz and BMW.
Features in Brief of 2023 Genesis G70 Luxury Sport Sedan
In terms of standard features, the Genesis G70 offers a much broader range than its competitors, with an impressive number of advanced safety features that can't be found in its competitors. In terms of price, the G70 is considerably lower than rivals in this competitive class of smartphones, which is how it has been able to quickly make its mark on the market.
This luxurious sedan features quick acceleration with a powerful V6 engine.
With some upscale design, this luxurious sporty sedan is sure to be your favorite.
This 2023 Genesis G70 is sure to be coming with excellent warranty coverage and various safety measures.
The price is very reasonable for the features and technology this 2023 G70 will offer.
Exterior Design of the Genesis G70
In addition to its athletic, head-turning exterior design aesthetic, the new 2022 G70 is a racing car built like a world-class sprinter. A Genesis signature grille is prominently displayed on the front fascia of the G70, obviously in the shape of the Genesis crest.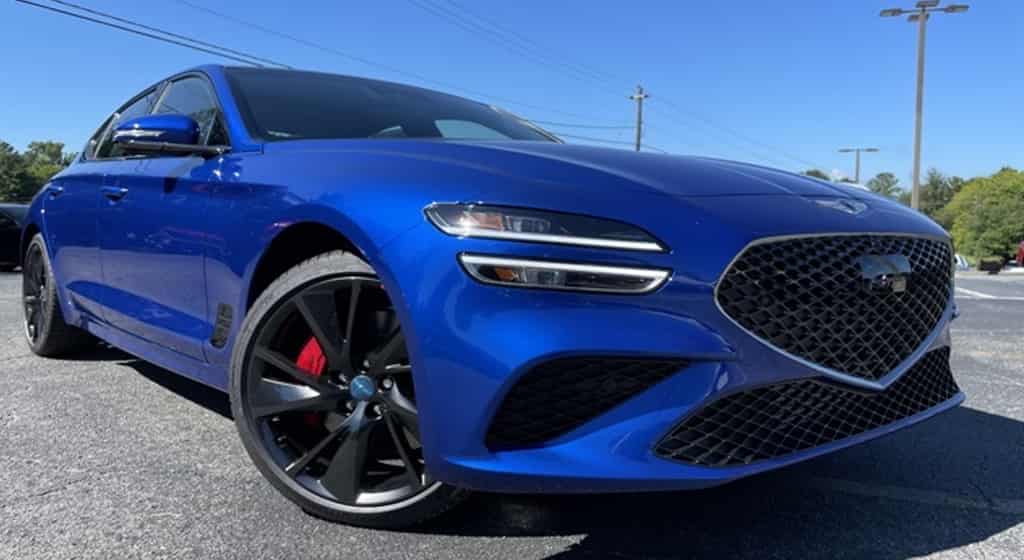 This grille will be positioned lower than the Quad Lamps of the 2022 model, in a bid to evoke a bold new stance that will be more apparent in the 2022 model. If you look around the side of the vehicle, you will also see the sleek new air extractors that are added to enhance the fuel efficiency of the vehicle.
Interior Design of the Genesis G70
It's easy to find a comfortable position to sit in while driving this luxurious sedan thanks to the broad range of seat adjustments, the well-designed interior, and the nice touches throughout the vehicle.
With the 2023 G70, the driver will have access to a variety of features, including Bluetooth, dual-zone automatic climate control, a 10.25-inch touchscreen, navigation, satellite radio, two USB ports, and many more. The car has features like sunroofs, wireless device charging, and a 15-speaker Lexicon audio system, to name a few.
The 2023 G70 has five seats and many of the usual equipment you would anticipate from a vehicle of this level, like heated front seats, a rear-seat reminder, and a power driver's seat. Numerous leather upholstery options, heated front seats, ventilated front seats, and heated rear seats are available.
There isn't a lot of room inside or outside of the G70, and getting in and out of it is no easy task. Despite the relatively spacious front seats, the back seat is narrow, with only a small amount of room for toes under the back seat. By luxury sedan standards, the outward visibility of the vehicle remains quite decent despite its sleek roof profile, which does not create an impression of a spacious interior. 
Performance and power
Despite its twin-turbo V6 engine being available with the 2023 Genesis G70, this powertrain is an outstanding powertrain, and the base engine is also quite capable. The handling of the G70 is both easy and enjoyable to drive, and the ride quality is equally impressive. Despite its good performance, it is not as fuel efficient as most of its rivals as they have higher gas mileage ratings than it. 
This is a well-built car with a powerful V6 and good steering feel, and it is very easy to drive as well. Powered by a turbocharged V6 engine, this car produces 365 horsepower and can accelerate from 0-60 mph in just 4.9 seconds, making it one of the quickest vehicles in its class. It doesn't want to do much downshifting, either, since there's a healthy 376 pound-feet of torque on tap, so you don't have to do much shifting.
Safety features
There are a number of safety features and driver assistance features that are included with the G70, including
Forward collision warning with automatic emergency braking,
Lane-keeping assistance,
Blind-spot warning with automatic steering assistance,
Rear cross-traffic warnings with automatic braking assistance,
Automatic high beam assist,
Rear occupant alert,
Safe-exit warning and many other features.
Launch date and Release price
It has been confirmed by Genesis officials that the 2023 G70 is on sale now and can be purchased at dealers across the country.
In terms of price, the Genesis G70 starts at just over $39,000 with a 2.0-liter engine; meanwhile, the G70 all-wheel drive, with a 3.3-liter engine, starts at $45,500 to $46,750.