Let's compare 2023 Genesis GV60 Vs. 2023 BMW i4 M50 and start the battle! The Luxury car market and the Electric car market have seen a lot of growth in the last few years. Genesis and BMW that are two of the best car manufacturing brands that make some of the best Luxury EVs. Two such cars in the market that we are going to discuss about is the Genesis GV60 and the BMW i4 M50 and will compare their features that will help you decide which car is better.
2023 Genesis GV60 Vs. 2023 BMW i4 M50 Charging, Range & Battery Life
Genesis GV60: The GV60 will offer up to 248 miles of range, while the Performance model is estimated to hold 235 miles of range, despite all versions having the same 77.4-kWh battery pack. The base rear-wheel drive engine will have a longer driving range later in the lineup. In 18 minutes, Genesis claims the GV60's battery can be charged from 10- to 80-percent capacity when connected to a DC fast charger.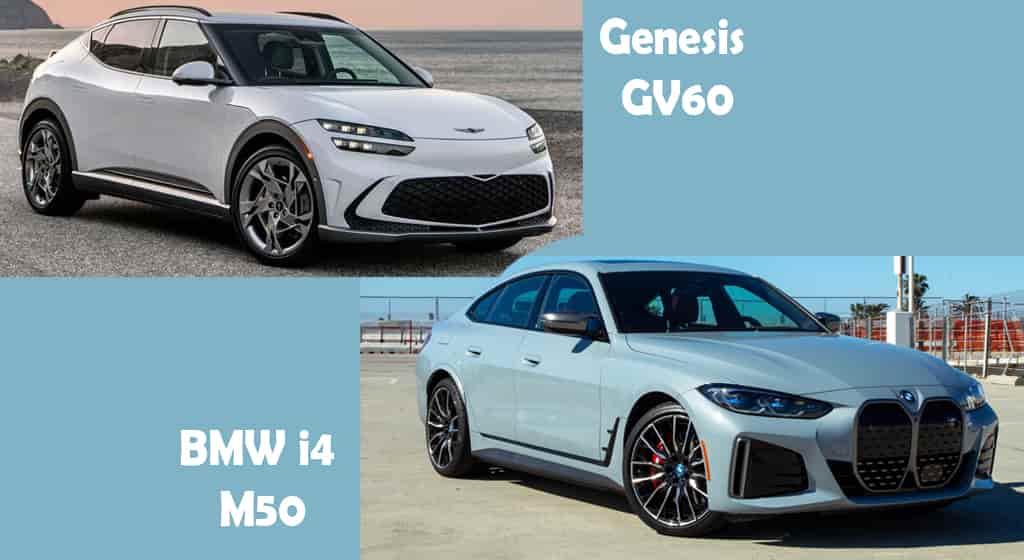 BMW i4 M50: A similar fuel door is used by the i4 and the combustion-powered 4 Series. A filler neck replaces the gas cap's filling hole with a combined charging port. An 11-kW AC charger restores 80.7 kWh in approximately 8.25 hours.
It takes around 31 minutes to charge the battery from 10 to 80% full with a 200-kW DC fast charger. BMW offers new i4 owners two years of complimentary 30-minute charging sessions.In the i4, the battery is located under the floor, which is a bit of a disadvantage, but not too much
Connectivity and Infotainment for 2023 Genesis GV60 Vs. 2023 BMW i4 M50
Genesis GV60: Every Genesis GV60 model comes with a 12.3-inch infotainment touchscreen that matches the gauge cluster's 12.3-inch size. Although neither Apple CarPlay nor Android Auto works wirelessly, they are both included. If touching the screen is too far away, you can control the Genesis infotainment system with the click wheel on the center console.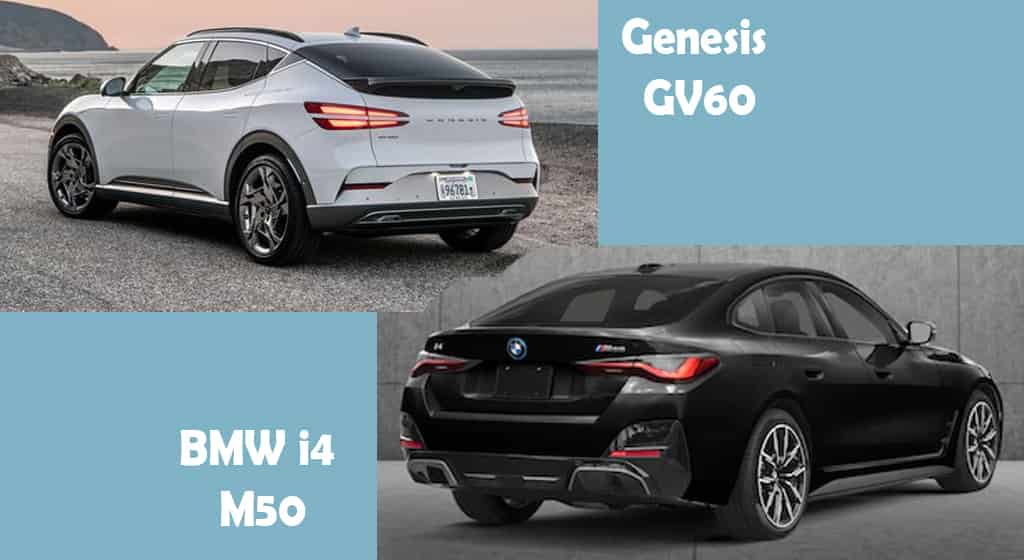 BMW i4 M50: The i4 integrates the iDrive 8.0 technology into the more traditional 4 Series cockpit while essentially using the same hardware and software as the iX. The i4 M50 is considerably simpler to live with than its more beautifully designed, minimalist sister thanks to this ostensibly minor distinction.
There is less total dependence on the touchscreen for routine operations because the console itself is positioned closer to the dash and steering wheel for easier reach when it's time to, say, go into Sport mode.
IDrive 8.0's telematics data connection and BMW Connected services are two of its most important advantages. Specifically, this allows features like using your phone as a key, monitoring the EV remotely while charging, or sending destinations before hitting the road.
Users can also connect their phones to their cars using Android Auto or Apple CarPlay. Featuring the latest generation of fast pairing technology, both technologies support wireless and wired connectivity. Three USB Type-C charging ports can be found throughout the cabin.
2023 Genesis GV60 Vs. 2023 BMW i4 M50 Engine & Performance 
Genesis GV60: The GV60 will initially be available with one powertrain, an all-wheel-drive arrangement with dual motors. With the Performance trim, the power output increases temporarily to 483 horsepower when the Boost driving mode is engaged.
The Advanced model makes a combined 314 horsepower, while the Performance model makes 429 horsepower. It takes just 3.7 seconds for the GV60 Performance to reach 60 mph when using that driving mode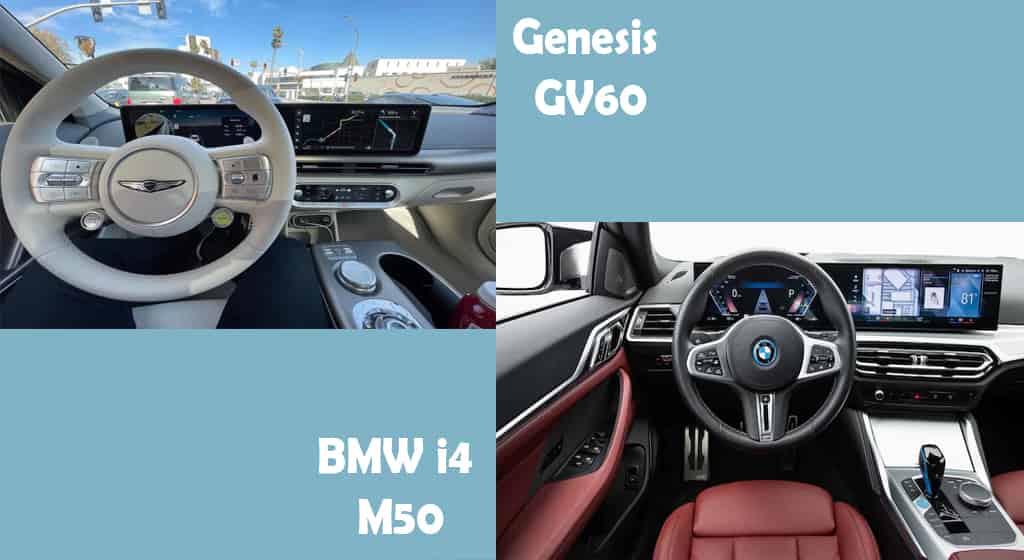 BMW i4 M50: With the BMW i4 M50, all-wheel drive is handled by a dual-motor system called xDrive. Front axle power comes from a 190 kilowatt motor, while rear wheels are powered by 230 kilowatt motors.
There is 536 horsepower in total, which is more than the 335 horsepower in the eDrive40. A Sport Boost mode takes full advantage of the 586 pound-feet of torque to accelerate from 0 to 60 mph in just 3.7 seconds.
Genesis GV60 2023 Advantages Over BMW i4 M50
Genesis Provides the best warranty service: The BMW warranty is among the best in the industry, giving 36,000 miles or three years, depending on which of those milestones your vehicle reaches first. With four years or 50,000 miles of coverage, BMW is going above and beyond. Genesis, however, offers some of the best warranties available in the world. According to Consumer Reports, the Genesis GV60 comes with a five-year warranty or 60,000 miles.
A Genesis GV60 warranty also includes a 10-year/100,000-mile drivetrain warranty, a seven-year/unlimited mile corrosion warranty, a five-year/unlimited mile roadside assistance warranty, and a three-year/36,000-mile maintenance warranty.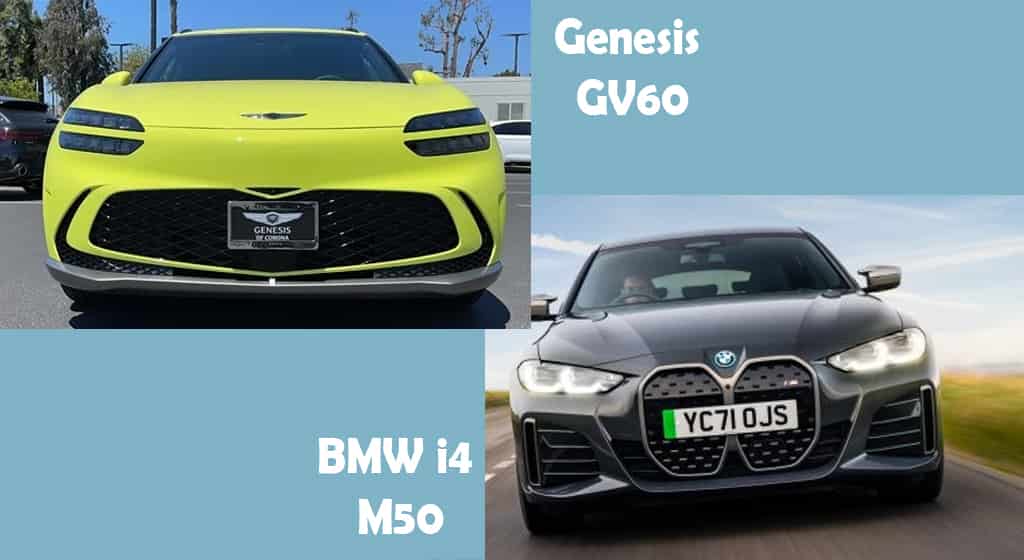 Genesis GV60 comes with AWD: The Genesis GV60 is available in two trims. The Advanced trim is the entry-level model, producing 314 horsepower and reaching 60 mph in 4.5 seconds. This is increased to 429 horsepower by the Performance, which can reach 60 mph in 3.4 seconds.
In contrast, the base trim of the BMW i4 lacks AWD. Despite its impressive 335 horsepower and 301-mile range, the eDrive40 is only a rear-wheel drive vehicle. The premium M50 offers it as a feature. Despite its 536 horsepower, the M50 only has a 270-mile range.