Hey friends! Would you like to know about 2023 Genesis GV80, what we know so far about its specs, interior, pricing, exterior, release dates, etc.! This luxury midsize SUV is currently among the top models on the market, and it is a great addition to the segment as one of the top models in its class. There is nothing bad to be said about the GV80, as it has a very attractive interior with two rows of sumptuous seats, a lot of high-grade materials, and a fantastic multimedia system with a widescreen display.
The first thing to note about this SUV is its comfort, and the second thing to notice is how agile it is for an SUV of this size. The turbocharged engines provide plenty of power, and despite the hybrid electric powertrain, it still manages to return good fuel economy.
2023 Genesis GV80 Features in brief
In my opinion, there are many reasons for the GV80 to be an attractive option, including a long warranty, the capability to tow and haul heavy loads, and advanced safety features.
As a result of Genesis's breakthrough with the GV80, it achieves a level of luxury that is distinctive and desirable while actually costing no more than the most popular SUVs in its class. This luxury looks and feels like it should cost thousands of dollars more than it actually does.
The second-row cupholders and infotainment controller were redesigned in this new Genesis GV80.
This car is no longer offering the 2.5T RWD configuration as a base configuration
This new 2023 GV80 model is no longer available in 3.5T Prestige Signature for four passengers
An advanced sunroof and ventilated front seats are installed in this new SUV.
Design of the 2023 Genesis GV80
A large slim-shaped infotainment display on the GV80 keeps things upscale but uncluttered, while burled-wood trim, metal accents, and an integrated ambient lighting system accentuate its upscale interior.
The interior design of Genesis G80, although it is made up of fancy materials, has an aesthetic sense of minimalism that is truly elegant when you see it in person. With the front seats, you are treated to a sense of comfort and support, as well as the possibility of a massage feature that offers a real sense of relaxation.
It is safe to say that the interior space of the GV80 is comparable to that of the average midsize SUV. Nevertheless, there is one exception: there is a bit less headroom than usual. There are few vehicles in this segment that can offer more convenient access to the optional third row than the Chrysler Pacifica, but the third row is quite small so it's better used for kids rather than adults.
Performance and Power of the 2023 GV80
With the same underpinnings as the G80 sedan, this mid-size luxury crossover is very similar to the G80 sedan and features a standard all-wheel-drive system. The test track time for the 3.5-liter V-6 engine was 5.3 seconds at 60 mph, while the 2.5-liter turbocharged four-cylinder produced 300 horsepower.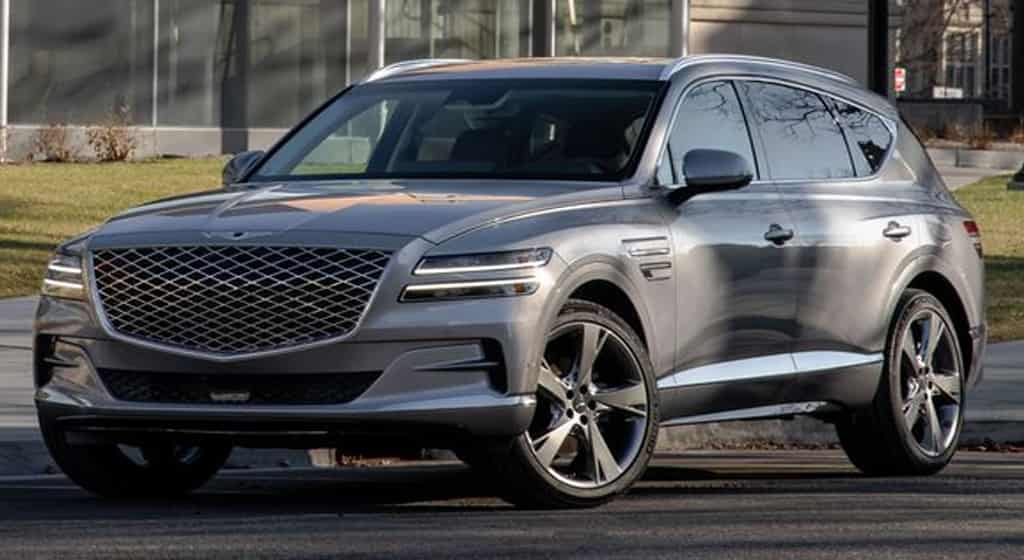 The twin-turbo 3.5-liter V-6 produced 375 horsepower and delivered a brisk 5.3 seconds at 60 mph at our testing facility. The GV80 is slower than its predecessor by 6.1 seconds at 60 mph, but the extra power provided by the turbo four won't be noticed by many drivers.
The braking system
While the GV80 is a well-rounded vehicle, it is not quite as athletic as the European models it competes with, despite the fact that it offers a well-rounded driving experience.
Despite rough roads, the suspension keeps the SUV in excellent condition while absorbing the shocks in an impressive manner, keeping it stable and composed as it turns.
Comfort features of the 2023 GV80
The GV80 is one of the finest instances of this, and it's vital to remember that comfort is one of a luxury car's most crucial features. One of its attractions is how comfortable the ride is.
All V6-equipped GV80s come with an electronically controlled suspension system with a forward-facing camera that allows the suspension to be changed on the fly depending on the road surface. Strong seat comfort is also a plus, especially when it comes to the improved seats in the Prestige trim line that can be further modified.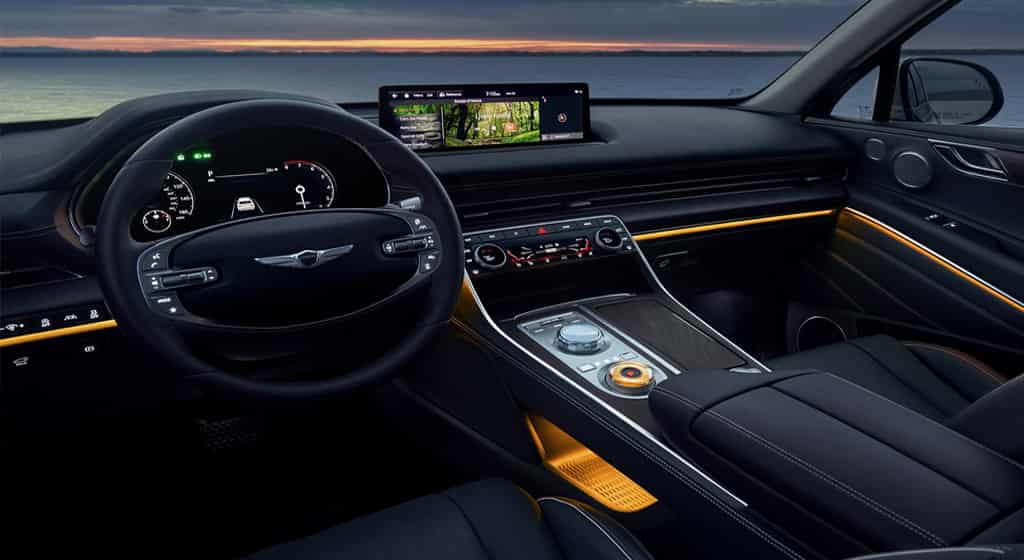 Stepping into the chair feels a bit higher than you'd expect, but the seat height for the average adult is right at hip level, allowing you to slip in quite easily, even if you don't feel comfortable with the step-in height.
Having large windows and strategically placed mirrors in the cabin makes it easy to see what is going on outside the cabin. There is an option to get a surround-view camera that you should consider getting.
Price and Launch date
There is a base price of $55,550 for the 2023 Genesis GV80. Most probably the new Genesis GV80 is supposed to be released in the year 2023.
Gallery of 2023 Genesis GV80 Review, Pricing, Specs, Interior & Exterior