So you want feel a different driving spirit, well, opt no other but 2023 Kia Stinger. This car is one of the car on a budget you might be dreaming off. However, just because it is a car on a budget doesn't mean that it cannot offer the things that most cars do offer.
2023 Kia Stinger shares the base with the impressive genesis G70 sedan. However, Stinger's interior is much more spacious. It also offers a larger cargo space and hatchback lift doors along with a sexy fastback roofline.
Do keep reading on our article and find out the valuable information about 2023 Kia Stinger as follows:
Engine
A nice offering presented by 2023 Kia Stinger is a pair of turbocharged engines. It is a standard 300-hp turbocharged with 2.5-liter four-cylinder and a bold 368-hp twin-turbo V6. The rear-wheel is standard but all-wheel drive is just available if you want to use it.
The new engine offers 300 solid horsepower while the 3.3-liter twin-turbo V6 with 365hp to 368 is optional. For this engine, thanks to the new variable exhaust system.
Styles
The 2023 Kia Stinger styles are upgraded with a new piece of metallic trim, adjustable ambient lighting and an optional 10.3 inch large infotainment screen. This Stinger is basically designed in 7 available colors that are Snow White Pearl, Aurora Black Pearl, Ceramic Silver, HiChroma Red, Micro Blue Pearl, Panthera Metal and Ascot Green.
Interior
2023 Kia Stinger is well-designed with the attractive look. However, its construction quality doesn't fit the Audi A4 or BMW 3 series. The back seats are more comfortable than the other cars in this class. So it offers an advantage feels of more spaces.
Further, there is no glaring errors and omissions in the Stinger interiors. The entire effect is just less polished than the efforts you may enjoy from the established luxury brands. It is also stated that Stinger has more cargo space in this set.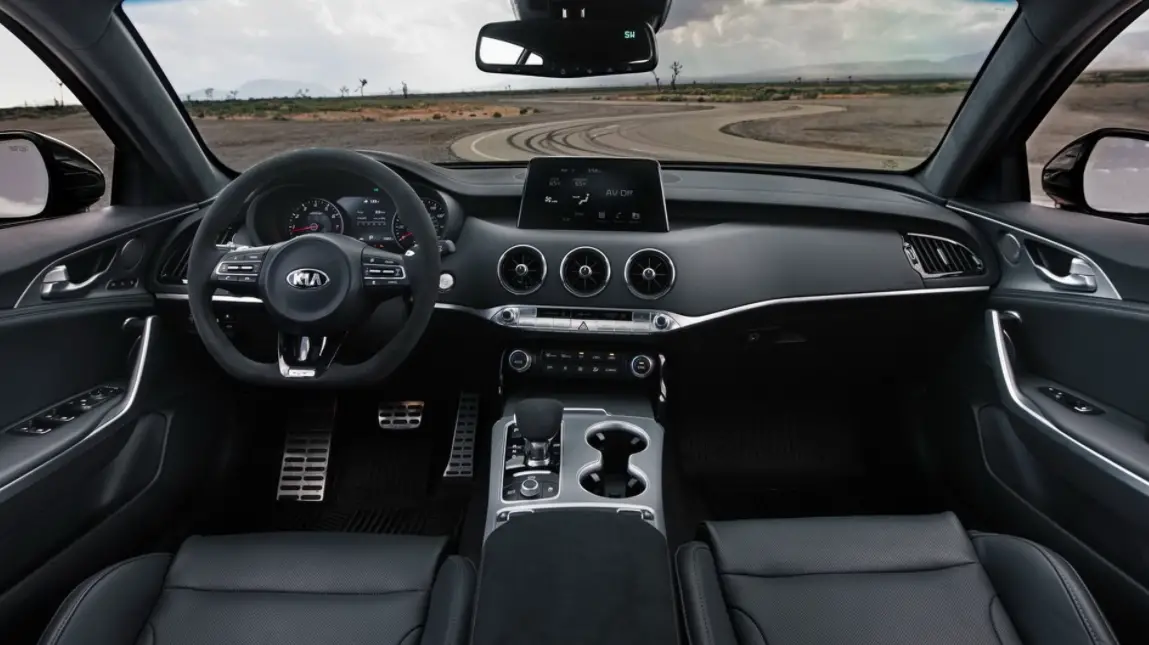 For interior, it is fully expected that Stinger will do better in measurement and long wheelbase. The center console is located on the large side of the car to help offset the fact of the smallest front door pocket.
Price
2023 Kia Stinger offers the price staring at $36,090 for GT-Line entries. 2021 Stinger starts at $34,135 which is different about $1,955. The GT1 starts at $43,690 and the GT2 starts at $51,290. This way, both of them are available with AWD.
Infotainment
Kia Stinger's infotainment system is called UVO. It is commonly used well with its 8.0 or 10.3-inch touchscreen mixed along with the useful physical buttons. Later, the infotainment system is also completed with Apple CarPlay and Android Auto which are all standard. They have six-speaker stereo system.
Final Words
Finally, we can assumed that 2023 Kia Stinger is good to wait as the nest future vehicle that you may be dreaming of. It will lead to you to experience a different driving spirit. Its more space will actually be your first consideration if you have a family to drive with.