Let's explore the 2024 Genesis GV80 vs. Cheapest Bentley Bentayga! Buying a luxury SUV can be made or broken by individual statistics, especially with the growing number of models available. Choosing between the Genesis GV80 vs. Bentley Bentayga might be your best choice if you are looking for a premium SUV with the utmost in features.
But if you are looking for a cheap Bentley model then it is better to confess already that the lowest Bentley SUVs can be way more expensive than the Genesis GV80. But you can see the stats of the two cars to make the better decision. Check out the specs and features of this Genesis GV80 below and see how they compare to Bentley Bentayga in terms of performance and features.
About SUVs 2024 Genesis GV80 vs. Cheapest Bentley Bentayga
Cheapest Bentley Bentayga: If you are wondering about the price of the cheapest Bentley Bentayga then the lowest model is the Bentayga V8 whose base price is approximately $350,000 plus, which is still the most affordable vehicle from the ultra luxury brand. Aside from being very comfortable, premium and practical, the brief for the Bentayga is also quite contradictory, as it needs to be fast, agile, and fun to drive, as well as being comfortable, premium, and practical.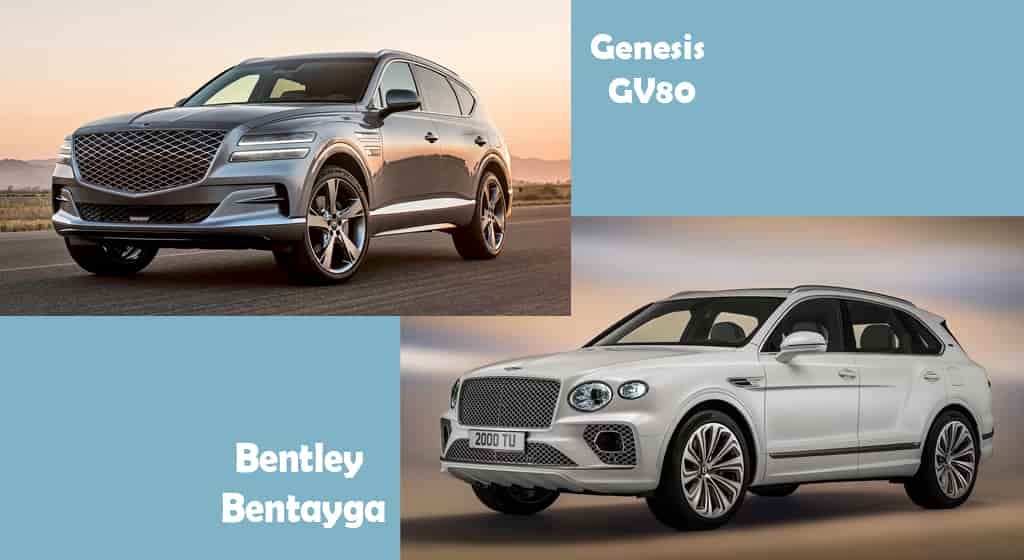 Genesis GV80: The Genesis GV80 is no doubt fully packed and one of the most anticipated models in recent times, and there is no denying that it is well stacked will all the luxurious elements an SUV can need to have to make your ride comfortable. This is a massive, luxury SUV available in petrol or diesel engines and available with either five or seven seats, meant to stand out from the crowd.  An optional surround-view camera lets drivers see even more out of this midsize SUV, which offers great visibility from large windows.
2024 Genesis GV80 vs. Cheapest Bentley Bentayga Exterior Design
Cheapest Bentley Bentayga: The Bentley Bentayga was initially launched in 2016, but in 2021, it had a minor facelift to keep it competitive with ultra-luxurious SUV rivals. This car has a modified rear bumper with an enlarged roof-mounted rear spoiler, new tail lights, and quad exhaust outlets as well as a relocated number plate on the lower bumper of the car. A cut crystal design is featured on all exterior lighting elements, which catches the light and sparkles as it passes.
The Bentayga external lighting features feature cut crystal patterns that catch the light and shine even when the car is still. The Bentayga is certainly eye-catching as a large SUV, though you may disagree on its looks.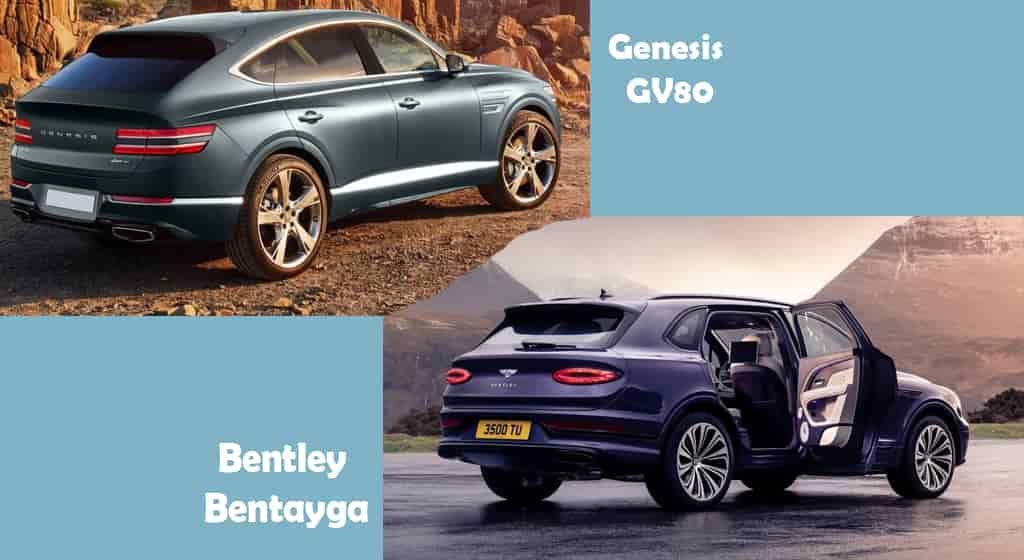 Genesis GV80: The GV80 is an eye-catching vehicle that makes passersby crane their necks to get a better look, and the variety of matte paint treatments and the overall colorful palette of options is hard to make this car unidentified.
What truly draws your attention is the quad light treatment on the front and back, as well as the muscular, crest-shaped mesh finished grille that dominates the front end. The rear end of the Genesis GV80 is broad, low, grounded, and powerful. On petrol vehicles, the badge related crest design extends to the exhaust tips, while the diesel models have a simple lower rear bumper design.
2024 Genesis GV80 vs. Cheapest Bentley Bentayga Interior Design
Cheapest Bentley Bentayga: As opposed to mainstream or even premium cars, the Bentayga offers plush appointments throughout, as well as supple and soft-touch leathers. Most notable is the design of the air vents and center stack, which stands out more than the handcrafted contrasting stitching or Bentley embroidered seats. It all starts with the fancy analog clock front and center, flanked by beautifully crafted vents.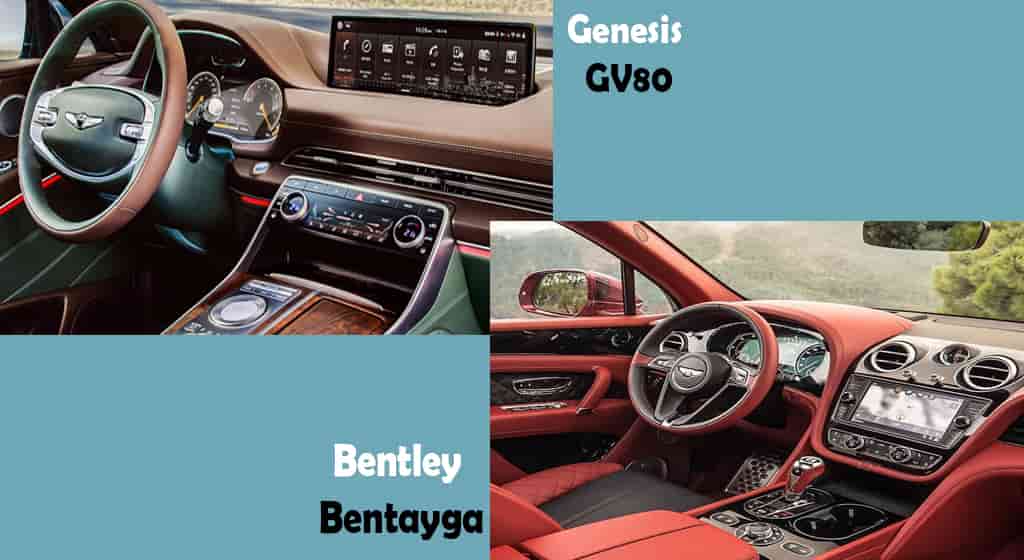 There is no stitching on the outer edge of the steering wheel, so you can feel the soft leather in your hands without being distracted. It is obvious that the interior of a Bentayga is comfortable and you have a wonderful driving experience.
Genesis GV80: With a captivating interior design filled with cutting-edge innovations, the Genesis GV80 makes a great choice for anyone looking for the best ride. White space has been enhanced throughout the entire cabin by the designers. There's something distinctive and fashionable about the two-tone steering wheel.
Engine and Performance 2024 Genesis GV80 vs. Cheapest Bentley Bentayga
Bentley Bentayga: There's a 4 liter, twin-turbo petrol engine powering the 2021 Bentley Bentayga V8, which produces 404kW at 6000rpm and 770Nm between 1960 and 4500rpm. An ultra-lux SUV can accelerate from 0-100km/h in just 4.5 seconds thanks to its four-wheel drive.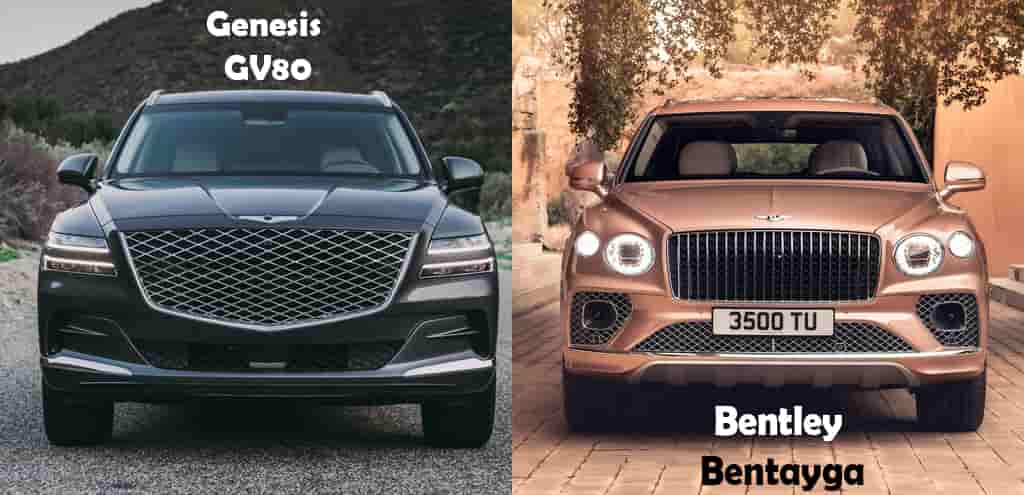 Genesis GV80: The 2.5T version has an entry level four cylinder petrol engine
with a 2.5-liter power-train that produces 224kW at 5800rpm and 422Nm of torque. The version is capable of accelerating from 0 to 100 km/h in 6.9 seconds.
Price Comparison for 2024 Genesis GV80 vs. Cheapest Bentley Bentayga
Bentley Bentayga: In spite of the fact that the entry level Bentayga V8 is not exactly cheap, at $364,800 before on-road costs, it is the most affordable Bentley SUV in the SUV lineup.
Genesis GV80: GV80 2.5T has a list price of $90,600 inclusive of luxury car tax but does not include on-road costs.