Another SUV is on the way with 2023 Toyota Sequoia being set for the tough competition. If everything goes as planned, this SUV should be ready next year. Sequoia has been known as this powerful and solid vehicle that is versatile for (almost) everything. It is great for onroad cruise, and yet it is also great for many passengers and carrying a lot of cargo. What to expect from the upcoming model?
The Updated Plan
Sequoia is due for refreshed work. It means that it would be coming with significant updates and refreshed work. The interior would be modern and expect new face. The current Sequoia was launched in 2008. Although it has always got minor updates on a yearly basis, the vehicle is due for something bigger and more prominent. Moreover, its main rivals like Chevrolet Tahoe and Ford Expedition have received some significant updates, so it's only logical that Sequoia will join the board.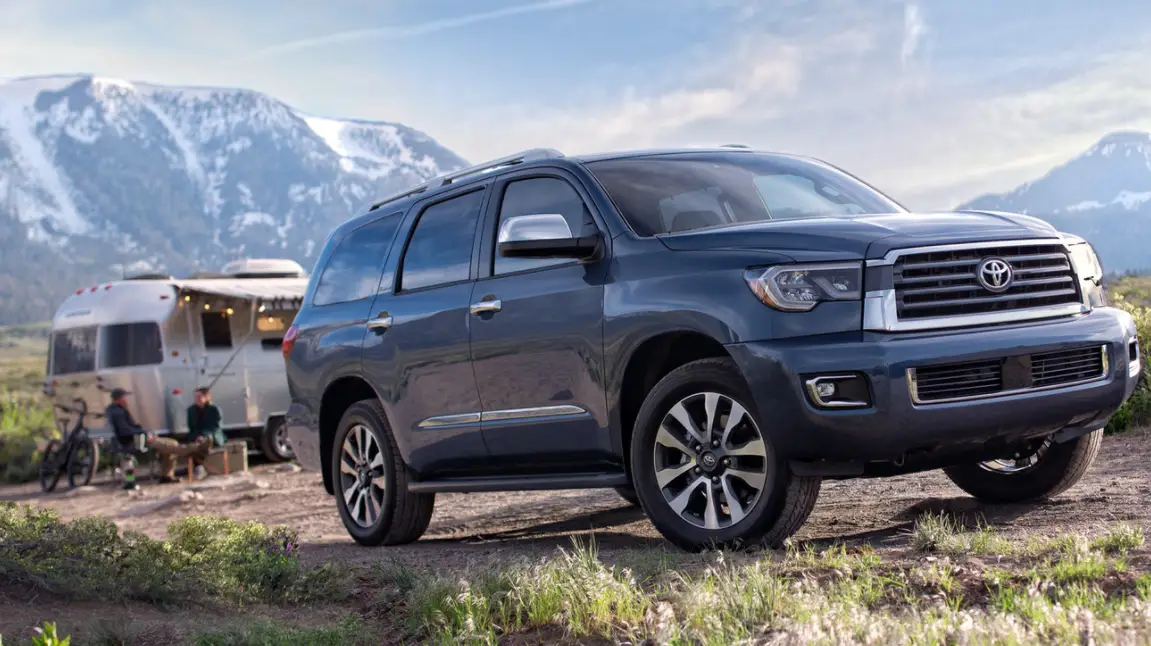 With some renderings have already available out there, it seems that the new Sequoia takes a lot of inspiration from the latest RAV4. At least, it's obvious from the thinner taillights and headlights, as well as aggressive grille (with the running lights and LED headlights).
Physical Changes
The most obvious changes would take place on the exterior area, naturally. Based on the renderings, Sequoia will retain the similar dimensions and also similar design base. Expect it to get new LED headlights with more attractive look, catchy front bumper, and new (and massive) grille. All of these things make Sequoia stand out among the crowds. The headlights and taillights would be thin, similar to RAV4.
If you want a unique look, go with the higher trim, such as TRD Pro. It comes with black roof rack, BBS wheels, and also extra protective skidplate. There is also the Nightshade, which is created based on the Limited. It comes with dark body molds, chrome badges, and other aesthetic accessories.
Interior Appeal
Aside from tweaking the exterior area, Toyota is also focusing on the interior cabin. For the new 2023 Toyota Sequoia, there would be better materials, more technologies, and a slight refreshing work. After all, Sequoia is able to accommodate 7 people quite comfortably, thanks to their 3 rows arrangement. Expect standard 7-inch display with touchscreen that includes Apple CarPlay and Android Auto. Hopefully, as the interior improves, so does the tech – especially on the higher trims.
Power and Performance
The Sequoia will likely use the same powertrain and arrangement. It uses V8 engine with 5.7 liter of capacity that churns out 381 hp and 401 Nm of torque. It would be paired with auto six speed transmission and rear wheel driving system (as a standard feature) to deliver smooth performance. Four wheel driving system would be offered as an optional pick. What about hybrid power? many have talked about it, but Toyota hasn't said anything about any hybrid system.
Price and Release Date
Most auto enthusiasts and experts believe that the new Sequoia would be launched in 2022. Some even predict that it may be ready by the first quarter, while sales would be set in summer – early fall would be the latest. Although Toyota hasn't said anything about the price, it's believed that the price won't stray far from the current price ranges, which is between $51,700 and $70,000. Let's wait for official confirmation about 2023 Toyota Sequoia, shall we?
Gallery of Improved 2023 Toyota Sequoia for Versatile Driving Experience