Hey friends, we all know about the Korean electric crossovers, however, do you want to know the comparison between Kia EV6 vs Hyundai IONIQ 5 vs Genesis GV80. The Hyundai Ioniq 5 and Kia EV6 have always been considered hot properties when comparing the Luxurious Genesis GV60. However, it seems that even Genesis Australia brass was surprised by its popularity in Australia, given the fact that it shares its underpinnings with both of those cars.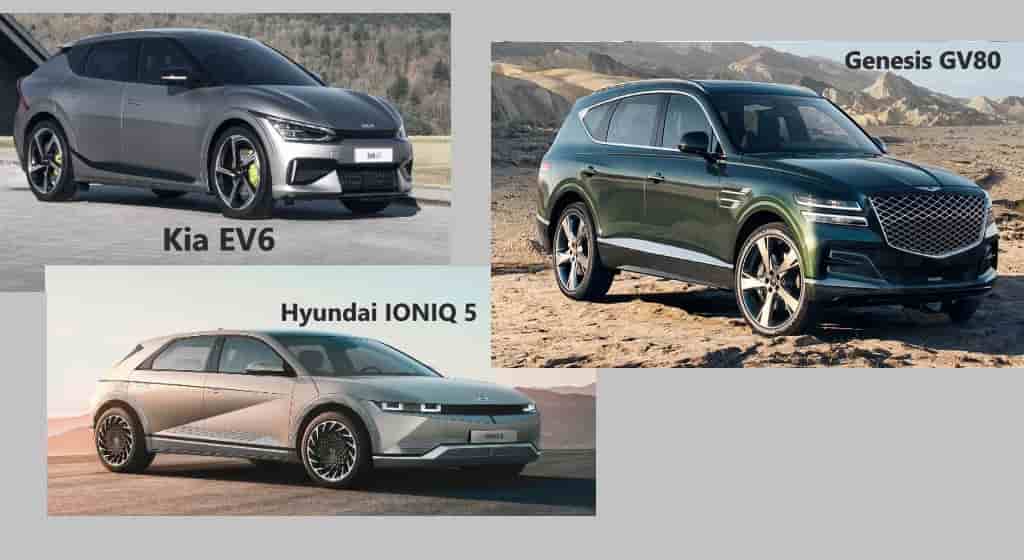 There has already been a rise in sales of the Hyundai Group-owned premium marque Genesis GV60 in the first three months of the year, the company confirmed.
If you are on the verge of buying a luxurious SUV then you must consider comparing these three SUVs; the Genesis GV80, Hyundai Ioniq 5, and Kia EV6 so that you can invest in an SUV that can satisfy every requirement. 
About the cars Kia EV6 vs Hyundai IONIQ 5 vs Genesis GV80
Hyundai Ioniq 5: As a fast-charging SUV with a notable range of driving, the Hyundai Ioniq 5 delights with a combination of 1980s-influenced styling and some seriously impressive in-house electric technology from the new generation. 
The Ioniq 5 has plenty of space inside, and it has more rear seating space than either the Ford Mustang Mach-E or Volkswagen ID.4. With a wide range of pricing and range availability, the Ioniq 5 makes for an appealing first EV for anyone looking to try out an electric car for the first time.
But it's the 350-kW DC fast-charging that makes it a real hero because it allows charging speeds that rival those of much more expensive and luxurious vehicles.
Kia EV6: The 2023 Kia EV6 is a fraternal twin of the Hyundai Ioniq 5, charting its own way through the EV market with sporty road manners and a distinctive design all its own.
Rear-wheel drive is conventional; however, all-wheel drive vehicles are more powerful and may be equipped with a bigger battery pack with a maximum driving range of 310 miles. The handling is lively, especially for an SUV, which makes it enjoyable on country roads. The inside of the EV6 is quiet and large enough to warrant its place among SUV rivals.
Genesis GV80: The entry-level engine is a quick 2.5-liter turbocharged four-cylinder, while a twin-turbo 3.5-liter V-6 boosts performance on higher-end variants. All-wheel drive and eight-speed automatic transmission are standard on all GV80s.
In spite of costing the same or less than other SUVs in its class, Genesis GV80 delivers a level of luxury that resembles a vehicle that should cost thousands more.
Design Comparison Kia EV6 vs Hyundai IONIQ 5 vs Genesis GV80
Hyundai Ioniq 5: The interior design of the Ioniq 5 car is technologically advanced, with a digital dashboard and a high dosage of eco-friendly materials. One enticing feature is an augmented reality head-up display that can show navigation directions on the windscreen.
The all-electric packaging also benefits the tiny crossover, which has a totally flat floor for optimal passenger and baggage capacity.
Kia EV6: Even though the interior design and layout of the Kia EV6 are not as bold and daring as the exterior, they are still more attractive and futuristic than any other contemporary Kia vehicle on the market today.
While the center console does not glide like the Ioniq 5, and there are no front-seat footrests, the EV6 features high-tech features like a digital dashboard with plenty of storage, as well as an under-center console bin with ample storage.
Genesis GV80: GV80's interior is attractively finished with burled-wood trim, metal highlights, accent lighting, and an uncomplicated touch screen display, all of which keep things upmarket.
While the interior design is very expensive, it conveys a sense of simplicity that is extremely stunning when you see it in person. With a massaging feature that is quite soothing, the front seats are sturdy and comfortable.
Engine and Performance
Hyundai Ioniq 5: The rear-drive Ioniq 5 is available with either 225 horsepower or 258 pound-feet of torque with the longer-range battery. Hyundai claims the Ioniq 5 will reach 60 mph in just 7.4 seconds with the rear-drive option.
AWD versions are much faster, with 320 horsepower and 446 pounds-feet of torque, as well as much more powerful, and the car can reach up to 60 mph in 4.5 seconds at the test track.
Kia EV6: The base rear-drive model has just 167 horsepower and a smaller battery pack than the all-wheel-drive model with 320 or 576 horsepower. Rear-drive EV6 with a bigger battery gets 225 horsepower with a bigger battery.
Genesis GV80: With 300 horsepower at the base and 375 horsepower at the top, the 2.5-liter turbo four-cylinder engine is turbocharged to produce 300 horsepower.
Price Comparison for Kia EV6 vs Hyundai IONIQ 5 vs Genesis GV80
Hyundai Ioniq 5: Hyundai Ioniq 5 is a premium-class luxurious SUV that has a base price range of around 70,000 US dollars and goes up to 85,000 US dollars.
Kia EV6: In terms of price, the Kia EV6 ranges from $72,590 for the EV6 AIR RWD to $88,590 for the EV6 FWD.
Genesis GV80: The Genesis GV80 2.5T RWD is priced at $90,476 and the GV80 3.5T RWD is priced at $125,200.