The new 2023 Audi Q5 got better refreshments. Also, it becomes more attractive to accentuate its special identity as the family of Audi's SUV Q. This SUV combines a sporty character with daily practical use. It is known for its refined appearance, nice performance, and precise build quality. Some auto enthusiasts call it the iPhone of the SUV world.
Other luxury SUVs offer similar technology features and flashier styles, but the Audi Q5 is satisfaction guaranteed. Here, we will reveal the 2023 Audi Q5 review, pricing, and specs.
Review of 2023 Audi Q5
The most significant change in the new Audi Q5 is in the grille that now has a distinctive accent of the family of Audi's SUV Q. The single frame octagonal grille is made wider than the previous generation, along with air vents on both sides of the grille getting higher and more defined. The top of the LED headlights features a new design of the distinctive daytime running lights (DRL).
When you see it from the side, the Audi Q5 now appears lighter with a higher ground clearance. While at the rear, there are new trim elements between the 2 tail lights, including the design of the diffuser section on the lower bumper with horizontal accents. There is also a choice of Matrix LED lights and OLED taillights for maximum lighting.
The interior of the Audi Q5 also gets a bit of refreshment. It is available in 2 different interior colours, which are black and Okapi Brown. Dimensionally, the new Audi Q5 is made bigger. This change results in a more spacious cabin. The luggage space has a storage capacity of between 520 litres to 1,520 litres.
Pricing of 2023 Audi Q5
The Audi Q5 comes in 12 different models, with the price ranging from $44,695 to $66,495. Audi differentiates this SUV's powertrains with the numbers 40, 45, and 55. The first 2 numbers refer to the standard turbo four. While the last one indicates the optional plug-in hybrid setup. Many recommend considering choosing the mid-range 45 models. Out of all trims, the mid-range Premium Plus trim offers the best balance of features and price.
Also, it already comes standard with Audi's Virtual Cockpit digital gauge display. The 12 Q5 trims are premium 40, premium 45, premium plus 40, sportback premium 40, premium plus 45, sportback premium plus 45, prestige 40, premium 55 PHEV, prestige 45, sportback prestige, premium plus 55 PHEV, and prestige 55 PHEV.
Specs of 2023 Audi Q5
The new Audi Q5 is claimed to have the lightest body shell in its class, including a wind resistance coefficient of only 0.30, making it the best in its class. When it comes to the entertainment system, this SUV now uses the 3rd generation Modular Infotainment Platform or MIB 3, which is 10 times quicker than the previous generation.
Moreover, the Q5 is also equipped with the Audi Virtual Cockpit Plus with a 12.3-inch digital screen that comes with 3 graphic options. In the centre of the dashboard, there is a 10.1-inch MMI touchscreen that features the latest operating system. This entertainment system is also supported by the Bang & Olufsen Premium Sound System with 3D sound.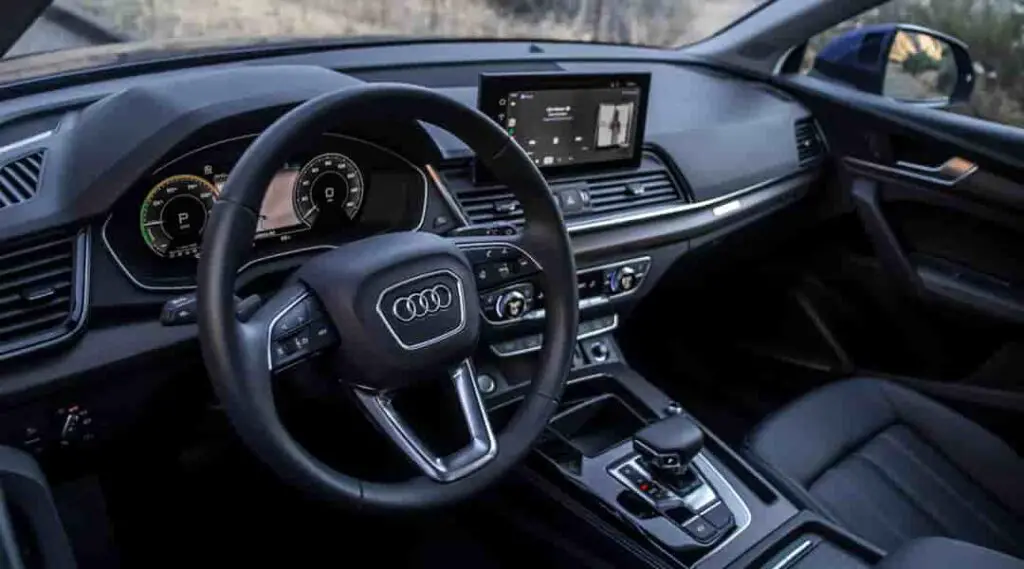 For its performance, the 2023 Audi Q5 relies on a gasoline, inline 4-cylinder, 1.0 litre, TFSI engine. This engine is capable of producing power up to 245 hp and torque of up to 370 Nm. The power generated is transmitted to Audi's quattro permanent 4-wheel drive system via a 7-speed S-Tronic transmission.
This luxury SUV can accelerate from 0 km per hour to 100 km per hour within 6.1 seconds. The Audi Q5 is available in 6 different colours, which are Ultra Blue, Mythos Black Metallic, Floret Silver Metallic, District Green Metallic, Daytona Gray Pearl Effect, and Ibis White.
Infotainment & Connectivity of 2023 Audi Q5
Even the least expensive Audi Q5 comes with an intuitive infotainment system displayed in a dashtop 10.1-inch screen. You can expect most basic features in the Q5, including Android auto capability, Apple CarPlay, and Wi-Fi hotspot. Things become much more attractive if you switch to the premium plus or prestige models because they come with a reconfigurable digital gauge cluster, which is known as Audi Virtual Cockpit.
This feature provides a wide, 12.3-inch view of the navigation map, as well as tachometer, speed, trip computer, phone controls, and selected media, or a combination of these.
What's New in the 2023 Audi Q5?
Audi has changed some features in the Q5 line-up this year. It starts by making adaptive cruise control standard on all models. The premium plus model now comes with a bang and Olufsen stereo system and plug-in hybrid 55 models get OLED taillights. Chronos Gray has been replaced by Quantum Gray on the Q5's exterior colour palette as well.
That is all about the 2023 Audi Q5 review, pricing, and specs. Interested in having this SUV? You can explore future Audi Q7 or Audi Q8 e-Tron as well.