BMW's XM SUV will be its largest and heaviest car when it goes on sale in 2023. Additionally, the car will have a plug-in hybrid power-train and a much higher focus on comfort and luxury than any previous M.
This sounds blasphemous coming from a company known for its performance cars. However, Lot of experts has just recently driven a prototype of XM near Salzburg, Austria to prove its worth.
Uniqueness of 2023 BMW XM
Initial reports expected the XM to be like the X7 or even the X8, yet the car has a unique identity all its own.  
It's the second M vehicle in history to ride on an exclusive platform. Until the XM's official debut in September, BMW won't reveal its exact dimensions, but it will be somewhere between an X5 and X7 in length with a lower roofline.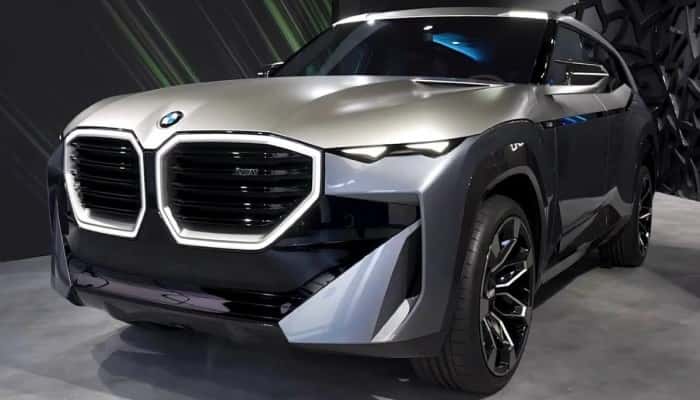 It has been assured by BMW that the production SUV will closely resemble the show car. While it may not be for everyone, the design is certainly a bold statement. The XM is expected to attract the same crowd, so a good or poor advertising campaign is necessary.
Wheels will be 22 inches in diameter with summer tires of 23 inch wheels will be available for larger cars. There are stacked exhaust pipes on the XM prototype as well as full width rear hatch glass, so expect those to make it to production.
Also Read: 2026 BMW 6 Series Design Concept
Interior & Exterior Design of 2023 BMW XM
Interior Design of 2023 BMW XM
Let's talk about the XM's rear seat despite the velvet bench.  While the roofline slopes, there is plenty of headroom and legroom that can accommodate taller people. 
To better enclose the passenger compartment, BMW deliberately designed the XM's back bench low. To increase privacy, BMW has tinted the rear windows by twenty percent.
Moreover, you can comfortably sit with your body turned toward the other passenger for easier conversation because the rear seat's edges are contoured into the XM's sides. In the XM, you can find wraparound bolstering that is normally reserved for Rolls Royce.
The cabin of the XM is less controversial than its exterior. There is no red velvet rear seat on offer in this concept, but high-quality leather, a geometric 3D headliner with ambient lighting, natural wood, and real metal inlays should be available. It will feature BMW's I-Drive 8 multimedia technology, housed on its curved display.
BMW is including a stylish little bag that fits the Level 2 charging cable in the trunk of every XM. In addition to that, it's big enough to be used as luggage for a weekend getaway.
Exterior Design of 2023 BMW XM
There are only intense reactions to Concept XM. It's impossible to remain unmoved by the audacious lines of this SUV, it has all the subtlety of a machine gun. Some think it's awesome and those who think it's hideous, but no one has yet dared to call it beautiful.
In traditional double grilles, the size is similar to that of a canyon. For those with poor eyesight who may miss it, BMW has also added contour lighting. The hood has raised bulges, as do the M3 and M4. Although there is a pair of LEDs incorporated into the A-pillars higher up, the headlights are oddly small when compared with the grille. A matte gold-bronze paint finish tops the Concept XM, while Space Grey Metallic paint finishes the lower half. 
A low-profile set of tires adorns the rims on each side of the car, which are 23 inches in diameter.
While perhaps not everyone will agree with me, I feel that the XM's rear aspect is one of its strongest features. The cool-looking taillights are elaborate strips that are entirely black when they are not being used.
On either side of the rear window at the top of the vehicle, instead of the classic BMW logo centered in the center, there are two roundels placed higher up, harking back to the M1. It is also possible to see vertically-stacked quad tailpipes at the bottom of the vehicle.
The production model of the Concept XM will likely be toned down to a certain extent in the future, but it will be talked about for months to come.
Also Read: 2024 BMW X3 Redesign
Engine of 2023 BMW XM
This new twin-turbo V8 4.4 liter engine will be paired with an electric motor for a total output of 644 horsepower and 650 pound-feet of torque at launch. 
A more powerful configuration is set to arrive in 2023, matching the Concept XM's 737 lb-ft or 1,000 Newton meters of torque.
It is unexpectedly how those pipes bark, but honestly, the whole vehicle is. It combines BMW's new 4.4 liter twin-turbo V8 engine with a lithium-ion battery pack, as found in the 2023 BMW XM.
According to BMW, the battery pack should have enough energy to provide a driving range of about 30 miles, or roughly 20 kilowatt-hours. When its two engines are combined, the XM will produce 644 horsepower and 590 pound-feet of torque.
Transmission & Performance of 2023 BMW XM
With its active anti-roll bars and 48 volt electrical architecture, the XM will offer rear-wheel steering up to 2.5 degrees, 30 to 50 miles of electric range, and 25 degrees of rear wheel steering. An eight speed ZF automatic transmission works in conjunction with the mild hybrid V8 engine. It will not have the concept XM's fancy interior as it will have a cabin closer to what you'd find in a current high-end BMW.
Electric motors in XM vehicles are sandwiched between engines and transmissions, so they don't power individual axles. A limited-slip differential in the rear axle allows the all wheel drive system to send up to 100 percent of the total power to the rear axle.
A total of 5,952 pounds, or approximately 2,700 kilograms, make it the heaviest vehicle ever built by a German marquee. The i7 xDrive60 electric sedan will weigh even more than that. This XM, which features 23 inches of wheels and a width of 2.21 meters, is certainly going to be a sight to see. With its big and bulky design, the SUV will introduce BMW M's plug-in hybrid technology which will trickle down to the next-generation M5.
Driving Features of 2023 BMW XM
When it's running in hybrid mode, the XM will rely on the electric motors whenever possible, and turn on the gas engine when necessary.  Under braking, when the engine turns off before stopping, the transition between starting and shutting off is seamless.
A few M drive modes let you adjust the power-train, suspension, steering, and other parameters on the XM. You can adjust the brake pedal force, as well as the intensity of the regenerative braking, with the XM's brake by wire system. 
This also works in fully electric mode, so if you are not on racing mode, you can still get the heaviest steering and stiffest damper settings.
Release Date & Cost of 2023 BMW XM
BMW's X5M with the Competition Package retails for $115,300, while the base XM starts at $130,000. It is easy to imagine a $150,000 or more sticker price for the hotter one once you factor in all the available options.
BMW's Spartanburg plant will begin producing the XM in December following its September debut. North America, specifically the US, is BMW's projected biggest market for the XM, but China and the Middle East will also contribute big amounts to the total market. The first cars are expected to hit dealers in March 2023.
The XM is happy to haul tails with the ferocity of an M5, & then quietly trudge through the neighborhood.
Related News for 2023 BMW XM
We have to admit, the XM is not the spiritual successor to the iconic M1, although it is the first dedicated M car since then. As large and heavy SUVs, one shares almost nothing in common with a low slung, lightweight coupe with a mid-mounted engine. The Vision M Next concept suggested a modern day M1, but BMW ultimately decided not to produce the plug-in hybrid sports car.
The XM will, for better or worse, be a spitting image of last year's namesake concept when it arrives before the end of the year. A prototype of BMW XM is conducting final testing around the Nürburgring, all the final body panels have been installed. 
Because of its partially exposed split headlights, it looks massive and already polarizing. It is expected that the XM will stand out from the current crop of BMW SUVs thanks to its stacked trapezoidal exhaust tips and slim tail lights.