What we know so far about 2024 Dodge Electric Muscle Car design concept, changed, release date, etc. The Charger Daytona SRT concept car debuted on Wednesday as a preview of the company's first all electric muscle car, expected in 2024.
In contrast to its famous V8 engines, Dodge is now offering electric versions of some of its iconic gasoline-powered muscle cars. An electric concept car the company unveiled on Wednesday mimics some muscle car sensations, such as shifting gears and loud exhausts, to ease fans into this new era.
There are several possibilities for the still unnamed battery electric muscle car. It could serve as a sequel to one of Dodge's earlier products or it could serve as the flagship of the company's current lineup of vehicles. Although Dodge has not yet announced what the new car will be named, it has shown what it will look like.
Uniqueness of 2024 Dodge Electric Muscle Car
This two door coupe provides a glimpse of what Dodge's next gas-powered muscle car will look like, replacing the current Dodge Challenger and Charger models. Several new technologies are also featured in the car that make it feel and drive like a traditional muscle car.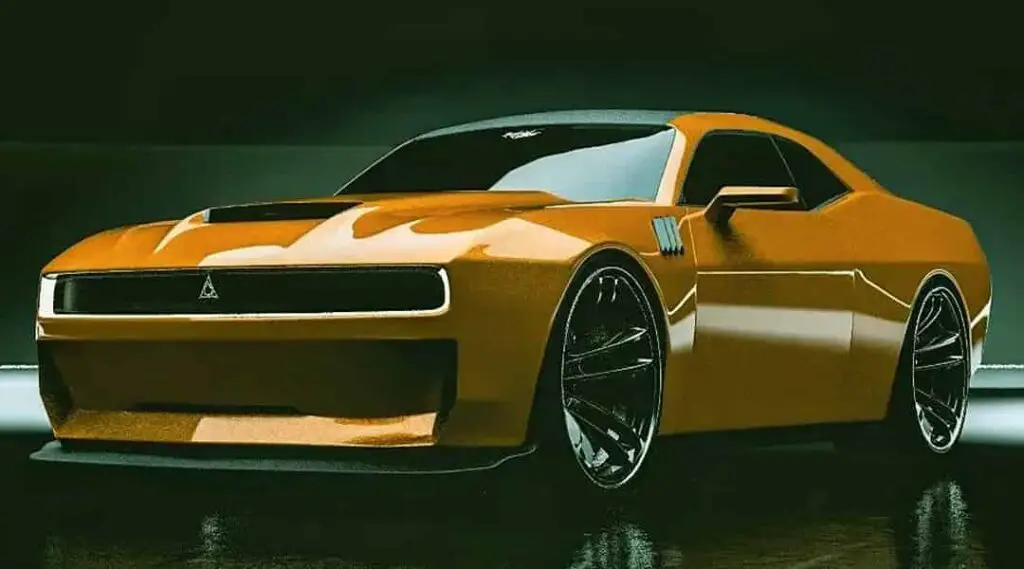 A new muscle car is always exciting, but when it's the world's first-ever all-electric AWD muscle car, the excitement goes to another level.
An aerodynamic, yet muscular, version of the current Dodge Challenger looks futuristic, yet retro at the same time. One of the most notable features of the front end is the large opening for air that the company calls an R-Wing.
Interior & Exterior Design of 2024 Dodge Electric Muscle Car
Interior Design
There are a lot of digital features inside the Dodge Daytona SRT Concept, but it still looks like a conventional car. In addition to the slim dashboard and 12.3 inch touch screen tilted toward the driver, the Dodge electric muscle car comes with a curved, 16-inch instrument group, 8 by 3 inch head up display, capacitive touch controls on the steering wheel, as well as capacitive touch controls on the doors, and an illuminated SRT logo.
A dynamic texture is illuminated by an Attitude Adjustment Lighting system, underscoring the concept's performance-oriented nature. There are other notable interior features for this model, including lightweight, race-inspired, and slim front seats, a panoramic glass roof, race inspired carbon fiber floors and hatches, a large cargo area with flat-folding rear seats, and performance sounds.
Exterior Design
It is a modernized version of Dodge Challenger that takes the classic proportions and mixes them up with some contemporary and futuristic design elements. There is a new color scheme, dubbed Greys of Thunder, which complements the stealth appearance of the show car.
An illuminated Fratzog logo and full-width rectangular DRLs complement the two-eye rectangular headlights. It marks Dodge's journey to a zero-emission future with the return of its three pointed Fratzog emblem, which was introduced some 60 years ago. 
An air intake grille with vertical slots reminiscent of the 1968 Dodge Charger is found on the lower portion of the wide air intake grille.
There are slim door mirrors, a sloped roofline, and a large quarter glass on the sides of the Charger Daytona SRT Concept, as well as 21 inch wheels, red Brembo brake calipers, flush door handles, and banshee badges on the fenders that shout. Similarly, the shoulder line slopes down from the C-pillar towards the back.
Engine of 2024 Dodge Electric Muscle Car
In order for the Dodge electric muscle cars to deliver plenty of power and a long range, they will need expansive battery packs. As a result, expect them to be able to ride on the STLA Large platform, which can accommodate batteries with an energy content of 101 to 118 kWh and can provide up to 500 miles of range. Electric motors for muscle cars can be tuned for high output power of 330 kW or 442 hp.
However, Dodge did say that it would be faster than the Dodge Challenger Hellcat even though it has not announced how much power it will produce with its electric motors.
Aerodynamic Features
There is a radical front wing on the Charger Daytona SRT Concept, which Dodge calls R-Wing. It is the unique aerodynamic passageway between the headlights, which almost disappear and are hidden underneath the design. By allowing air to flow from the two openings to the hood and further back, the R-Wing pays homage to the original Charger Daytona design and improves the car's down force.
Transmission & Performance
Less than three seconds will be needed to accelerate from 0 to 62 mph, and 186 mph will be the top speed. Dodge e-Muscle specs may be similar to those of other dodge cars. If it manages to do so, Dodge will indeed have something special on its hands.
Apart from required safety noises, electric vehicles drive in only one gear and have multispeed transmissions and exhausts. While the Charger Daytona doesn't really need a transmission sound, Dodge believed electric car
drivers might miss the sounds and sensations of shifting a transmission.
Suspension of 2024 Dodge Electric Muscle Car
A new pushrod suspension design inspired by F1 will be featured on Dodge electric muscle cars. Coil springs or transverse leaf springs may be used with horizontal dampers and active control elements. Stellantis is still patenting the technology to be used in the Dodge electric muscle car concept that will be unveiled in the near future. Dodge electric muscle car patents may include the new pushrod suspension.
Release Date & Cost
The Dodge Challenger e-Muscle is scheduled to debut in 2024, Dodge's first electric muscle car. A concept vehicle is frequently used by automakers to gauge customer interest or to show the direction the brand will take in the future. The vehicles will not be available for purchase by consumers till 2024.
2025 is the likely date of the debut and sale of the first Dodge electric muscle car inspired by the Dodge Charger Daytona SRT Concept. Based on the Charger and Challenger, this concept car is likely to be powerful, quick, and full of retro flair.
It is estimated that the starting price of the Dodge charger Daytona SRT will be in the range of $50,000.
Related News
Dodge's gas powered muscle cars will permanently end with the end of production at the Brampton Assembly Plant in Ontario. The next generation of Dodge Challengers and Chargers will only be electric vehicles and won't be powered by gas again.
Car Production News
It is expected that the production of all current Brampton in Ontario Assembly Plant models, such as the L-series Dodge Challenger, Dodge Charger, and Chrysler 300, will end in 2024. Stellantis plans to retool and modernize its factory for electric vehicles then. It is anticipated that this plant will resume production in 2025.
As soon as production resumes in 2025, at least one all new electric model will be produced at the Brampton factory, Stellantis announced on May 2, 2022. The production version of the Dodge Charger Daytona SRT Concept will be the one sure-shot EV in Brampton.
Battery Production News
Stellantis and LG Energy's joint venture lithium-ion battery production plant in Windsor, Ontario could supply the batteries for Dodge's next-generation electric muscle cars if they are manufactured there. This plant will begin production in the first quarter of 2024. The factory will receive a US$4 billion joint investment.
It is possible that Stellantis and Samsung SDI's local joint venture battery production plant in Indiana will supply the batteries for the first Dodge electric muscle car to be built in the United States. Initially, the companies plan to produce 23 GWh per year, with a capacity of 33 GWh later. The facility will be worth more than USD 2.5 billion to the companies.
Why Dodge is moving on to Electric Vehicle?
Stellantis' Dodge division is shifting towards electrified vehicles as part of an overall strategy. Charger and Challenger will cease production next year, marking the end of the brand's current gas-powered muscle cars.
According to executives, the Dodge Charger Daytona SRT concept is based on a model that will be available from 2024 onwards. A new plug-in hybrid small SUV called the Hornet is set to go on sale later this year as well.
This year's Dodge brought many electrification headlines. It can't be said that Dodge is immune to the electrification trend; neither does it lag behind the competition. This is why the company teased an all-electric muscle car prior to its potential release in 2024.