Let's start the comparison between GV80 2024 vs Volvo XC90. When a brand wades into an area that is highly competitive, it's less common that it gains a foothold within a short period of time. There is a lot of weight placed on the appeal of badges in the premium sector, and it can take a long time for a product to surpass the established names in the market. A sleek, sophisticated, and spacious luxury SUV is one of the most popular choices when it comes to taking on the roads, so if you are in the market for one you should consider the following options.
It's well worth taking some time to compare what the Genesis GV80 and Volvo XC90 have to offer, but if you're stuck on which is a better luxury SUV in 2022, you'll want to check out the differences between these two brands.
About Genesis GV80 2024 vs Volvo XC90
Volvo XC90: Volvo XC90 is a large vehicle that manages to look elegant and understated at the same time, and even better on the inside than it is on the outside. In addition, there are a lot of high-quality materials used throughout the cabin, and the minimalist dashboard adds to the sense of tranquility.
It is true that the touch screen is the most reliable method of controlling even some of the most basic functions of the car, but as with some of the other Volvos, this can be an irritation. Otherwise, the car is large but looks elegant and understated, and the cabin is very comfortable and relaxing. 
Genesis GV80: The Genesis GV80 is one of the most anticipated models in recent memory among luxury SUVs, and it certainly is the most awaited Genesis model of all time. The Genesis GV80 SUV is a large, luxury SUV that is available with either petrol or diesel power, and with a seating capacity of five or seven passengers. The GV80 is designed to stand out from the crowd.
Genesis GV80 2024 vs Volvo XC90 Exterior Design
Genesis GV80: With so many matte paint treatments and a generally colorful palette of options available for this model, it is definitely one that will catch people's attention and make them crane their heads to get a closer look at it.
However, what makes you really look at the vehicle is the design of the front and rear quad lights, as well as the aggressive front end featuring the trademark 'G-Matrix' mesh finish grille, which is shaped like a crest. The quad light treatment and crest-shaped grille give the car a unique look that is sure to turn heads.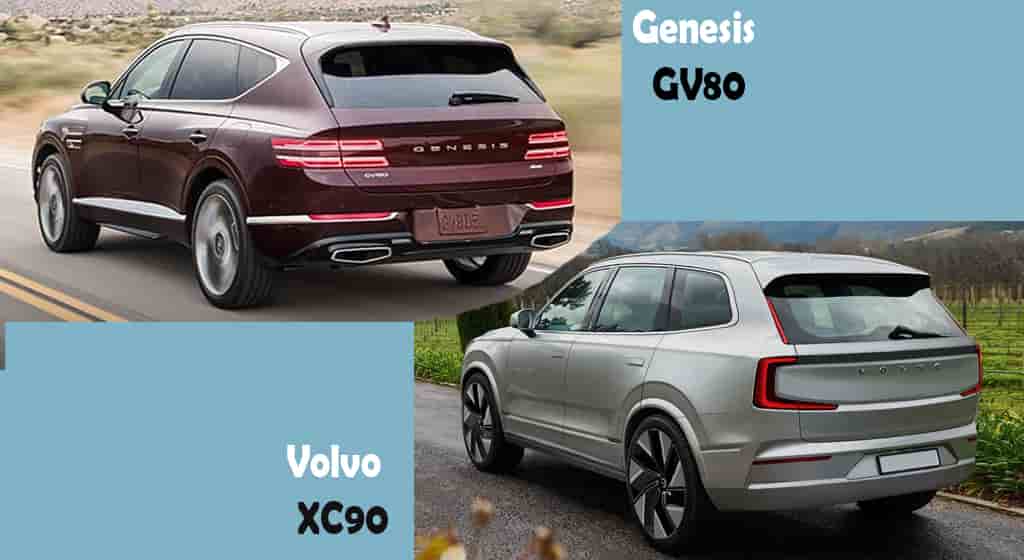 Volvo XC90: There is something refreshing and elegant about the XC90's design, which is a lesson on how to defy time and age at the same time. The SUV is also large, strong, and prestigious-looking in appearance, just as you would expect from a flagship SUV from a premium car brand.
Perhaps it's the XC90's austere appearance that keeps it appearing current, because the inside appears like the inside of a very expensive psychiatrist's office, complete with leather seats and brushed aluminum trim.
Interior Designs for Genesis GV80 2024 vs Volvo XC90
Genesis GV80: Aside from handwriting recognition and redundant controls on the 14.5-inch touch screen, the Genesis GV80 features a 12-speaker premium audio system and Apple Car Play or Android Auto functionality. The vehicle also includes numerous safety and driver-assist features, as well as a valet service and an option for self-parking. Don't be mistaken, the GV80 is primarily intended for five passengers.
The GV80 is a safe and luxurious vehicle that is mostly intended for five passengers. It has a third row, but it is very small and there is no room for cargo behind it.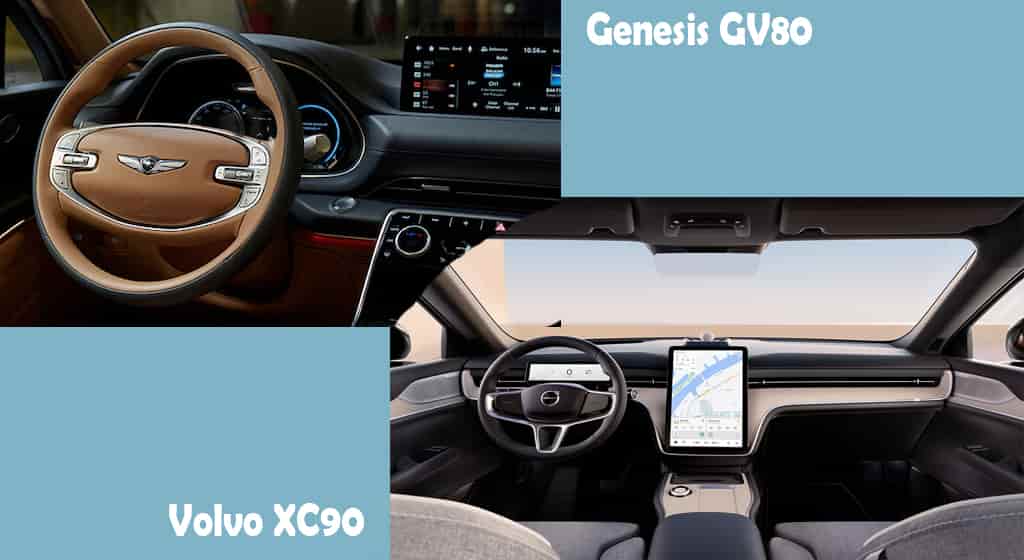 Volvo XC90: In terms of quality materials, there is a generous use of them, and the minimalist dash gives the cabin calm, soothing aesthetic. It is an irritant to have to use a touch screen to control basic functions, as with some of the other Volvos.
There's a lot of comfort in the front seats of all XC90s, and the last row can be used as well; however, the middle row is a bit firm. Comfort is excellent in Excellence trim XC90s thanks to individual back chairs.
Genesis GV80 2024 vs Volvo XC90 Engine and Performance
Genesis GV80: With its 2.5 liter four cylinder petrol engine, the 2.5T produces 224kW at 5800 rpm and 422Nm between 1650 and 4000 rpm. It features an eight-speed automatic transmission and is available in 2WD/RWD or AWD.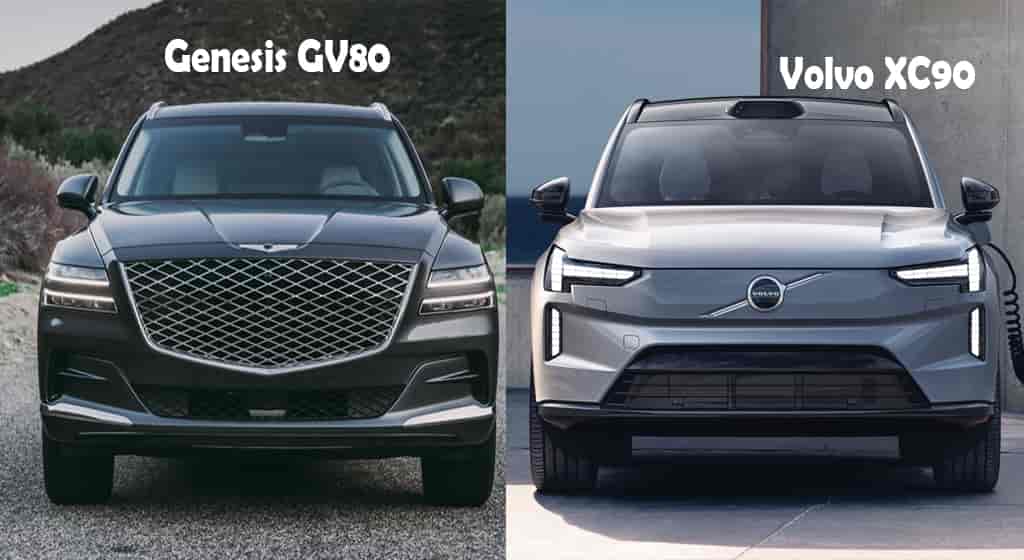 Volvo XC90: With a 2 liter four cylinder supercharged and turbocharged engine producing 246kW and 440Nm, and an electric motor adding 65kW and 240Nm, the XC90 Recharge is an all-wheel drive SUV.
Genesis GV80 2024 vs Volvo XC90 Price
Genesis GV80: With a twin-turbo V6 petrol engine, the 3.5T AWD seven-seater model is the top of the range. The cost is $108,600.
Volvo XC90: As the most expensive grade in the XC90 range, the XC90 Recharge is listed at $114,990. Even so, considering the number of standard features that are included, the value is excellent.