A new EV model from Hyundai, the Ioniq 6, will compete with Tesla's Model 3. Ioniq, an electric vehicle sub-brand within the company, manufactures this four-door hybrid with some components shared with the taller, boxier Ioniq 5.
This Hyundai Ioniq 6 is as fast and futuristic as it is stylish, and its styling is influenced by Hyundai's dramatic Prophecy concept. Compared with Hyundai's gas-powered Sonata and Elantra sedans, it offers a more luxurious interior and more onboard technology.
Design of 2024 Hyundai Ioniq 6
In addition to the Ioniq 6, there are several new models in the lineup. Despite being numerically placed between Ioniq 5 and Ioniq 7, it continues to have a lower profile than the taller crossovers.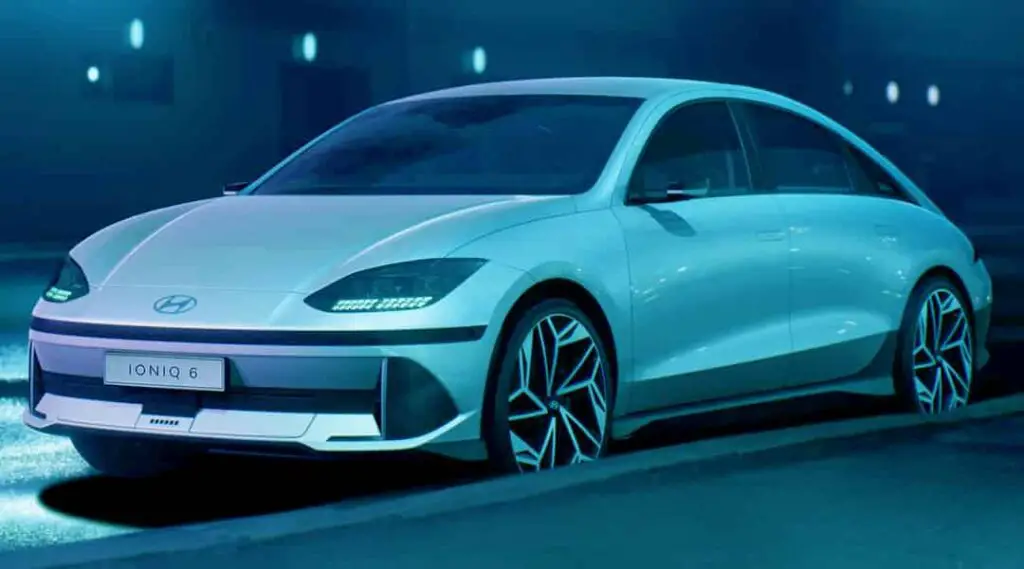 Even though no one knows the exact dimensions of the Ioniq 6 four door coupe. With an E-GMP platform shared with the Ioniq 5, its wheelbase will be similar to that of the Ioniq 5. Hyundai expectations are for an overall length of 180 to 185 inches with short front and rear overhangs. You can expect the curb weight to be less than that of the crossover, so let's say 3,800 pounds or so.
Engine & Performance of 2024 Hyundai Ioniq 6
Ioniq 6's powertrain has remained a mystery, but you know Hyundai won't adopt a bespoke powertrain for this model. There will be both single and dual motor powertrains available, just like the Ioniq 5 and Kia EV6. The RWD version will have 225 horsepower, while the dual motor AWD version will have 320 horsepower. In the former, torque will range from 258 pounds feet to 446 pounds feet.
The Ioniq 6 N could have 576 horsepower, matching the Kia EV6 GT's output. It should take about 4.5 seconds to go from 0 to 60 mph for regular models.
Interior Design & Cargo for 2024 Hyundai Ioniq 6
In the 2024 Hyundai Ioniq 6, Hyundai describes its cabin as a Cocoon shaped haven that doubles as a personal space for both comfort and privacy. This interior is comfortable and luxurious, dominated by twin 12 inch displays, one for the driver's instrumentation and the other for the infotainment.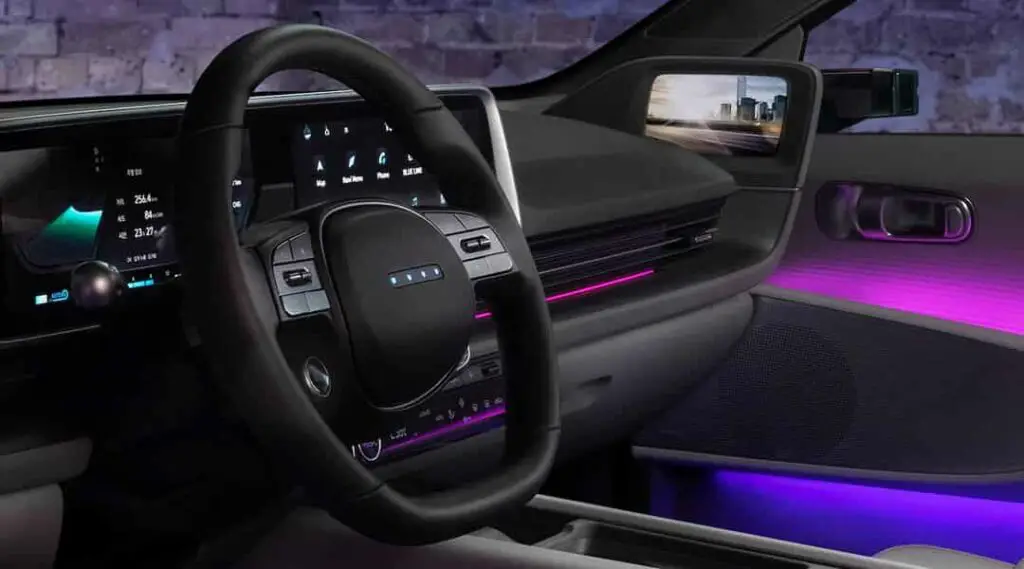 The Ioniq 6's dual color ambient lighting, floating center console, and Interactive Pixel lights give it a unique design and interactive nature, while the doors are completely button free. Recycled leather, recycled PET fabric upholstery, recycled fishnet carpet, and other recycled materials are used throughout the trim.
With its four doors, the Hyundai Ioniq 6 can accommodate up to five people. There are many benefits to electric skateboard platforms, not least of which is their packaging.
With no transmission tunnels to worry about, you should have plenty of head and legroom, exceeding the Elantra's measurements of 40.6 inches in front & 37 inches in the rear, and 42.3 inches in front & 38 inches in the rear, respectively. The Hyundai Ioniq 6's trunk space will be around 14 cubic feet due to its sleek coupe-like design.
Also Read: 2024 Hyundai Ioniq 7
Exterior Design of 2024 Hyundai Ioniq 6
There is no doubt that the exterior of the Hyundai Ioniq 6 stands out from the crowd in a big way from the aerodynamic blobs of most electric cars, regardless of their brand. Despite its appearance not being as svelte as the Prophecy concept that inspired it, it's still pretty to its single curved design.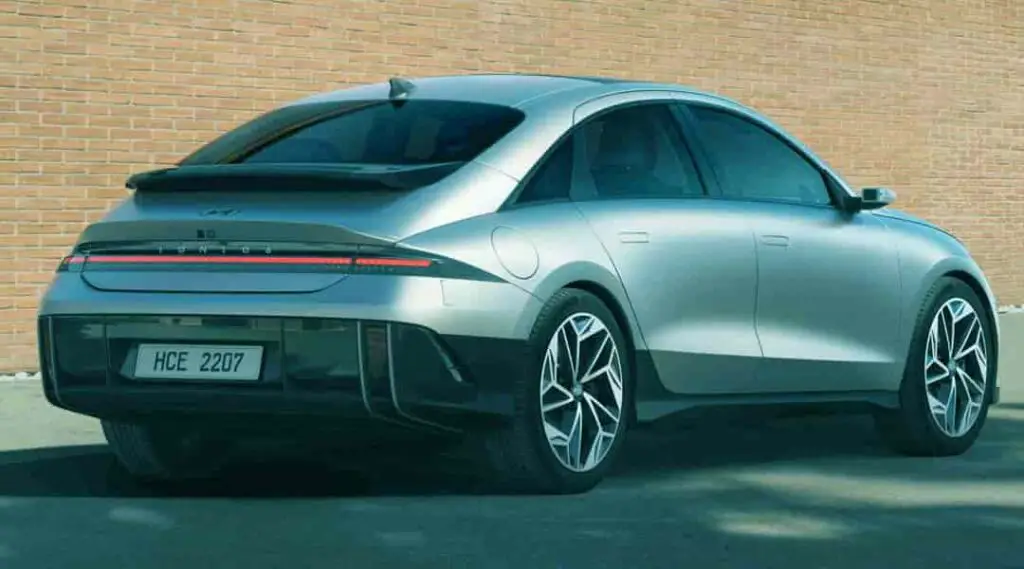 Although the front looks somewhat traditional, the Parametric Pixel LED lighting concept blends beautifully with contemporary design cues. Having twin ducktails is a unique element that appears refreshing compared to what you are currently used to. 
It is not only just pretty but also efficient when these various elements come together. Its impressive drag coefficient of just .21 is achieved thanks to a flat floor, active air flaps, and wheel gap reducers.
The Hyundai Ioniq 6's colors should be demure and understated with the rest of its design. Initial launch cars look like they are painted Atlas White or a similar hue, but you can expect colors like Shooting Star, Digital Teal, Phantom Black, and Cyber Gray to carry over.
Battery Range & Charging of 2024 Hyundai Ioniq 6
With smaller and larger battery packs and either rear or all wheel drive, it is likely to offer similar trim levels and powertrain configurations.
This means that the battery pack will be available in two different configurations, one with a single motor and one with a dual motor. As a result of the larger battery and aerodynamic shape, the 6's range should be around 320 miles in certain configurations.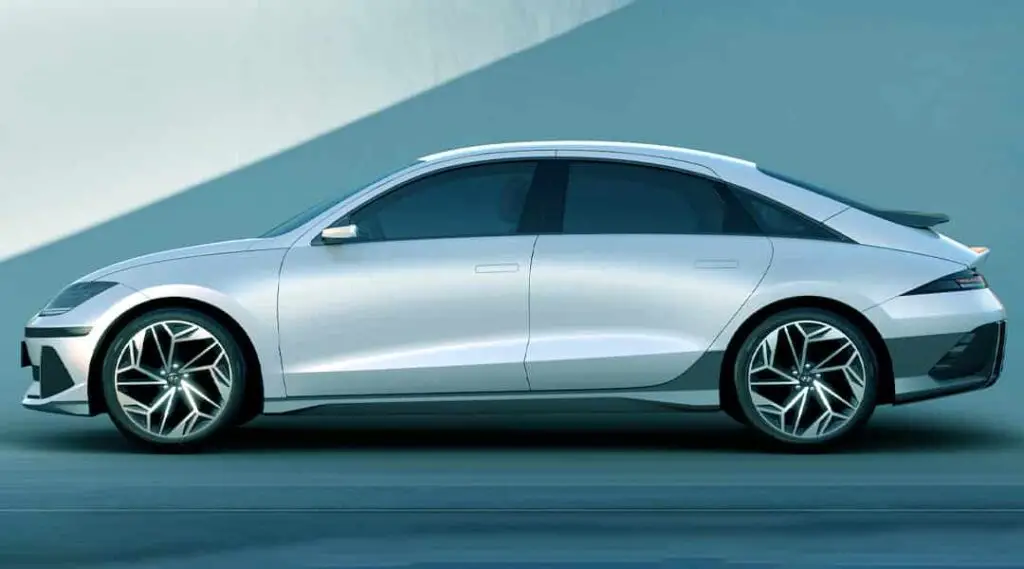 A successful Hyundai Ioniq 6 EV will depend on its range and recharging capabilities. On 250kW plus charging infrastructure, the 77.4 kWh battery pack is expected to recoup 10 to 80 percent state of charge in 18 minutes. For a Level 2 charge to reach 100 percent, it will take 7 hours and 10 minutes. You can expect more range and gas mileage than the 303 miles in the RWD model, and 256 miles in the AWD model.
Infotainment System of Hyundai Ioniq 6
You can choose between a digital gauge cluster and an infotainment screen with a 12 inch display. Hyundai's Ioniq 6 uses the same BlueLink software as other Hyundai models, which uses either Apple CarPlay or Android Auto for smart phone connectivity. As the Ioniq 6 approaches its official launch, more details about its infotainment system will become available there.
Maintenance & Warranty of Hyundai Ioniq 6
As one of the best warranty plans in the industry, Hyundai offers a comprehensive coverage plan. As well as that, it offers an impressive amount of maintenance that is complimentary.
A five year or 60,000 mile limited warranty is included
There is a 10 year or 100,000 mile powertrain warranty
There is a 10 year warranty or 100,000 miles on the battery
Three years or 36,000 miles of complimentary maintenance are included
Fuel Economy
It is unclear what the EPA's fuel economy rating for the Ioniq 6 will be, you expect it to be slightly better than the squarer Ioniq 5, which is rated for up to 132 mpg in the city and 98 mpg on the highway. 
Driver Assistance Features & Safety
It is likely Hyundai will compensate for the absence of the Korean-market Ioniq 6's camera based exterior mirrors by providing our version with a rich array of driver-assistance features.
An automated emergency braking system detects pedestrians & lane keeping assistance, standard lane departure warning. A lane centering feature is available with adaptive cruise control.
Release Date
The Hyundai Company likes to unveil cars, and then wait for a bit before revealing all the details. Now that the Hyundai Ioniq 6's design has been revealed, its release date isn't too far away. A 2024 model year version is expected to arrive in the USA in mid-2023.
Price
The answer to this question won't be to everyone's liking, but it's a question that's hot on everyone's lips. The price of the 2024 Hyundai Ioniq 6 is unknown because no one knows what it will cost. Hyundai charges 15000 dollars more for the Ioniq 5 than the Tucson, making the Ioniq 6 a similar price difference over the Tesla.
In comparison to the Ioniq 5, which starts at 40,925 dollars, you can expect the Ioniq 6 to be slightly more expensive. Due to Tesla's current starting price of $46,990, Hyundai will undercut Tesla substantially, and will be eligible for various tax rebates that Tesla is not.