Those who are into electric vehicles while still maintaining sporty and masculine design may be excited about 2024 Jeep Wrangler. The upcoming modern vehicle would be named the Magneto. The concept was already revealed and introduced in 2021, during Moab Easter Jeep Safari event taking place in March (25th of March) to April (4th of April). So, what can we expect from this new Magneto? Would it still maintain the power and strength of Wrangler despite the electrification?
The Manufacturing Plans
The design studio's head, Mark Allen, had stated that they are ready with electric vehicles. In fact, it's possible that new electric rides would be ready within the following years but he didn't say anything about the launching timeline. In 2024, Jeep has a plan to deploy its own special platform. It's STLA Frame platform that is created for electric pickup truck variants with 500 miles of ranges (around 800 kilometers). That's why it would be impossible for Jeep to delay the launch.
The Design
If based on the presentation during Moab Easter Jeep Safari, the Wrangler Magneto would be the closest variant that would be similar to the electric Wrangler. Allen also stated that the electric Magneto will take the natural testing ground from Jeep, the Moab, within the upcoming two and the half years. For now, Magneto is created as the baseline. But it may change in a few years time. Allen stated that the Wrangler Electric's production model would be looking for different from the concept.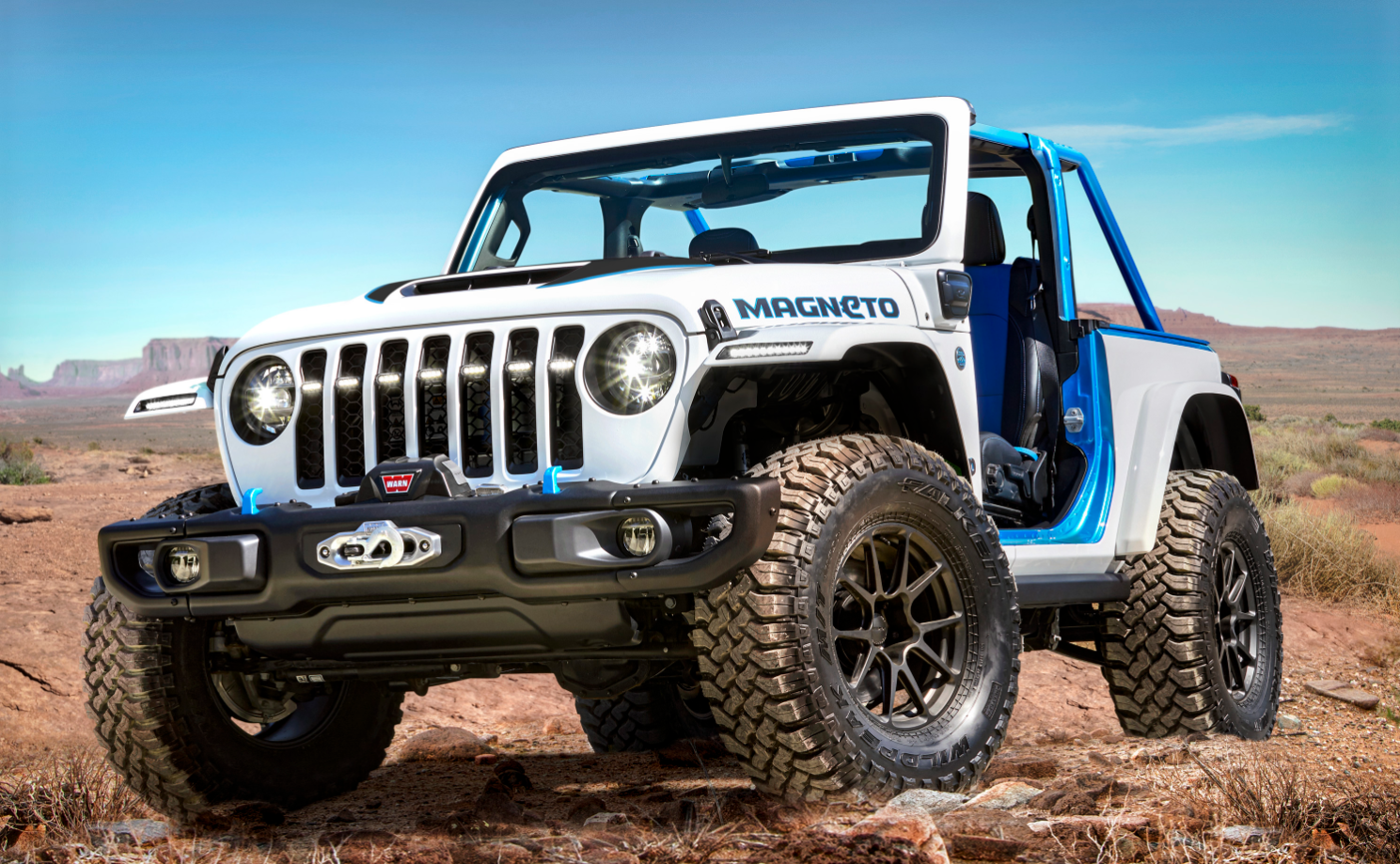 According to Allen, the 2024 Jeep Wrangler Magneto would be designed only as a test-bed model. It is a concept model to pique Jeep's loyal fans and enthusiasts reactions. Jeep is using Magneto to see whether a battery electric ride can really perform well in the offroad setting, like the Moab. Jeep basically has tons of questions concerning the electric vehicles, and Magneto somewhat provides a mean to answer their confusions.
The EV Features
For the upcoming electric vehicle, Jeep would introduce a sophisticated feature with biometric recognition technology. It means you can unlock and then start your vehicle conveniently by performing a simple facial scan. There is a horizontal lightbar, placed behind the seven slot grille which would be placed within the same front fog lamps LED's height, will offer extra illumination when it is dark.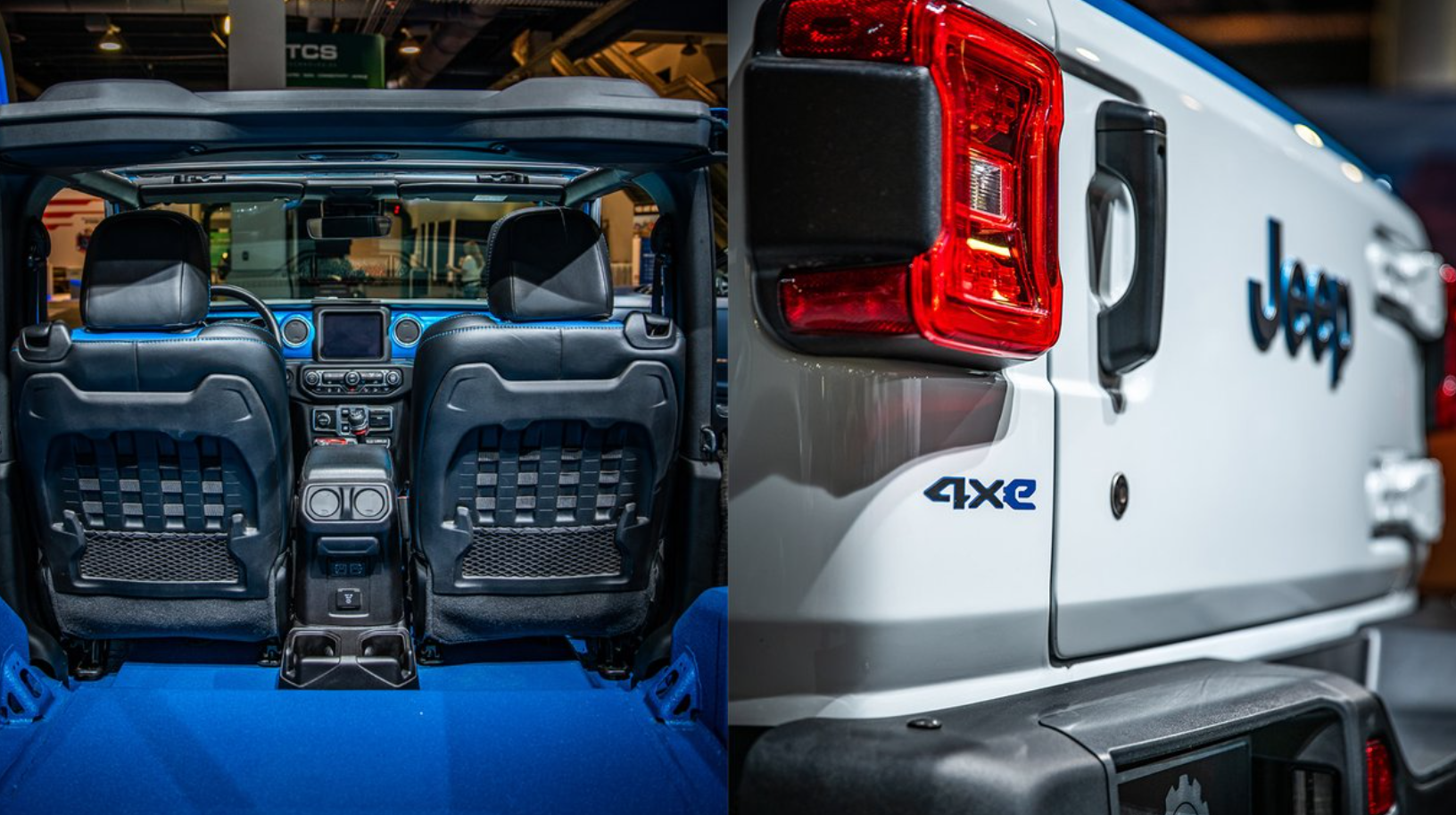 The vehicle also offers peer to peer charging. It means that you can charge other vehicle by using the EV's battery power. Moreover, extra feature for drone pairing is also made available. Jeep
is continuously developing the EV. The company wants the EV to have more features and capabilities by 2030, such as remote vehicle tracking and autonomous offroad drive. There is a video showing Wrangler EV move on its own and drive up a hill to pick the passenger and driver.
The Special Characteristics
The Wrangler EV will remain true to the traditional characteristics of the SUV, but they would include the modern elements into the tech features and comfort. The electric SUV may be designed for offroad situation, but there are new features available, such as biometric recognition, group ride, AR HUD, peer to peer charge, Jeep drone pairing, remote vehicle tracking, Jeep trails, and OTA updates.
Powertrain and Performance
Jeep has developed an axial flux electric motor with custom built system that would be combined with four (battery) packs, generating combined power of 70 kWh and delivering 800V for the Magneto. According to Jeep, this arrangement will result in impeccable performance. The electric Wrangler would have similar abilities like the V6 Pentastar of 3.6 liter unit, generating 285 hp and 370 Nm of torque. The EV should be able to reach 62 mph within 6.8 seconds, which isn't so bad after all. Hopefully, we would hear more details about 2024 Jeep Wrangler Magneto soon enough.