You need to feel confident in your automobile, especially if you want to get a really expensive SUV, given the abundance of super opulent SUV vehicles available on the market. Although there are numerous SUVs on the market, we are focusing on the 2024 Mazda CX-50 2.5 turbo-liter SUV at the moment.
A 2.5-liter four-cylinder engine with 187 horsepower available normally aspirated or 256 horsepower turbocharged variants are both offered for the CX-50. Additionally, a hybrid vehicle with a Toyota powertrain is in the works.
About 2024 Mazda CX-50 2.5 Turbo Premium
The 2024 Mazda CX-50 is not the only compact SUV in their line-up but they do have an older model named the Mazda CX-5. By the look of this new CX-50, it is very likely to say that there is not much difference in both their cars, and yet the price of the CX-50 is roughly $1000 greater. So are there any extra amenities we could expect to see in the upcoming 2024 CX-50?
With the upcoming 2023 CX-50 Turbo, the automaker will be able to fill in the gap that has previously existed in its lineup by adding a much-needed turbocharger. In terms of size, the CX-50 is similar to the CX-5, which was all new for 2023.
Despite the fact that the CX-50 has almost the same cargo capacity as the CX-5, it is lower and wider and comes with a larger cabin. There are several benefits to this design, including a sportier stance to the CX-50 as well as better driving dynamics.
2024 Mazda CX-50 2.5 Turbo Premium Interior Design
The CX-50 offers a capacity for five people in two rows of seats, the same as the CX-5 crossovers. Although the inside of the 50 has larger square dashboard vents than the smaller CX-5, the overall atmosphere is stylishly sophisticated, especially in the equipped 2.5 Turbo Premium Plus version.
Speaking of its main infotainment screen, the 10.3-inch screen of the Mazda CX-50 2.5 Turbo premium trim's screen is devoid of lots of extra amenities like Android Auto and CarPlay.
On the Standard model, there is an eight-speaker stereo system, but in the Premium and Premium Plus models, there is a 12-speaker Bose stereo system with SiriusXM satellite radio. Only the Turbo Premium Plus comes with a wireless phone charger.
There is no doubt that the system works well, and the dial is well placed, so you don't have to take your eyes off the road in order to operate it. There is a great deal of visibility out of the CX-50, and the available surround-view camera makes the experience even better.
In terms of Convenience for 2024 Mazda CX-50 2.5 Turbo Premium
In comparison to some of its rivals, the CX-50 offers a firmer ride as part of the whole package. This is not to argue that it is jarring; it's simply that you feel more aware of the road than in other vehicles.
The soft cushions make it even easier to relax while bumps are still muffled. Although the side bolstering and cushioning in the front seats are adequate, we thought the back bench was a little flat. Both the front and back seats may be heated and ventilated. There won't be much road noise for passengers to gripe about.
2024 Mazda CX-50 2.5 Turbo Premium Technology 
The Mazda CX-50 sports a decent array of in-car technology as well as driver aids as standard equipment. All trims of the vehicle are equipped with both Apple CarPlay and Android Auto, along with multiple USB-A ports for the purpose of charging devices.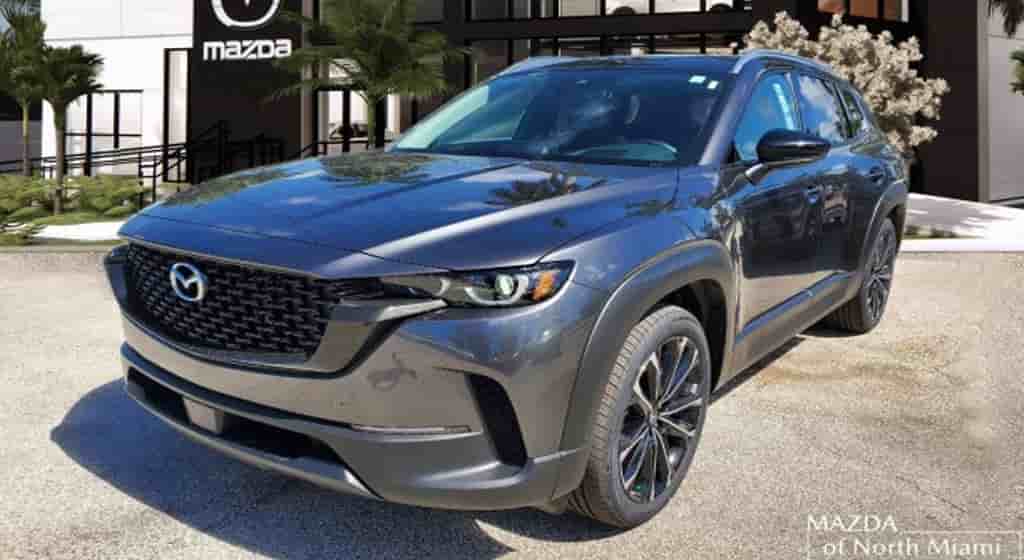 Wireless charging pads are available, but we haven't had much luck with using them with smart phones due to our limited experience. Despite Mazda's built-in navigation system having a simple and easy-to-use interface, you can also use voice commands to input addresses.
There are quite a few standard drivers assists that come with the CX-50, such as blind-spot monitoring and adaptive cruise control. As a result, we were not able to observe any false readings during our testing and we are confident that they work well.
Performance & Power of 2024 Mazda CX-50 2.5 Turbo Premium
Engine Performance of 2024 Mazda CX-50 2.5
The Mazda CX-50 2.5 Turbo Premium is powered by a 2.5L Turbo Inline-4 Gasoline engine capable of producing 227 horsepower at 5000 rpm and 310 lb-ft of torque at 2000 rpm with an automatic 6-speed transmission which is available with an all-wheel drive system. 
Transmission Range for Mazda CX-50 2.5 Turbo
When accelerating from 0 to 60 mph in the test run, we found that the transmission does a good job of finding the right gear at the right time, and it took 7.2 seconds. As a small SUV, it's a bit slower than a turbocharged CX-5 that was tested earlier, but it's still decently fast for something so small. 
Mileage of Mazda CX-50 2.5 Turbo
It has been estimated that the combined fuel economy of this vehicle will be 25 mpg with the upgraded turbo engine. For a small SUV, neither of these numbers is particularly impressive.
The 2.5-liter turbocharged prototype of the CX-50 was able to meet its combined fuel consumption rating, achieving 25.7 mpg in the 115-mile route.
Price for 2024 Mazda CX-50 2.5 Turbo Premium
The new upcoming Mazda SUV the 2.5-liter turbo Premium trim is supposed to be launched in the year 2024 and the expected price is $42,500 which is supposed to be greater than their own Mazda CX-5.