Let's talk about 2024 Subaru Forester vs. 2024 Toyota RAV4 comparison and their differences. There is no denying how competitive the compact crossover market is. However, few vehicles are as popular as the Toyota RAV4 and Subaru Forester. Despite sharing a sector and even having comparable power trains, the two vehicles couldn't be more unlike in character.
When comparing the Subaru Forester and Toyota RAV4, one is a family car for metropolitan areas, while the latter strikes one as more young and willing to occasionally dip its tires in the sand. The Toyota RAV4 and Subaru Forester are both good choices if you're seeking a two-row SUV that's large, secure, dependable, economical, and loaded with extras.
General Overview of 2024 Subaru Forester vs. 2024 Toyota RAV4
2024 Subaru Forester SUV: Many people believe that Subaru Foresters are rather decent because they have been around for a long time and are widely available, and that means they must be doing something right.
The interior of the Toyota Forester is more than just a vehicle, it is spacious and comfortable. It also comes with a wide suite of standard advanced driver assistance technology as well as plenty of available features especially helpful in off-roads or terrains to make the driving experience unique and smooth.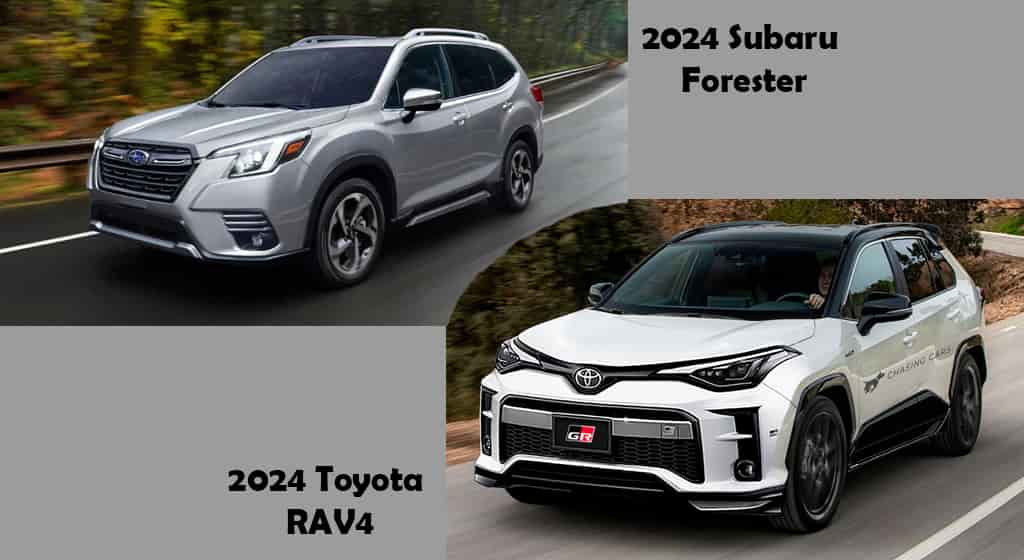 2024 Toyota RAV4 SUV: For many years now, the RAV4 has been one of Toyota's best-selling models for good reason; it's a sensible, economical SUV that's been around for a long time. Featuring a cargo-friendly cabin, a competitive starting price, and good handling, the 2023 RAV4 carries on the legacy established by the previous generation. 
There is no question that the RAV4 is one of North America's best-selling non-pickup truck vehicles, which speaks volumes for its credibility in the marketplace. There is no doubt that the RAV4 is on the shortlist of anyone considering a family crossover.
Interior Design 2024 Subaru Forester vs. Toyota RAV4
2024 Subaru Forester SUV: There are no frills in Forester's cabin, which offers a good driving position and excellent outward visibility thanks to its straightforward, uncluttered design. On the seats, door panels, and dashboard of Forester's touring model, caramel-colored leather was nicely finished. With its tall doors and SUV-like ride height, getting in and out is a breeze, and there is enough room in the interior for four, and possibly even five, seated adults.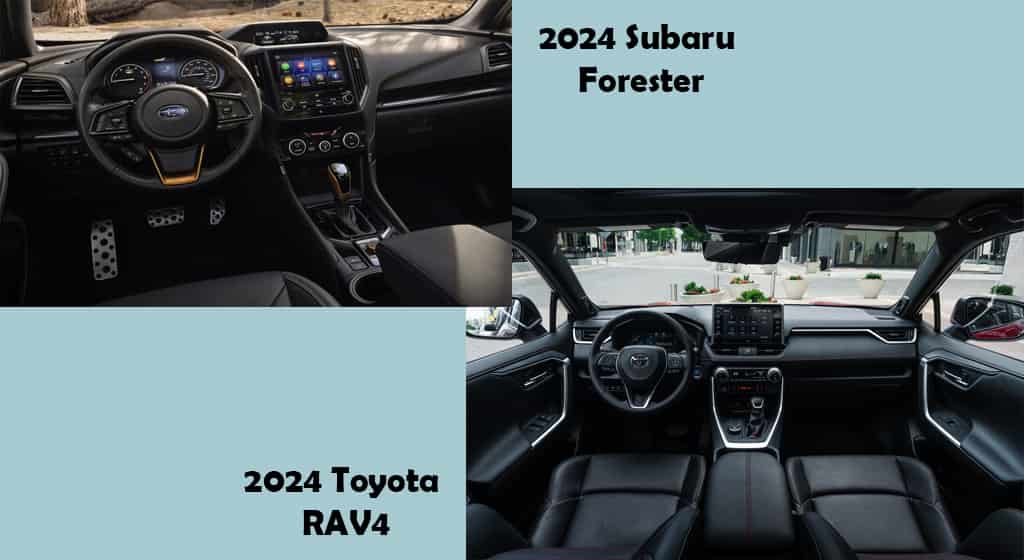 2024 Toyota RAV4 SUV: The RAV4 has plenty of storage and practicality inside, and the roomy center console works well with the helpful shelf that spans the dash. Soft-touch surfaces and beautiful plastics were both included in this RAV4 model.
In addition to the large rubberized climate control knobs, all the other aspects of this vehicle are exactly as you would expect them to be. However, the music system and climate system controls are islands unto themselves.
2024 Subaru Forester vs. Toyota RAV4 Convenience
2024 Subaru Forester SUV: The Forester will keep you traveling in luxury whether you have a long daily commute or a relaxing getaway in the store. The suspension readily smooths out bumps and ruts on the road, and the front seats provide adequate bolstering, padding, and lumbar support. The Forester's lofty profile does create some wind noise, and road noise is kept to a minimum, but it's a tiny price to pay for the driver's seat's commanding position and excellent view.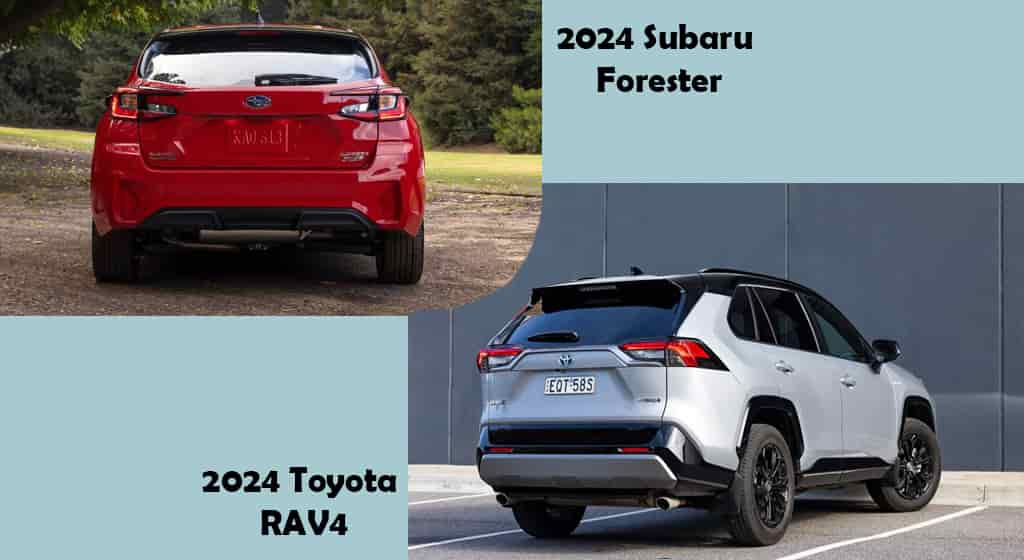 2024 Toyota RAV4 SUV: There are several things that have been taken into account in tuning the suspension of the RAV4. When you drive over bumps, the body does not bind or float, and you are not affected by small or moderate impacts when you drive over them. In general, the RAV4 is a relatively quiet vehicle when driving at high speeds, but there are moments when the engine sounds a little rough, especially when you hit the gas for a burst of speed.
Engine Comparison Subaru Forester vs. Toyota RAV4
2024 Subaru Forester SUV: As with all Foresters, the 2.5-liter flat-four-cylinder engine comes with 182 horsepower and is capable of towing 1500 pounds. All Foresters are powered by the same engine. All-wheel drive is provided by Subaru's trademark continuously variable automatic transmission.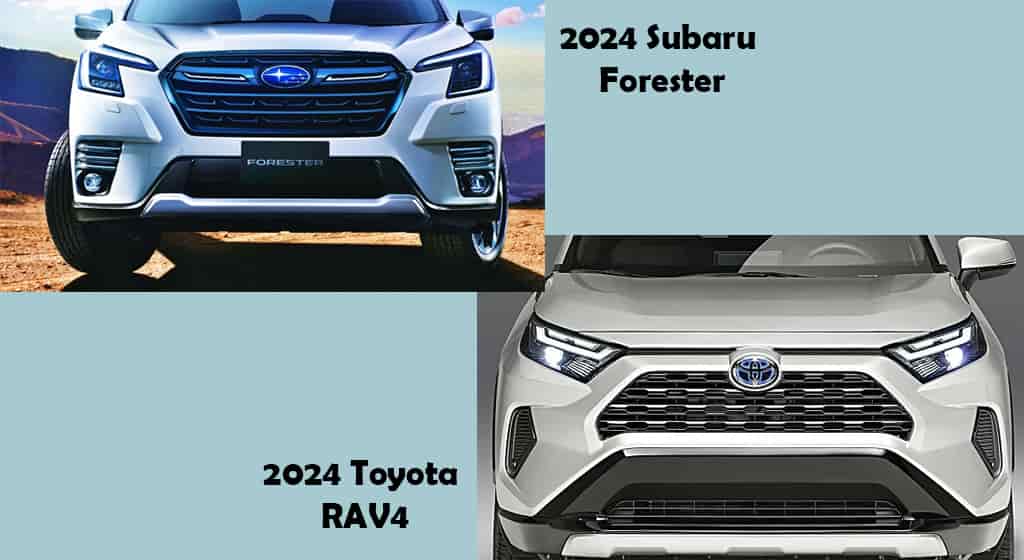 2024 Toyota RAV4 SUV: In the 2023 Toyota RAV4, a 2.5-liter four-cylinder engine produces 203 horsepower and is mated to an automatic transmission with eight speeds. Toyota's all-wheel-drive system remains the standard on the model, but there is now the option of choosing between front-wheel or all-wheel drive, depending on the trim level.
Mileage Comparison Subaru Forester vs. Toyota RAV4
2024 Subaru Forester SUV: In terms of fuel economy, the Forester achieves 29 mpg combined, which is near the top of the class. During testing, however, throttle more because of the weak engine, which can have a negative impact on fuel economy in real-world conditions.
2024 Toyota RAV4 SUV: The EPA provided fuel-economy ratings for the RAV4 that was in its class. On the interstate, front-wheel-drive RAV4s may get up to an estimated 35 mpg. This car could achieve 32 mpg with the all-wheel-drive Adventure on our 75 mph interstate fuel-economy route. 
2024 Subaru Forester vs. Toyota RAV4 Price
2024 Subaru Forester SUV: 2024 Subaru Forester prices could range from $26,500 to $36,450 depending on how much buyers want to spend and how fancy they like their cars.
2024 Toyota RAV4 SUV: The Estimated price of 2024 Toyota RAV4 SUV is estimated to be lunch in the year 2024 with a price tag of $27,500 to $37,300.