Let's explore 2024 Toyota Camry vs 2024 Honda Accord Comparison and understand which one to buy! As midsize car ranking, the Accord and Camry are in high esteem & both sell well. Besides offering up market cabins, comfortable seats, and enjoyable driving dynamics, both sedans have up market interiors. As well as being fuel efficient, the Camry and Accord can offer high level safety and reliability.
However, some car enthusiast state it will launch as a 2024 model, but we do not know when it will be revealed. One of Accord's strongest competitors is Toyota's top selling Camry 2024.
Engine Comparison 2024 Toyota Camry vs 2024 Honda Accord
Toyota Camry 2024: As the mid size enters its ninth generation, Camry will likely maintain its hybrid propulsion dominance with its electron assisted 2.5 liter engine. In addition to its 302 horsepower and 225 kW, the plug-in hybrid will offer up to 44 miles of EV range.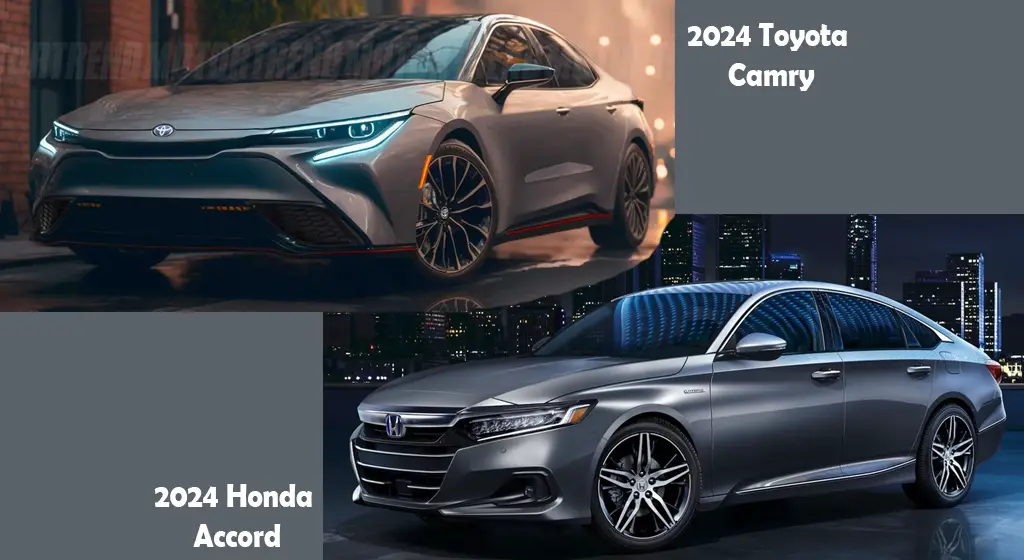 Unlike the 3.5 liter naturally aspirated V6 that formerly powered the range; it will be replaced by a 2.4 liter turbocharged four cylinder engine in two tunes. A base 2.4 liter turbocharged engine produces around 265 horsepower and 198 kW, while a hybridized version delivers around 335 horsepower and 240 kW.
Honda Accord 2024: A two Liter inline four engine and two electric motors will likely power the gasoline electric hybrid setup, likely sharing an electric motor for propulsion and regeneration with the all new Honda CR-V. The Accord's engine is powered by a slightly more powerful system with 204 horsepower, 152 kW, and 247 lb-ft of torque.
There will also probably be a turbocharged 1.5 liter carryover, even if it is revised. The turbocharged 2 liter four cylinders mated to a ten speed automatic transmission will produce at least 252 horsepower.
Accord buyers will be pleased to hear that hybridization will be available in the range, given the rising cost of fuel and the need for personal loans to fill a vehicle.
Interior Design for 2024 Toyota Camry vs 2024 Honda Accord
Toyota Camry 2024: The Camry provides a lot of space, and the seats are positioned at a height that lets most people fit comfortably inside. In the front row, plenty of headroom is available, as is legroom in the back for those who are six feet tall. The cabin's interior styling seems a bit drab compared to more recently redesigned rivals, though the space is impressive.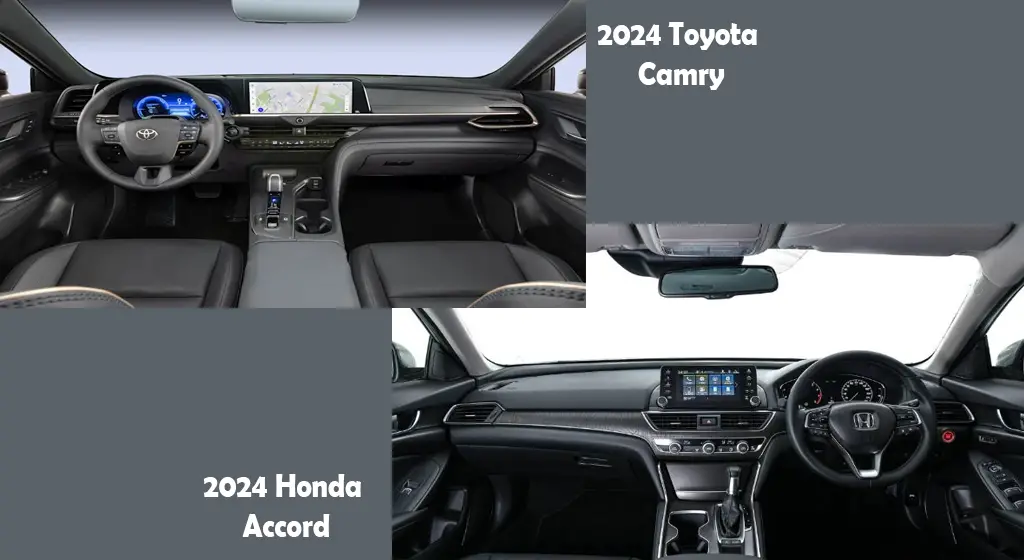 The whole thing is also adorned with large plastic pieces that might be perceived as cheap. Although the outside world is far from peaceful, the Camry provides a comforting retreat. This car offers a cargo area with a maximum capacity of 15.1 cubic feet. There is plenty of space for luggage or recreational equipment in this midsize sedan.
Honda Accord 2024: For taller people, the Accord's roofline is swept off, so getting into the back requires ducking under it. Inside, the Accord's comfortable seats and convenient controls provide passengers with a great driving experience. Additionally, the Accord's refinement levels are higher than those of the Camry.
In the Accord, soft surface materials are liberally used and fewer hard plastic pieces are obvious. In terms of cargo space, the Accord comes out on top, with a wide trunk opening and 16.7 cubic feet of space.
2024 Toyota Camry vs 2024 Honda Accord Exterior Design
Toyota Camry 2024: A contrasting trapezoidal grille graphic and a curvaceous hood give the vehicle a lot of visual look. Its wide wheels and smooth side surfaces give it a dynamic stance, while its lower doors and shoulder line feature just enough tension. The tapering deck-lid, shapely rear quarter glass, and lower diffuser panel flanked by quad exhausts help define the rear, as do muscular haunches and full width rear LED lighting clusters.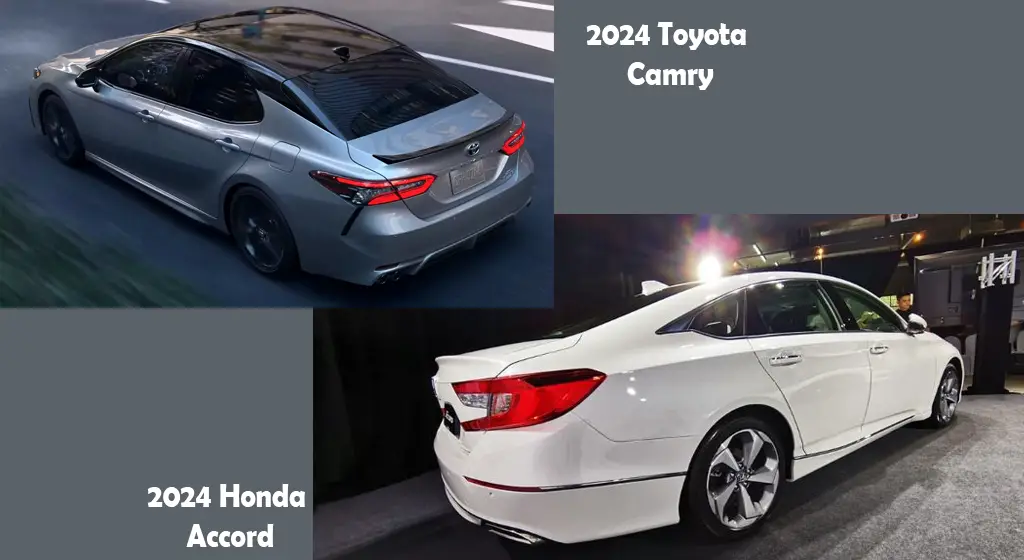 Honda Accord 2024: A trapezoidal grille and slim LED headlamps add a hint of Ford's dearly departed Taurus to the front end. Further details include smooth sheet metal surfaces, a fastback silhouette, and full width LED tail lamps. Behind the lower bumper, the exhaust is hidden behind a subtle lip on the trunk lid.
Infotainment System for 2024 Toyota Camry & 2024 Honda Accord
Toyota Camry 2024: Designed completely from the ground up for 2024, the Camry was completely redesigned. It has since been enhanced with Apple Car-Play, Android Auto, and Amazon Alexa as standard features. A larger touch screen infotainment system, stronger engines, better handling, and improved fuel economy round out the features of the latest Camry.
Honda Accord 2024: In addition to the 2024 redesign, Honda also made notable changes to the Accord for 2021. This generation of the Accord offers improved cargo capacity, fuel efficient turbocharged engines, and more standard safety features. It is also equipped with Android Auto and Apple Car-Play.
2024 Toyota Camry & 2024 Honda Accord Release Date & Cost
Although no official date has been set, it is likely to debut either before the end of 2022 or early next year as a 2024 model, although Honda may also sell it as a 2023 model.
There is an estimated cost of 28000 dollars for the Toyota Camry 2024. It will cost around 45000 dollars for a Honda Accord 2024.