Let's get into the first look of Volkswagen ID Buzz 2024 and what we know so far about this car. Automobile owners are increasingly focusing on electrically powered vehicles over conventional vehicles due to a new trend in the industry. It is no surprise that more and more manufacturers are developing electric cars or pledging to run on petrol-free cars in the near future. The demand for more spacious vehicles and the availability of options for families was bound to increase in a short period of time.
There are quite a few electric vehicles on the market today and the market seems saturated with smaller cars at present. However, some manufacturers are working hard to release vehicles that are more suitable for families with larger children. So, in order to anticipate the increased demand for its Volkswagen ID in the future, Volkswagen has released its own 2024 ID. Buzz.
Brief about Volkswagen ID. Buzz 2024
As far as this car is concerned, the 2024 Volkswagen ID Buzz targets a segment that is largely untapped. ID Buzz is designed in a retro style to commemorate the legendary Type 2 Microbus of the German car-making company, which provided the inspiration for this new van's design.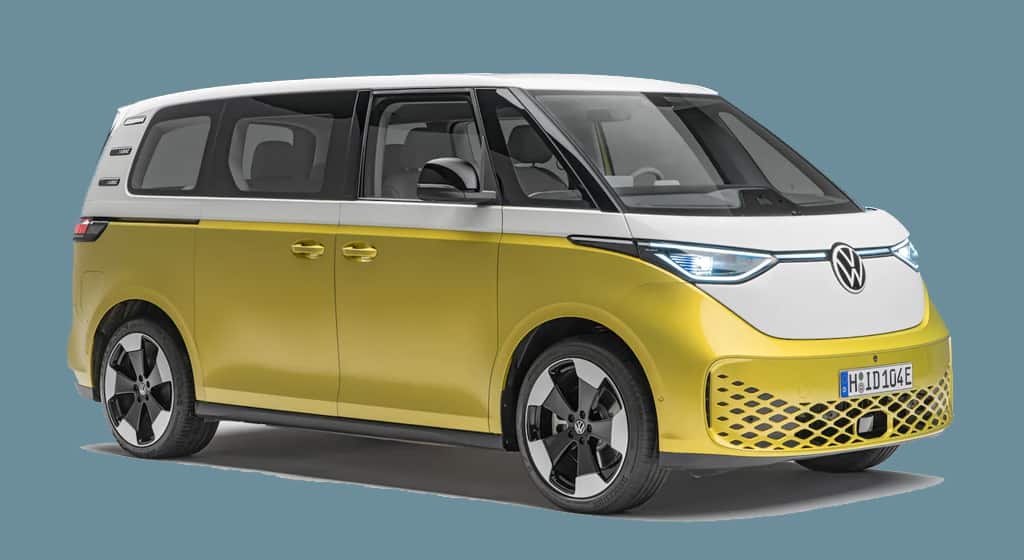 With the all-new ID Buzz, the iconic VW microbus has been brought into the modern era thanks to its base on the MEB platform. There is, however, a little wait ahead for people living in the United States, as it will not be available for them until later this year. Here are some brief specifications about the 2024 Volkswagen ID Buzz:
The new 2024 ID buzz will also be a spacious cabin with flexible seating along with three rows of seating to complement the nostalgic exterior aesthetic of the vehicle.
The ID Buzz's all electric power train will be available in rear- and all-wheel-drive configurations, with a driving range that's expected to reach a driving range of around 250 to 260 miles as a result of its powerful all electric power train.
VW says that when the van is plugged into a DC fast charger, its battery will be able to be charged from 5 to 80 percent in 30 minutes after being plugged into the charger.
There are also plans by the company to eventually introduce its plug and charge technology, which basically eliminates the need for the user to unlock the charger using any kind of app or card that is used for payment.
2024 Volkswagen ID. Buzz Interior Design
Interior style elements of 2024 Volkswagen ID. Buzz
There are a few elements in the interior that are reminiscent of the T1 generation. In this new car, a combination of white and fresh colors creates a refreshing atmosphere, making it a perfect choice for long-distance drives as it provides a refreshing atmosphere.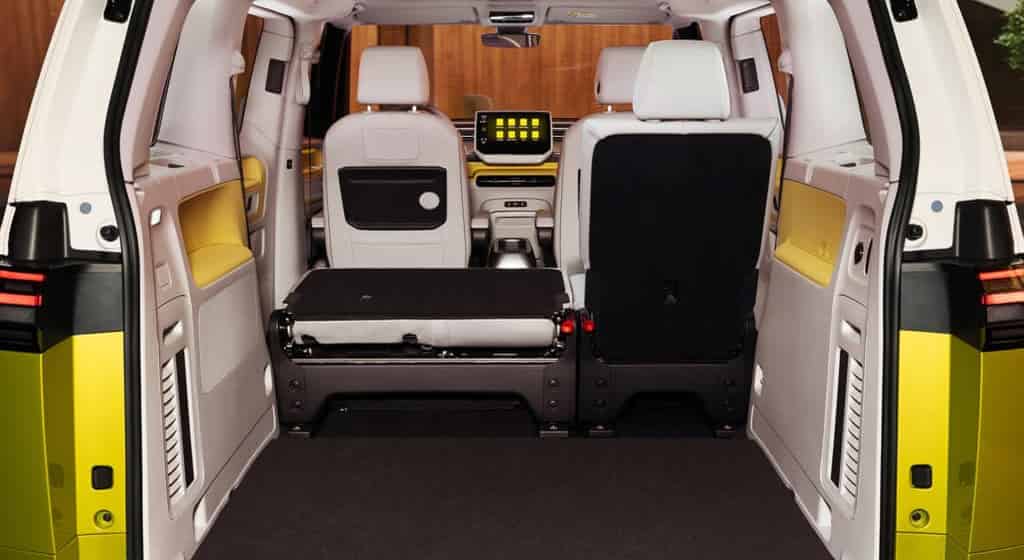 Of course, interior equipment includes ambient lighting. The base system offers 10 color options, but a more expensive version gives customers more options so they have the option to personalize exactly how they want.
Advance seating feature for Volkswagen ID. Buzz 2024
One of the unique features of the front seats is that this system can be electrically adjusted. This car is also expected to be stuffed with features such as memory and massaging functions that make this new upcoming family minivan very relaxing.
It is essentially a mobile and detachable central console that has the characteristics of a central console. There are a number of storage compartments included in the Buzz Box, as well as an opening lid that can accommodate a water bottle, a cup holder, and a drawer for housing a laptop or clipboard.
The cockpit of the ID buzz
With its flattish center cap and touch-sensitive controls, the steering wheel has a compact design with a compact profile. Right behind the driver is a control panel with a round AC vent built into it, in addition to a panel with controls for the light and vision features.
In the middle of the dashboard, a floating touch screen panel with a diagonal measurement of 12 inches is used to display the advanced infotainment system. There is also a compact 5.3 inch digital instrument cluster located right behind the steering wheel, as well as a rocker switch that can be used to enable and disable the parking brake and select drive modes. In the ID Buzz, there is no head up display available.
Special Interior Lightning features
As this light is positioned right in the field of vision of the driver, it serves primarily the purpose of giving the driver a visual alert of any danger around. Light strips that contain in built sensors provide visual alerts in different colors and positions depending on the position and behavior of the sensors.
For instance, it illuminates a signal on the respective side. Depending on the hue, a signal in the strip's right or left hand section could also indicate the presence of an impediment. When the entire light strip lights up in red, it means that the driver has to slam the brakes immediately.
Additional features of 2024 Volkswagen ID. Buzz
Besides CarPlay and Android Auto features, it is also expected that the Volkswagen ID Buzz will have some sort of rear seat entertainment system that will play videos and music. Moreover, there should be the possibility of setting up a Wi-Fi hotspot on a subscription basis as well as wireless device charging.
Exterior Design of 2024 Volkswagen ID. Buzz
Designed on the outside with both curves and sharp edges, the VW ID Buzz mixes a smoothness and sharpness that makes it look somewhat aggressive, as well as powerful.
In addition to having a distinctive V shaped hood, a honeycomb design in the front bumper, charismatic and dynamic headlights that utilize LED matrix technology IQ light, integrated window features, and a slim horizontal tail light hemisphere, the vehicle also has slender horizontal LED tail lamps.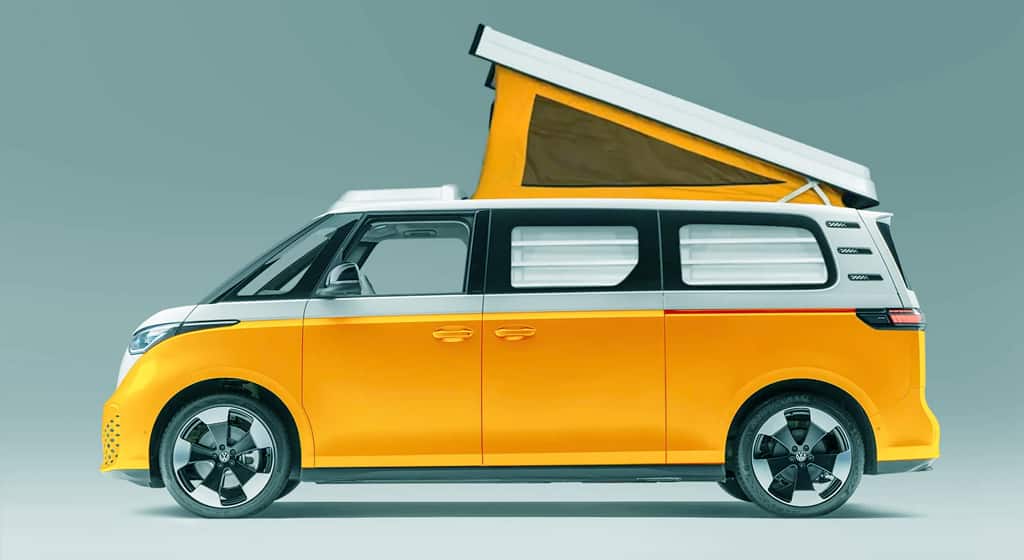 The car also resembles an MPV because of its four part window area and four sets of headlamps that extend into the fenders. The MPV seems to be a stubby and incredibly appealing car due to its chunky wheels, stubby body, and small overhangs. Even more intriguing is the way in which the two tone color scheme has been employed here. Aside from this, there are some exact tell-tale signs of an electric vehicle, such as overhangs that are extremely short, aero wheels, the LED strip between the headlights, and the entire rear light strip. 
Power and Performance of Volkswagen ID. Buzz 2024
In 2024, Volkswagen's ID Buzz all-electric vehicle is going to be based on the Modular Electric Drive platform that already underpins many of its corporate products and is all set to be used for its ID Buzz.
This is going to be the base model of the vehicle, which will feature a single electric motor, mounted at the rear that will produce 201 horsepower and 229 lb-ft of torque. At some point in the future, there will also be an option to purchase a dual-motor, all-wheel-drive vehicle with about 295 horsepower, similar to the current ID.4.
Battery life of the 2024 Volkswagen ID Buzz
According to the company, the battery pack for the upcoming European version will be larger than the current 77 kWh pack that powers the current European version.
The few ID Buzz devices are expected to have a range of at least 260 miles on a single charge, which is the expectation. A user of a DC fast charger from VW claims that he/she will be able to charge their vehicle from 5 percent to 80 percent in as little as 30 minutes if they plug their car into one.
Safety features to be seen in the 2024 Volkswagen ID Buzz
There is a wide range of driver-assistance technologies available as standard equipment on the new upcoming Volkswagen ID Buzz, as well as options for the new model. The self-park assist has also been upgraded with a memory function that VW says can be used on roads that have been stored in advance.
Release date and price of 2024 Volkswagen ID Buzz
The 2024 Volkswagen ID Buzz deliveries to the United States will begin in 2024, expectedly a year following the announcement of the car. A range of prices is likely to be charged for the electric family van in the range of USD 60,000 to 65,000 depending on its specifications and its model.