The Ford Mustang Mach-E and the Audi e-Tron are top-rated electric sedans that are available in the market. Both these cars are a great choice for anyone who wants to buy a premium electric vehicle. Here we are going to compare these two electric cars and see which car is a better choice for most buyers.
Performance and EV Motor Ford Mustang Mach-E vs Audi e-Tron
Ford Mustang Mach-E: Despite looking like a wagon, the Mach-E provides Mustang-like speed and agility. A 70.0-kWh battery pack is available with the 2023 Mustang Mach-E, or an extended-range 91.0-kWh battery pack. In the rear or on both axles, these power an electric motor. The Ford Mustang Mach-E has two other popular trims which are the GT performance and the Sports GT. A total of 480 horsepower and 634 pound-feet of torque can be produced by the motors of these cars together.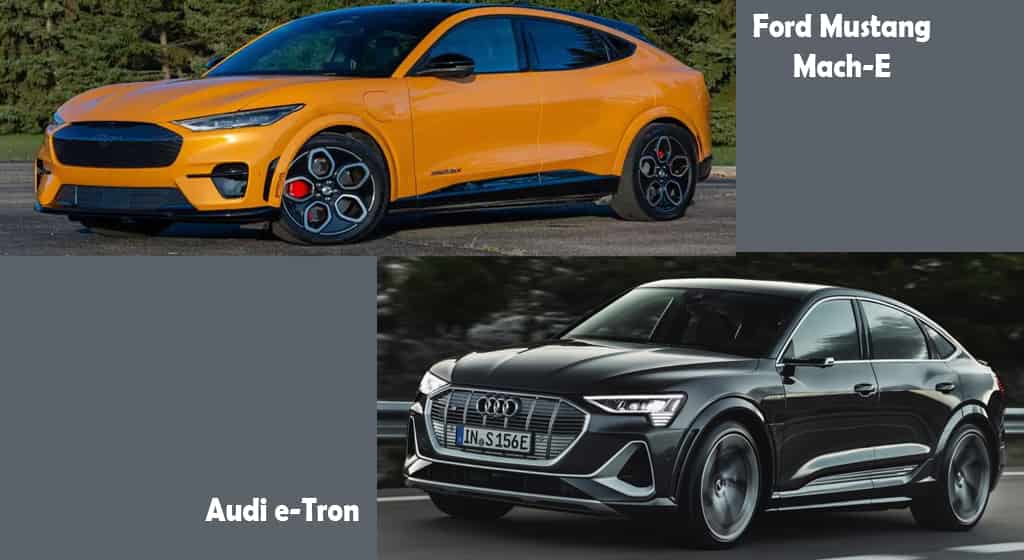 In just 3.5 seconds, Ford claims the Mach-E GT Performance will accelerate from 0-60 mph. Models with fewer horsepower and pound-feet have 266 to 346 horsepower. Adaptive dampers allow the ride firmness to be adjusted for the Mach-E, which comes with wheels ranging in size from 18 to 20 inches.
Audi e-Tron: Powered by electric motors on each axle, the Audi e-Tron is an all-wheel drive vehicle. It is claimed that the car can accelerate from zero to 60mph in 6.2 seconds. Although its powertrain is more muted than rival SUV models such as the Model Y and the XC40, the e-Tron 50 feels more than adequate around town. Nevertheless, the powertrain feels less responsive at higher speeds, such as on the highway.
Another advantage of the e-Tron is its air suspension, which is incredibly comfortable and does a better job of insulating you from road noise.
Ford Mustang Mach-E vs Audi e-Tron Comfort
Ford Mustang Mach-E: An excellent and easy-to-use climate control system, as well as a suspension that absorbs large bumps on the road, make this a very comfortable car. In warmer climates, seat ventilation would be welcome, and the available seat heaters get toasty pretty quickly. Padding in the seats is soft and cushy, yet breathes better than memory foam. However several key adjustments are missing, including a lower thigh cushion extender for drivers with longer legs. It is very difficult to stay in place because there is very little lateral support. There are no seats with more adjustments available.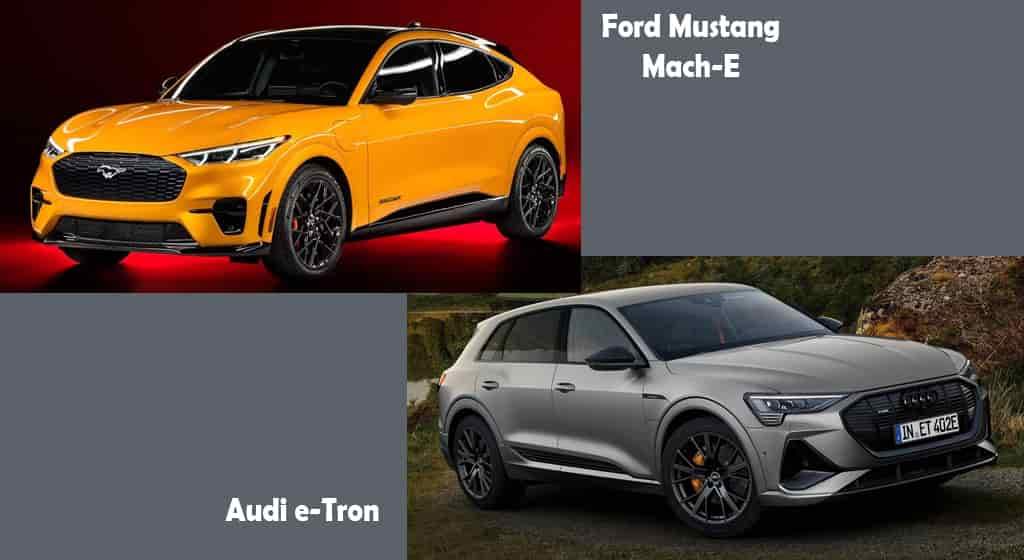 Audi e-Tron: It is very comfortable to drive the Audi e-Tron. There is also a quiet cabin without feeling like you are in a sensory deprivation chamber thanks to the air suspension, which provides a sophisticated and stable ride on a variety of road surfaces. Despite the hushed atmosphere, the cabin has a homely atmosphere thanks to the background resonance.
The seats are incredibly comfortable, and the quad-zone climate control system will keep all passengers comfortable to their liking. Audi did not compromise on the latter in an all-electric SUV,
Interior Design for Ford Mustang Mach-E vs Audi e-Tron
Ford Mustang Mach-E: There is plenty of cargo space and passenger comfort in the Mustang Mach-E thanks to the battery's location under the floor. On the center console, there is a floating armrest that can be folded down to store a purse or other items between the front-seat passengers.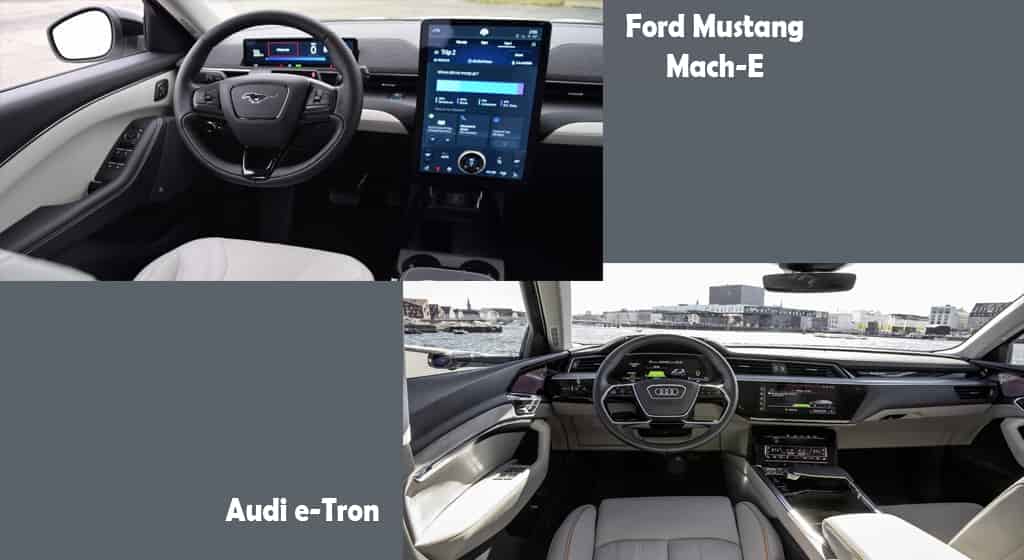 A panoramic sunroof, wireless charging, heated front seats, a heated steering wheel, customizable ambient interior lighting, and more are also included. Plastic is used for the front trunk, which can be rinsed and drained to store ice and messy items. Behind the rear seats, the Mach-E has 29 cubic feet of cargo space, and with the back seats folded, it has 60 cubic feet.
Audi e-Tron: A few unique features are included in the Audi e-Tron's cabin, including a squared-off steering wheel with touch-sensitive controls. The car has five passenger seats with a good amount of leg space and cargo space.
Ford Mustang Mach-E vs Audi e-Tron Connectivity and Infotainment
Ford Mustang Mach-E: Machine learning allows Ford's Sync infotainment system to fully customize the experience for each driver. One guest account and three driver profiles are currently supported. Featuring a 15.5-inch touchscreen, the Mustang Mach-E runs the software through an array of apps and features that are accessible through the touchscreen.
This system will continuously improve over time as Ford rolls out over-the-air updates, adding new content and continuously improving the system. There is also Apple CarPlay, Android Auto, a mobile Wi-Fi hotspot, and a Bang & Olufsen audio system.
Audi e-Tron: Among its features is Audi's latest MMI system, which is standard on the Audi e-Tron. Digital gauges are available with a 10.3-inch display, and a large 10.1-inch touchscreen controls the infotainment system. Besides augmented reality, Audi offers a head-up display that projects navigation instructions and warnings in the driver's field of vision. As you make your way through the e-tron's various trim levels and options packages, you can also get a Bang & Olufsen stereo system, a head-up display, and massaging front seats.
Pricing of Ford Mustang Mach-E vs Audi e-Tron
Ford Mustang Mach-E: The Ford Mustang Mach-E's base version which is the select version starts at $48,200 and the costliest version which is the GT Performance Edition is priced at $77,200.
Audi e-Tron: The Audi e-Tron's basic version is priced at $51,100 and the most costly version which is the Sportsback Prestige version is priced at $61,500.