The electric vehicle market is currently at its peak and the two crossovers that are popular in the market are the Tesla Model Y and the Ford Mustang Mach-E. While Tesla is the market leader for electric vehicles, Ford is also in the top three car manufacturers of electric vehicles. We are going to compare two popular cars from both brands, the Tesla Model Y and the Ford Mustang Mach-E
Pricing Comparison for Ford Mustang Mach-E vs Tesla Model Y
Tesla Model Y: Both Long Range and Performance configurations are available for the all-wheel-drive Model Y. For the long-range version, prices start at $67,000, while in the performance version goes up to $71,000.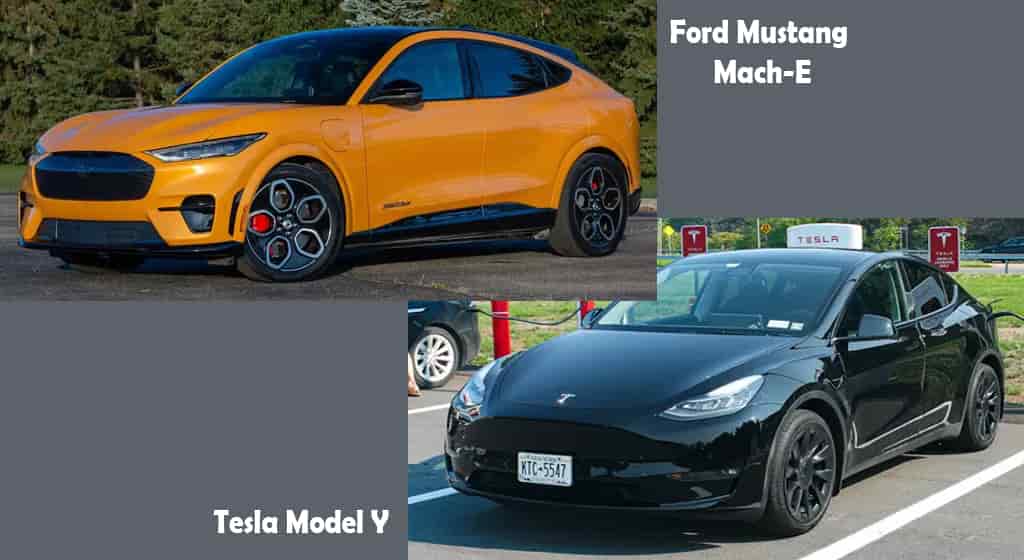 Ford Mustang Mach-E: With a starting price of more than $48,000, the Mustang Mach-E is available in four trim levels: Select, Premium, California Route 1, and GT. A 70-kWh battery and rear-wheel drive are standard on the most basic versions of the Select and Premium trims.
It is possible to upgrade to an all-wheel drive (AWD) for an additional $2,700 on all trims except California Route 1 and GT. It costs an additional $8,600 for the Premium model to include the extended-range, 91-kWh pack, whereas the top two trims include only the big battery.
Other Price Factors: Tesla has sold so many electric vehicles that its vehicles are no longer eligible for the government subsidy, while Mustang Mach-E buyers will get a $7,500 federal tax credit.
Ford Mustang Mach-E vs Tesla Model Y Range, Battery Life & Charging
Tesla Model Y: The range is 330 miles for the Long Range model and 303 miles for the Performance model. In contrast, the latter is equipped with 20-inch wheels and a lowered suspension, which gives it a faster top speed (155 mph) and quicker acceleration claims.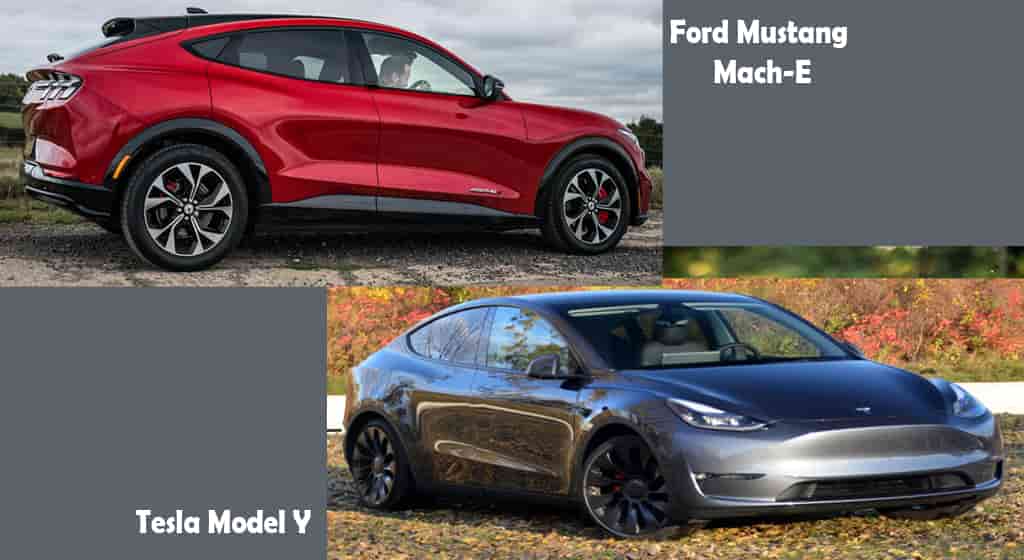 Ford Mustang Mach-E: In rear wheel drive Ford Mustang Mach-E models, 247 miles are available, while in all wheel drive models, 224 miles are available. With the extended-range battery, those numbers increase to 303 miles and 277 miles, respectively.
With the AWD California Route 1, you will be able to cover 270 miles on a charge. In contrast, with the Performance Edition, you'll be able to cover 260 miles on a charge, while the AWD California Route 1 will give you 312 miles. It is possible to purchase and install a Ford charging station. This station is capable of refuelling at 32 mph and charging the battery at night and can be purchased online and installed by licensed electricians.
Connectivity and Infotainment Features
Tesla Model Y: Model Y's large and slim infotainment display controls almost all functions in the middle of the dashboard. The display shows everything from climate control to the speedometer, which takes a while to get used to.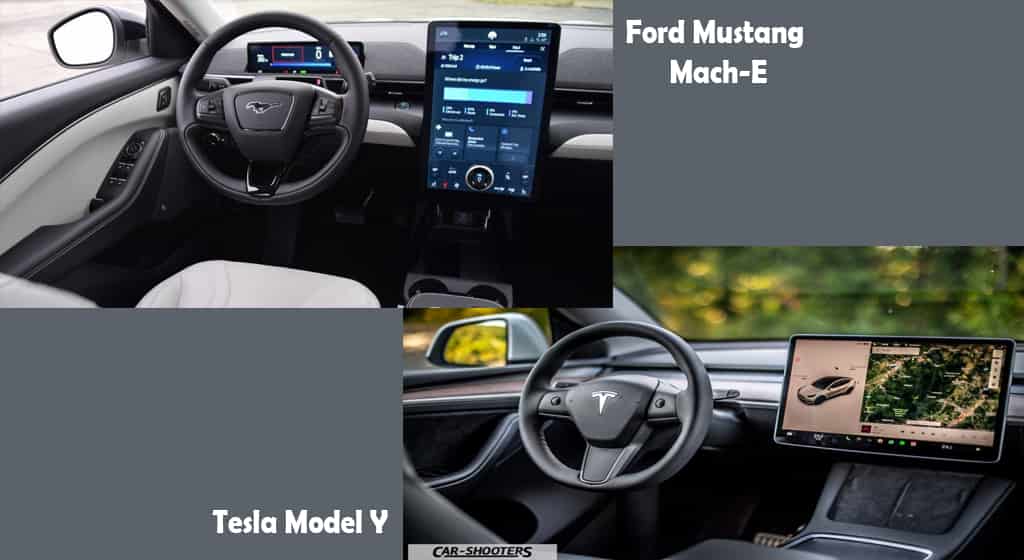 Video games and streaming services such as Netflix, Amazon and Apple TV are also included as entertainment options in the Model Y. In addition, there is a public charging station for the battery. With regards to safety in mind users of the car are locked out from using games and streaming services while driving the car as they will tend to create distractions. The only con is that the car does not support neither Apple CarPlay nor Android Auto
Ford Mustang Mach-E: By using machine learning, Ford's Sync infotainment system can customize the driver's experience completely. There are currently three driver profiles and one guest profile available. With its 15.5-inch touchscreen mounted vertically, the Mustang Mach-E's software provides easy access to all the system's applications and features.
Over time, Ford will continuously improve and add new content to the system through over-the-air updates. A mobile Wi-Fi hotspot, Apple CarPlay, Android Auto, and Bang & Olufsen audio are all standard features.
Fuel Economy for Ford Mustang Mach-E vs Tesla Model Y
Tesla Model Y: A 127 MPGe city rating and 117 MPGe highway rating are estimated by the EPA for the Long Range model, while 115 MPGe city and 106 MPGe highway rating for the Performance model of the Tesla Model Y.
Ford Mustang Mach-E: With its California Route 1 all-wheel drive trim, the 2023 Mustang Mach-E has an EPA-estimated range of 312 miles. A 306-mile driving range is estimated by Ford for the mid-level Premium model with rear-wheel drive. The Standard Range battery model with all-wheel drive has a range of 224 miles, the lowest of all models based on the model and equipment.
Other  Features for Ford Mustang Mach-E vs Tesla Model Y
Tesla Model Y: Among the many features of the Tesla Model Y are heated front and rear seats, a glass roof, a 360-degree dash cam to keep you and your passengers safe, as well as Dog Mode, which allows you to leave your pets alone in the car if you need to do so.
Ford Mustang Mach-E: The Ford Mustang Mach-E comes standard with adaptive cruise control, blind-spot monitoring, lane keeping, and automated emergency braking. In addition, for $1,900, Select buyers can get Ford's hands-free BlueCruise system, which includes a 360-degree camera.