Both the Ford Mustang Mach-E and Volvo XC40 Recharge are popular electric vehicles in the market. While Volvo XC40 Recharge is a good choice for a luxury all-electric car, the Ford Mustang Mach-E offers a better sportier option. Here we are going to compare these two electric cars and see which car is a better choice for most buyers.
Ford Mustang Mach-E vs Volvo XC40 Battery life and Charging
Ford Mustang Mach-E: Depending on the battery pack and configuration of electric motors based on the trim, Ford estimates the 2023 Mustang Mach-E's range at 224 to 312 miles. With a 120-volt outlet, the mobile charging device can extend the range up to 30 miles and with a 240-volt outlet; it can extend the battery life up to 80 per cent. Certified electricians can install a Ford charge station that can recharge the battery overnight and replenish 32 miles per hour.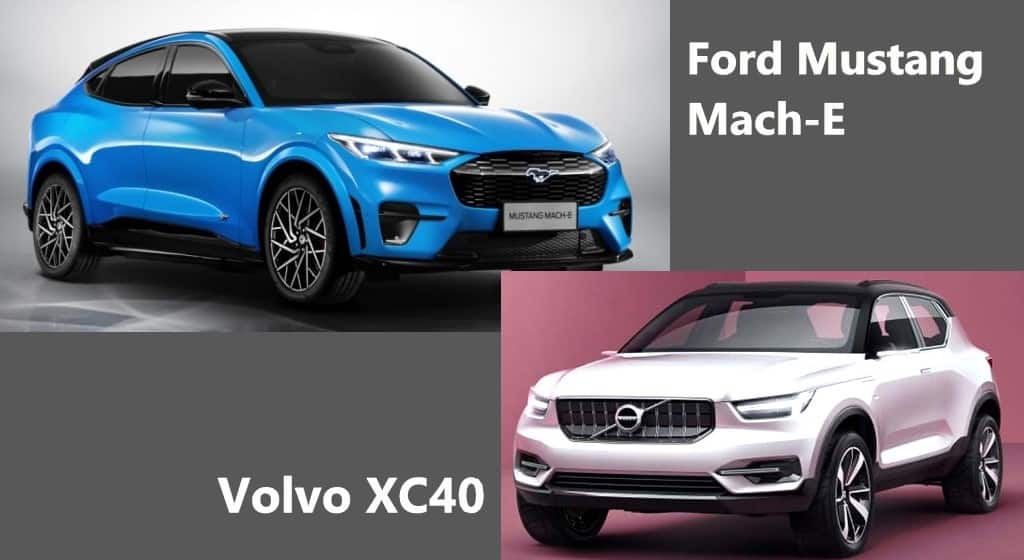 Volvo C40 Recharge: The C40 Recharge is powered by a 75-kWh battery pack with a range of about 226 miles per charge, according to the EPA. With its 150-kW DC fast charge capability, all C40 Recharge models can charge 80 per cent in just 40 minutes. The C40 Recharge can also be charged using 110/220-volt outlets at home, but charging times will be longer.
Fuel Economy of Ford Mustang Mach-E vs Volvo XC40
Ford Mustang Mach-E: In its California Route 1 trim, which is all-wheel drive, the 2023 Mustang Mach-E is targeted to have a range of up to 312 miles, according to the EPA. A 306-mile driving range is estimated for the midlevel Premium model with rear-wheel drive. Standard Range battery models configured with all-wheel drive have the lowest range of 224 miles, depending on the model and equipment.
Volvo C40 Recharge: The Volvo C40 Recharge is estimated to be good for 94 MPGe city and 80 MPGe highway, narrowly higher than the XC40 Recharge, which is rated for 92 MPGe city and 79 MPGe highway.
Connectivity & Infotainment of Ford Mustang Mach-E vs Volvo XC40
Ford Mustang Mach-E: Machine learning is integrated into Ford's new generation of Sync infotainment systems to create a personalized experience for every driver. A total of three driver profiles and one guest profile are currently supported. Using Mach-E's 15.5-inch touchscreen, the software is easily accessible through the system's array of apps and features.
This system allows Ford to continuously improve and add new content over time by rolling out over-the-air updates. A Bang & Olufsen audio system is included as well as Apple CarPlay and Android Auto.
Volvo C40 Recharge: Volvo's most recent Google Android-based infotainment system, which runs on a touchscreen, is standard and supports over-the-air software upgrades is present in this car. The device offers voice controls using Google Assistant and Google Maps navigation.
The new interface, which replaces Volvo's previous Sensus system, is thus far more responsive, but its on-screen buttons are smaller and more challenging to operate while driving. You can download additional apps from the Google Play Store. A premium Harman Kardon stereo system is included with the loaded Ultimate trim, as well as a digital gauge display.
Ford Mustang Mach-E vs Volvo XC40 Interior and Cargo
Ford Mustang Mach-E: Under the Mustang Mach-E's floor is the car's battery, allowing the car to have maximum cargo and passenger space. Aside from its exterior, the Mach-E's interior is quite different from the regular Mustang. A huge vertically mounted touchscreen dominates its streamlined dashboard, which is home to an attractive digital gauge cluster.
The centre console has a floating armrest that can be used to store a purse or other items. Additionally, a panoramic sunroof, wireless charging, heated front seats, and a heated steering wheel are among other features.
Volvo C40 Recharge: Compared to the XC40, the C40 Recharge offers a similar cabin. In other words, there are high seating positions, smart storage solutions throughout the cabin, and materials that are of the highest quality. The C40 Recharge features a backlit dashboard and door trim panels that reveal an abstract topography map when illuminated
Ford Mustang Mach-E vs Volvo XC40 Pricing
Ford Mustang Mach-E: The starting price of the base model of the Ford Mustang Mach-E is $48,200 and there are 4 more different trims available and the costliest trim is the GT performance edition which is priced at $77,200
Volvo C40 Recharge: The base model of the Volvo C40 Recharge is the core trim and the price is $56,400 and there are 2 more trims that are available and the costliest trim is the ultimate trim which is priced at $62,000.
Final Thoughts
There is no doubt that both of these vehicles are impressive. For Iowa drivers, the Ford Mach-E offers huge storage spaces, great performance, and stylish designs. Compared to the XC40, the base model and mid-range models of the Ford Mach-E is less expensive and have superior features. A great choice for families of all sizes, the E-Mach GT delivers the incomparable Mustang style and performance of the Mustang.