New Innovators have recently flooded the EV market. As they prepare to replace their current gas-powered lines with more environmentally friendly EVs, the majority of major automakers are investing billions in EV manufacturing.
Audi and Genesis are known for making some of the best and feature-rich cars in the premium segment. Two of the most popular car by each brand is the Genesis GV60 and the Audi Q4 e-Tron
It might be hard to decide which of the two EVs to buy if you are trying to decide between them. There are advantages and disadvantages to each of the cars. Here we are going to compare both the cars and see which car is better or are they almost equal
Genesis GV60's advantages over Audi Q4 e-tron's
Driving range is better on the GV60
There is a 248 mile range between charges for the Genesis GV60. For lightning-fast refueling at public stations and onboard charging at home, the vehicle is equipped with an 800-volt electric architecture. In the GV60, a battery pack with 77.4 kWh is included as standard equipment. Advanced trims get 314 hp, while Performance trims get 429 hp.
In comparison with other EVs that are less expensive, the Audi e-Tron gets only 222 miles between charges. The car's 95-kWh battery can also take a long time to charge with a 240-volt charger. E-Tron's electric drive produces 402 horsepower and 490 lb-ft of torque, and it gets 78 miles per gallon electric
A better warranty is offered by the Genesis GV60
The Genesis GV60 is covered by a five-year/60,000-mile basic warranty. The drivetrain is also covered by a 10-year/100,000-mile warranty. A maintenance package for three years/36,000 miles is also included.
On the other hand, the Audi e-Tron is covered for only four years/50,000 miles, plus four years/50,000 miles for the drivetrain. The maintenance package is also limited to one year and 10,000 miles.
With Genesis GV60, you get more features in its basic model
GV60 Performance AWD models begin at $67,890 and the Advanced AWD models at $58,890. There are only a few Genesis GV60s available in the United States, and they are located in California, Connecticut, New Jersey, and New York.
The Audi e-Tron, on the other hand, starts at $52,700 but can reach $87,400 with options. Consumer Reports gave the GV60 a less than excellent overall rating.
Audi Q4 E-Tron's  advantages over Genesis GV60's
Compared to the standard Genesis GV60 2023, the Audi Q4 e-Tron 2022 offers more power
There is plenty of power in the Audi Q4 e-Tron as well as the Genesis GV60 from 2023. However, the  Audi Q4 e-Tron is more powerful than the standard GV60.
This EV is competitive with even many gas-powered crossovers, thanks to its 402 horsepower and 490 lb-ft of torque. The GV60's base model, the Advanced, produces only 314 horsepower and 446 pound-feet of torque.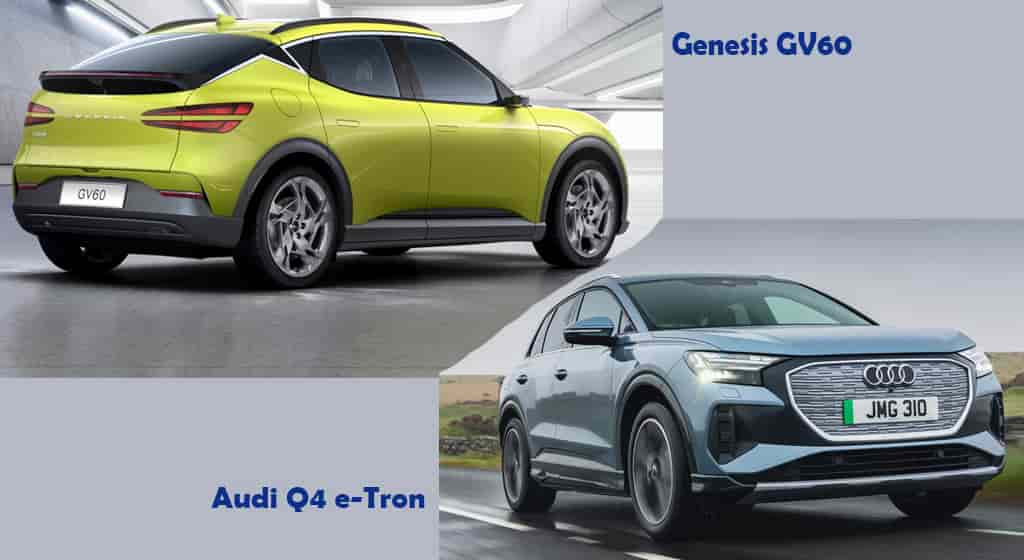 To get more power, you are going to need to upgrade to the GV60 Performance trim, which produces 429 horsepower and 516 pound-feet of torque. Starting at $68,985, it is nearly $2,000 more than the standard e-Tron, which starts at $68,095.
The towing capacity of the Audi is superior to that of the Genesis
The process of towing is the amount of weight that a vehicle can pull behind it that determines its towing capacity. If you are going to tow your car, you need to know this information about it. Transmissions and rear axles can be damaged if you exceed the towing capacity of your vehicle.
Towing capacity is therefore an important consideration if you plan to pull a trailer. EVs that are not equipped to handle heavy loads may struggle with towing campers, boats, and other towables.
The  Audi e-Tron 2022 and Genesis GV60 2023 can not be compared when it comes to towing capacity. Approximately 4,000 pounds can be towed by the Audi Q4 e-Tron. There is only a 2,000 pound weight limit on the Genesis GV60.
That is a difference of 2,000 pounds between the two cars. Despite both being good electric crossovers, the Audi outperforms its rival in a few key areas like this. Those areas may make the e-tron the better choice for you if any of them are deal breakers.
In terms of battery capacity, the 2022 Audi e-Tron is superior to the 2023 Genesis GV60
Another aspect that makes all the difference in EVs is the battery capacity. By extending the range between recharges, EVs are often able to drive longer between charges. A battery's capacity is not simply determined by its range, as many factors enter into the calculations.
The 2022 Audi e-tron comes with a 95-kWh battery if you are looking for maximum battery capacity. There is not as much to offer with the Genesis GV60. There is a 77.4-kWh battery pack in the car.
GV60 users who value such considerations should choose the Audi Q4 e-Tron, which has a 23% greater battery capacity.