What do think which one is better between Genesis GV80 & Acura MDX Type S? A performance SUV such as the Genesis GV80 and Acura MDX Type S offers a high level of performance.  Although the MDX Type S is superior in terms of power with a double-wishbone front suspension and dynamic air suspension, this vehicle boasts a powerful 355 HP3 Turbo V-6 engine for a performance-focused driving experience. Genesis GV80 does not offer the same level of premium amenities as Acura MDX Type S Advance.
Genesis GV80 vs Acura MDX Type S Features
Genesis GV 80: The GV80 is equipped with nearly every gadget and doodad you can imagine, as well as a few gimmicks. Android Auto and Apple Car-Play are supported on the 14.5 inch touch screen infotainment system, and noise cancellation is impressive.
There's also a 12.3 inch digital gauge cluster that includes eye tracking for a subtle 3D effect. Except for the base trim, all Genesis GV 80 models come with a large head-up display.
Acura MDX Type S: Acura MDX offers fewer features in this comparison to Genesis GV 80. Despite the small screen, the touchpad controls the infotainment system only, which can be frustrating for some.
This model comes with Android Auto, Apple Car-Play & the Alexa digital assistant. There is also wireless phone charging on the top of the lineup, along with a head-up display & digital gauge cluster without the 3D effect. The rearmost rows of seats are also equipped with a PA system that broadcasts the user's voice.
Drive Feeling for Genesis GV80 vs Acura MDX Type S
Genesis GV 80: Genesis' GV80 effortlessly delivers the comfortable, confident driving experience that you would expect from a luxury vehicle. With so much technology, it makes maneuvering easy for the driver, even though it feels large and stately on the road.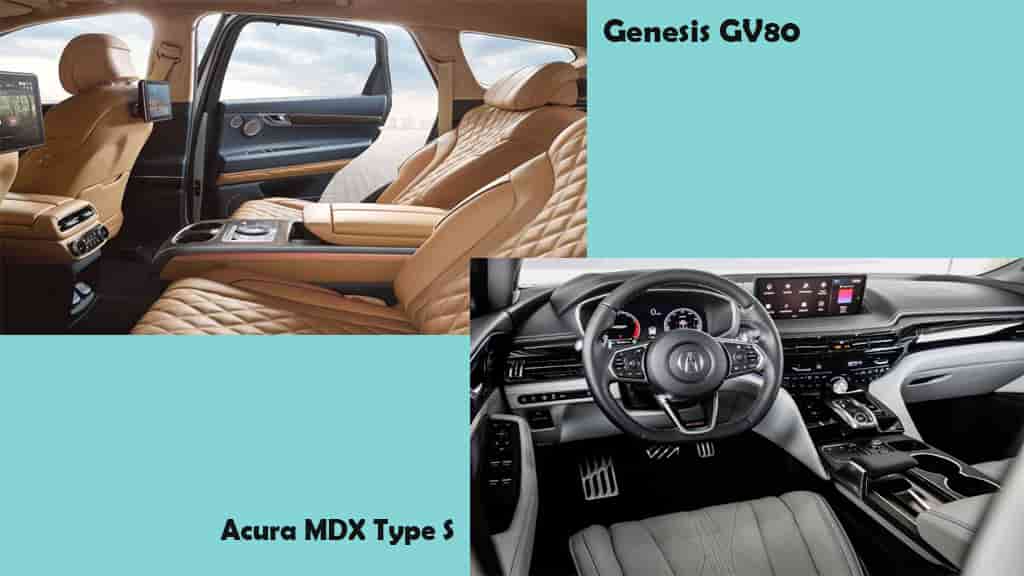 It rides well and has well-weighted steering. It may not be impressively responsive at speed due to its size and weight, but the GV80 provides a soothing, chilled out atmosphere in its place.
Acura MDX: Comparatively, the MDX feels somewhat average to Genesis GV 80. Compared to a luxury vehicle, the ride is a bit too loose and has a lot of body roll. As well as that, the light steering was uncomfortable and numb. In terms of driving feel, it still lags behind the Genesis GV80 despite using various drive modes.
Genesis GV80 vs Acura MDX Type S Features Engine
Genesis GV 80: It can be equipped with a 2.5L turbocharged four-cylinder engine delivering 300 horsepower, or with a 3.5L twin-turbocharged V6 delivering 375 horsepower and 391 torque. It was a pleasure to drive the six-cylinder, which felt smooth and confident. Today, customers expect a variety of drive modes to customize their experience.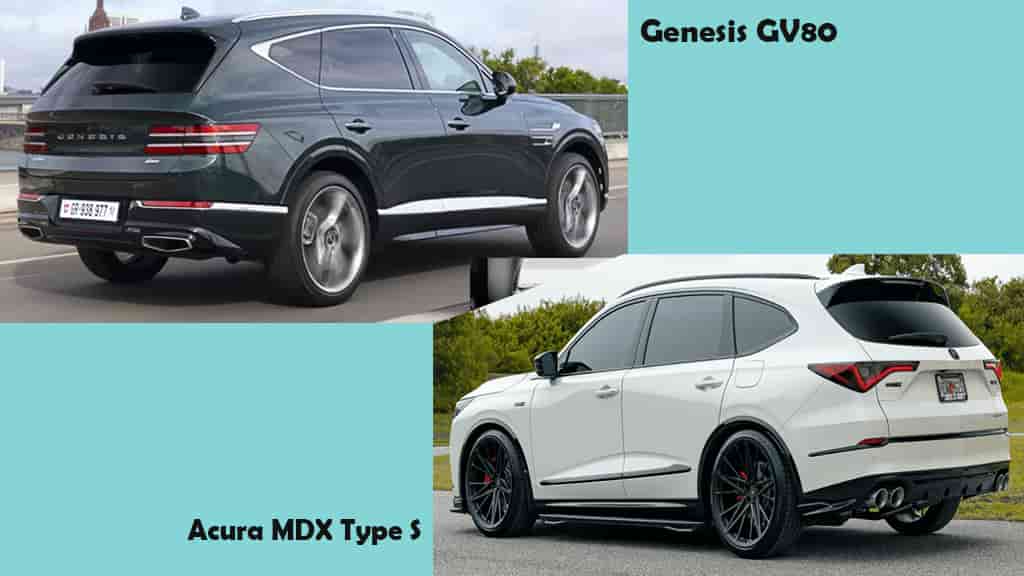 Acura MDX: With 290 horsepower and 267 lb-ft of torque, the MDX comes with a 3.5L six-cylinder engine. In addition to its torque-vectoring all-wheel drive system, the engine combines well with Acura's engine.
As of this year, the crossover comes with a 10-speed automatic transmission, which shifts gears smoothly and consistently, but could be a bit fussy in more aggressive situations or when dealing with stop & go traffic. 
Safety Features Genesis GV80 & Acura MDX Type S Features
Genesis GV 80: Genesis GV80's standard features is forward collision warning with automatic emergency braking, lane keeping assist, blind spot monitoring, adaptive cruise control, as well as a segment-exclusive front center airbag. The system features such as driver attention monitoring, remote parking, surround view monitors, and blind spot monitoring using cameras.
Acura MDX: As far as safety and driver assistance technology are concerned, the MDX keeps up with the competition. There is forward collision braking with pedestrian detection, lane-keeping assistance, blind spot monitoring with rear cross traffic alert and adaptive cruise control as standard equipment. The Genesis' gimmicks are not present here, but it is still a good one.
Fuel Economy Comparison
Genesis GV 80: This four cylinder Genesis GV80 returns 11.3 liters per 100 km in city driving conditions, 9.5 liters per 100 km on the highway, and 10.5 liters per 100 km on the combined cycle. In the city, the 6 cylinder model returns 12.8, on the highway, and in the combined test it returns 11.8 L per 100 km.
Acura MDX Type S: A similar test on the Acura MDX showed it returned 12.6 liters per 100 km in city traffic, 9.4 liters per 100 km on the highway, and 11.2 liters per 100 km when used in combination. There have been no ratings for the turbocharged Type S model of Acura MDX.
Genesis GV80 & Acura MDX Type S Price Comparison
Genesis GV 80: In the 2.5T Advanced trim, the Genesis GV80 is priced starting at 70,000 dollars, while the base model costs 64,500 dollars. 3.5T Advanced and 3.5T Prestige models come with an extra 10,000 dollars for six-cylinder engines, respectively.
Acura MDX: Budget conscious buyers may prefer the MDX, which starts at 58,480 dollars, including destination charges of 2,075 dollars with the Technology package, which brings the price up to 62,480 dollars. Compared with the top specifications Platinum Elite model, the A Specification model tested cost 65,480 dollars.