Are you excited about the Performance Review of New 2023 Genesis G90! The automobile brand Genesis made some noise when they announced the brand new and redesigned 2023 G90 sedan, which will be one of their flagship cars. When this new model arrives in the U.S. in 2022, the luxury brand will unveil its powertrain, suspension, interior, and many optional niceties.
Explore the Performance Review of New 2023 Genesis G90
For the 2023 model year, Genesis' most luxurious sedan, the G90 sedan, has been given a dramatic redesign that will transcend the previous generation of the sedan and usher it into a modern era. Despite being inspired by the G80 sedan and GV80 SUV, the G90's exterior design incorporates a few unique touches that make it stand out among the company's other models.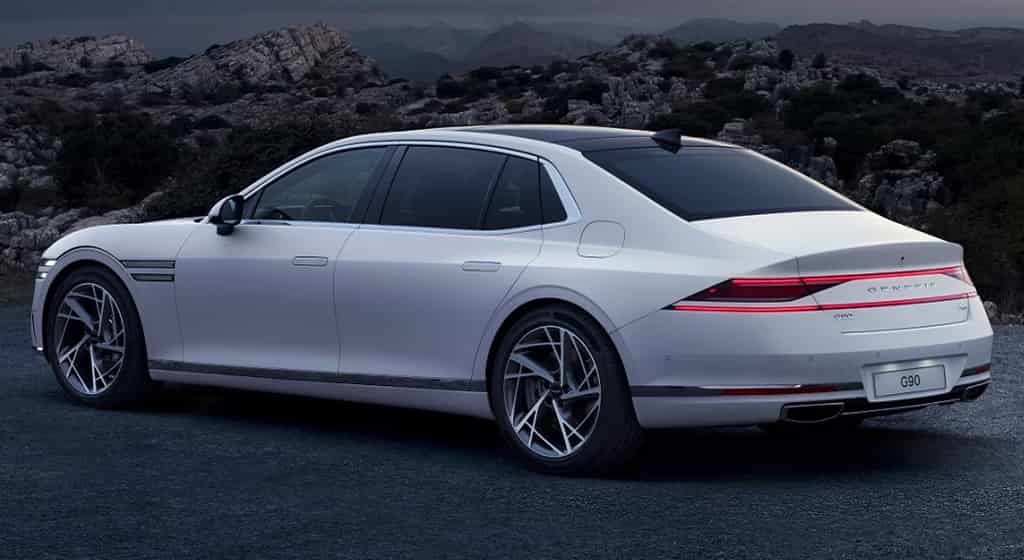 Using advanced assistance features that create a more enjoyable driving experience, together with a variety of new technologies that provide passengers with an enhanced travel experience, the G90 introduces a bold new direction for premium automobiles.
Performance, Engine, and Transmission of the 2023 Genesis G90
With the new G90, the 5.0-liter V-8 engine has been replaced by a twin turbocharged V-6 engine, which comes in two different powers and is offered with an eight speed automatic transmission and all-wheel drive as standard equipment. An electric supercharger boosts the output of the twin-turbo V-6 engine from 375 horsepower to 409 horsepower in the E-supercharged model.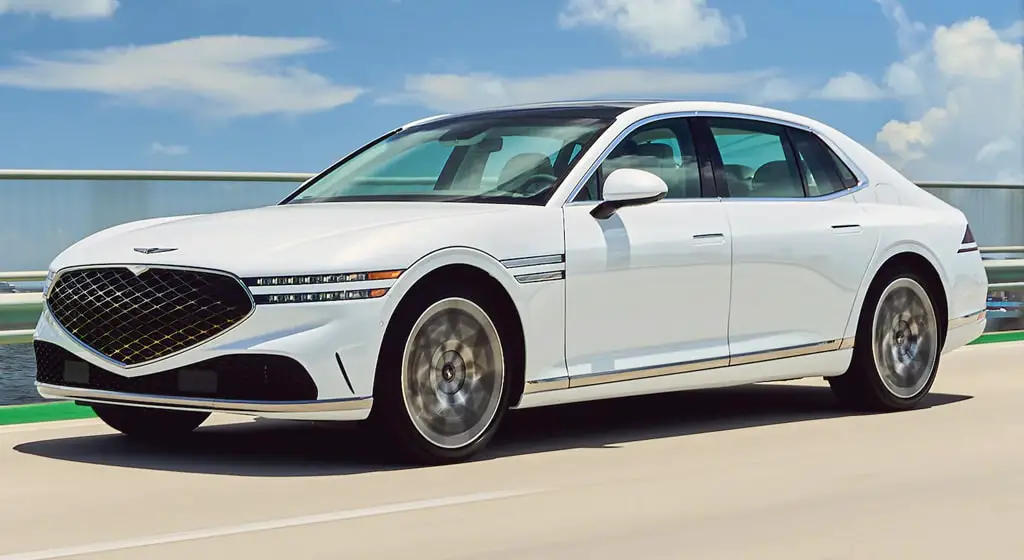 This large sedan rocketed to 60 mph in 5.1 seconds with its higher-output engine under its hood. There is also an option of air suspension that can be selected, and the G90 comes with a Chauffeur driving mode that is designed to provide passengers with an extra smooth ride.
With the more powerful of the two powertrains and the air springs, the G90 delivers an unprecedented level of ride comfort and effortless acceleration. Though the steering is not as crisp as that of a sports sedan, the G90 manages to hold its own in corners.
In terms of driving thrills, the G90 is not what you would call a motorsports enthusiast's dream vehicle, but those who want to buy this vehicle for its relaxing demeanor will find it satisfactory.
Cargo, Comfort, and Interior Design of the 2023 Genesis G90
In 2023, the Genesis G90 cabin is also going to be overhauled, in the same way as the exterior. This car is getting a fresh new design as well as some posh materials that should help it place itself in the same league as cars from rival brands with similar price tags.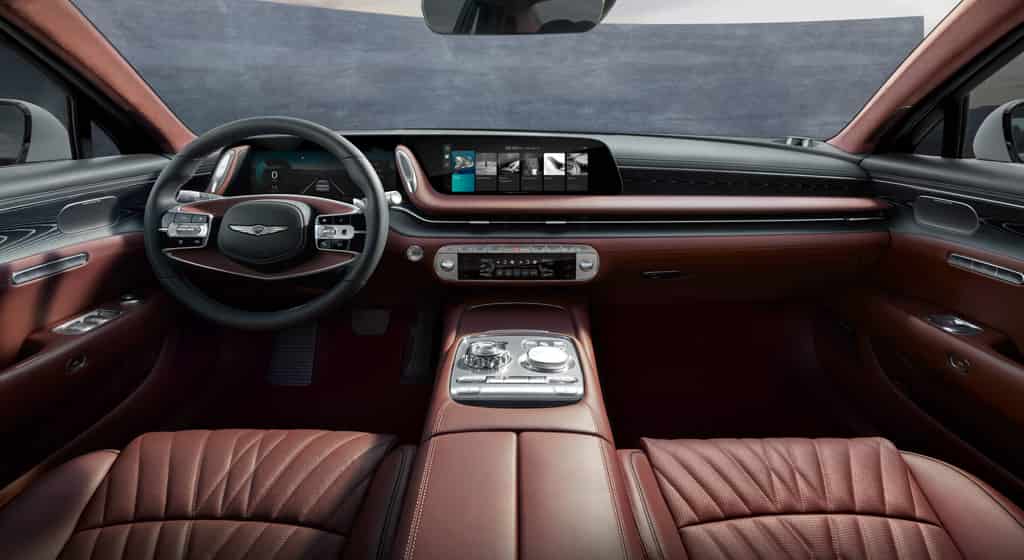 It is of particular note that Genesis has incorporated several features in its vehicle that is intended to enhance the luxury experience for its passengers, both in the front and in the back.
Besides the fact that there will be an onboard fragrance diffuser, there will also be an antimicrobial sanitation system installed in the car that cleans both the air and items that can be brought in like smartphones. A premium stereo system is also included in the package, as are massaging front seats.
The cabin is whisper quiet with active noise cancellation, power rear sunshades, and soft nappa leather upholstery. There is an option to recline the rear seats, as well as a massager, on the rear seats.
Miles per gallon and Fuel Efficiency of 2023 Genesis G90
The G90 models with 375 horsepower twin-turbo engines will be the most fuel-efficient. According to its fuel economy rating, that model gets 18 mpg in the city and 26 mpg on the highway. With the higher-power 409-hp engine, those numbers drop to 17 mpg in the city and 24 mpg on the highway. With the E-supercharged engine, the G90 with 75 mph highway fuel economy achieved 29 mpg
Connectivity and the entertainment features of the Genesis G90
The latest generation of Genesis's infotainment system comes with a 12.3-inch screen, which includes navigation and SiriusXM satellite radio; a separate 12.3-inch screen serves as a digital gauge display. The phone also supports Apple CarPlay and Android Auto.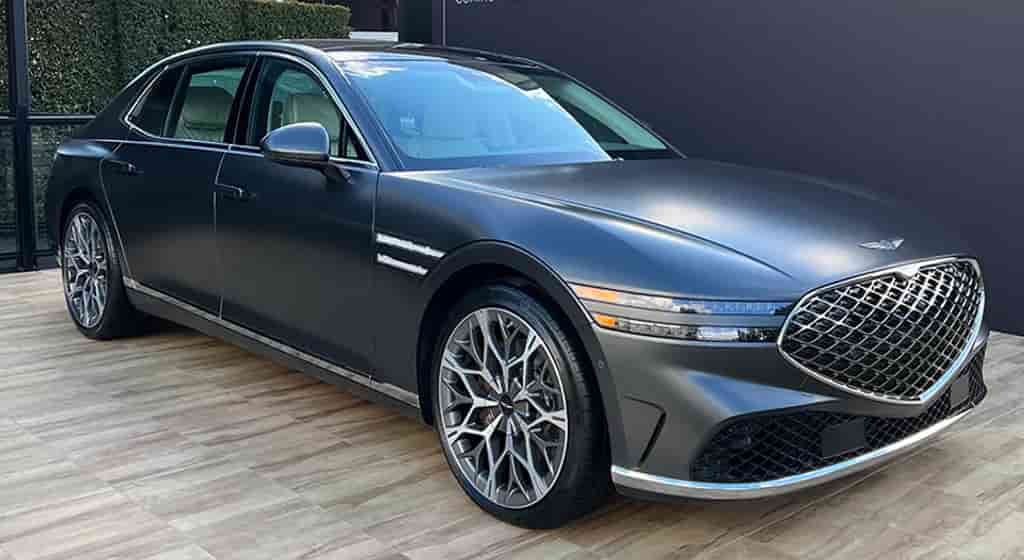 There are 23 speakers included in the E-supercharged, which simulates the sound of a concert hall and comes with a Bang and Olufsen stereo system. Several wireless smartphones charging pads are also included, as well as a head-up display.
Pricing of the 2023 Genesis G90
Prices for the 2023 Genesis G90 have been released by Genesis. Full-size sedans from the Korean luxury brand are starting at a significantly higher price. A 48-volt hybrid system with an electric supercharger will cost $99,795, while a G90 will start at $89,495.
Maintenance and Warranty Coverage 2023 Genesis G90
Genesis offers not only the longest warranty coverage in its class but also the option to receive free scheduled maintenance and a complimentary service that has dealership staff pick up and service your G90.
There is a 5-year or 60,000 mile limited warranty on this vehicle, there is a 3-year or 36,000 mile complimentary maintenance plan and there is a 10-year or 100,000 mile powertrain warranty.