Hatchback is one of the best selling cars in the United States due to its smooth and comfortable ride along with its fuel efficiency.  As a premium model, hatchbacks are available from many car brands, such as Honda and Volkswagen.
01. 2023 Mazda 3
A new entry level engine will replace the base 2.5 liter four cylinders in the Mazda 3 in 2023. Last year's 2.5 liter four cylinder was boosted to 191 horsepower, up 5 horsepower from last year. A cylinder deactivation feature has been added to the 2.5 liter four cylinder engines, which improves fuel efficiency to 28 mpg city and 37 mpg highway. A new all wheel drive option is now available for the Carbon Edition mid range model. Every trim level now comes standard with Apple Car-Play and Android Auto.
Mazda 3 hatchbacks are attractive because of their distinctive appearances, but their bulbous backs compromise visibility. You get heated front seats and a memory programmable power adjustable driver's seat. All wheel drive is available only on the Premium and Carbon Edition models or comes standard on the Turbo and Premium models. Approximately 22550 dollars to 35300 dollars will be the cost of the Mazda 3 in 2023. It gets 23 to 28 MPG in the city and 31 to 38 MPG on the highway.
02. Kia Rio 2023
Kia does not make any major changes to the little Rio for 2023. One notable change is the addition of an oil level sensor, which notifies the driver when the oil level needs to be refilled. Approximately 16500 to 17500 dollars will be the cost of the Kia Rio 2023. With 32 MPG in the city and 41 MPG on the highway, this vehicle is highly efficient. There is a several hundred dollar premium between the Rio LX and Rio S models, which is worth it for a car like Kia Rio 2023.
There is also a center armrest, cruise control, rear USB port, split folding rear seat, adjustable headrests, and keyless entry. Kia Rio 2023 comes with features such as a forward collision warning with automatic emergency braking, satellite radio, LED headlights, and more. The hatchback is better suited to carrying cargo and accommodating passengers than the sedan due to its greater cargo space and slightly greater passenger volume.
03. Subaru Impreza 2023
This year's Subaru Impreza 2023 offers the same features as last year's model, so there are no changes for 2023.  We have only updated the pricing department, which has cost between 20000 and 27000 dollars. For city driving, the vehicle gets 22 to 28 MPG, while on the highway it gets 30 to 36 MPG. As for value and features, you can believe the Premium model offers the best combination.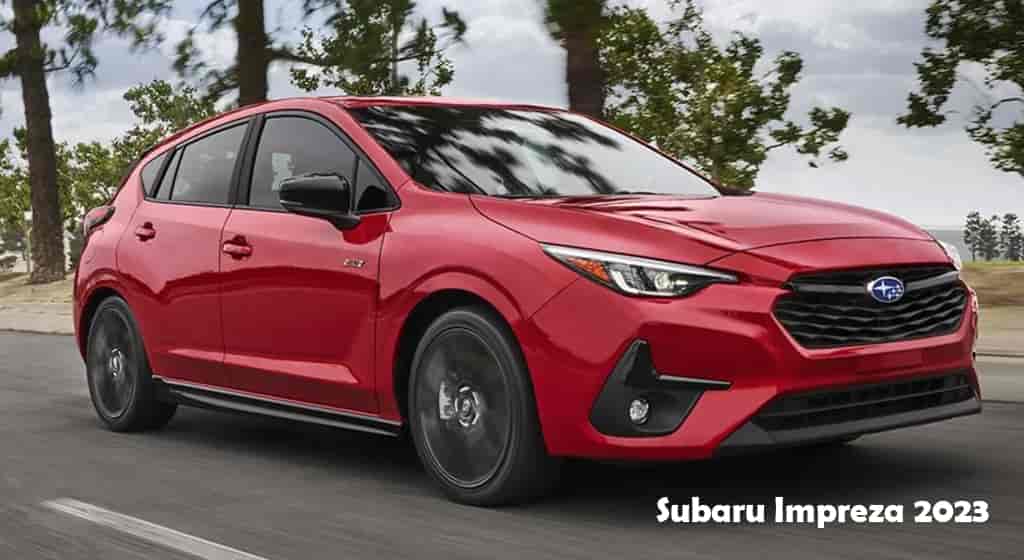 Standard features include heated front seats; paddle shifters on the steering wheel & a suite of driver assist features, an enhanced infotainment system with satellite radio, a USB port, and smart-phone integration. In addition to blind spot monitoring with rear cross traffic alert, passive hands free entry, push button start, and a power adjustable driver's seat, the lone option package has a sunroof.
04. Honda Civic 2023
For 2023, Honda will only drop the base LX trim from the compact sedan and hatchback as the Civic was fully redesigned for 2022. It is Honda Civic 2023's high performance hatchback, Civic Type R hatchback, with hatchback practicality. A turbocharged four cylinder engine with 180 horsepower is also standard. It comes with similar equipment and leather upholstery if you decide to buy this hatchback.
Honda Civic 2023 will cost approximately 25000 to 42000 dollars. The vehicle gets 22 to 33 MPG in the city and 28 to 42 MPG on the highway. Despite its high price, this sedan is well equipped with many features, which makes it an excellent value. This model comes with a power sunroof, dual zone automatic climate control, heated exterior mirrors, and heated front seats.
05. 2023 Volkswagen GTI
As the pioneer of the hot hatchback genre, the Volkswagen Golf GTI 2023 still remains the frosting on this sundae of delicious, fun to drive compact cars. As part of its redesigned 2022 model year, the GTI has been updated with new styling and more modern interior features, but remains a performance icon thanks to its fun to drive character.
With either a seven speed automatic or a six-speed manual transmission, the turbocharged two liter, 241hp engine powers the front wheels. There's plenty of room for cargo under the hatchback door, as there has been since the nameplate's inception. This latest GTI is as fun loving as the original when it first arrived on these shores, whether you're new to speedy boxes on wheels or a loyal fan since the early days.
Approximately 30500 to 40000 dollars will be the price of the 2023 Volkswagen GTI. With 23 MPG in the city and 32 MPG on the highway, it offers great fuel economy.