Let's explore the comparison between the 2024 Audi Q7 vs Genesis GV80. If you are looking for a luxury SUV, there are a few options you should consider if you decide to purchase one if you are looking for a sleek, sophisticated, and spacious luxury SUV. If you are in the market for a luxury SUV, here are some options you should consider in the market.
As long as we are talking about luxurious SUVs, we can't overlook the astounding Genesis GV80; a vehicle that offers both comfort and an enjoyable driving experience at the same time. There is no doubt that the Genesis GV80 will compete head-on against the Audi Q7.
About 2024 Audi Q7 vs Genesis GV80
Audi Q7: The Audi Q7 is one of the most luxurious cars in this class. The Audi Q7 comes with three rows of seats and lithe handling; the 2023 Audi Q7 is a family SUV with some sports sedan in its DNA. It will also appeal to individuals with high-end and high-tech preferences, as its interior is lined with quality materials and a plethora of digital delights. In terms of style, the Audi Q7 has made it more appealing to many individuals all around the world.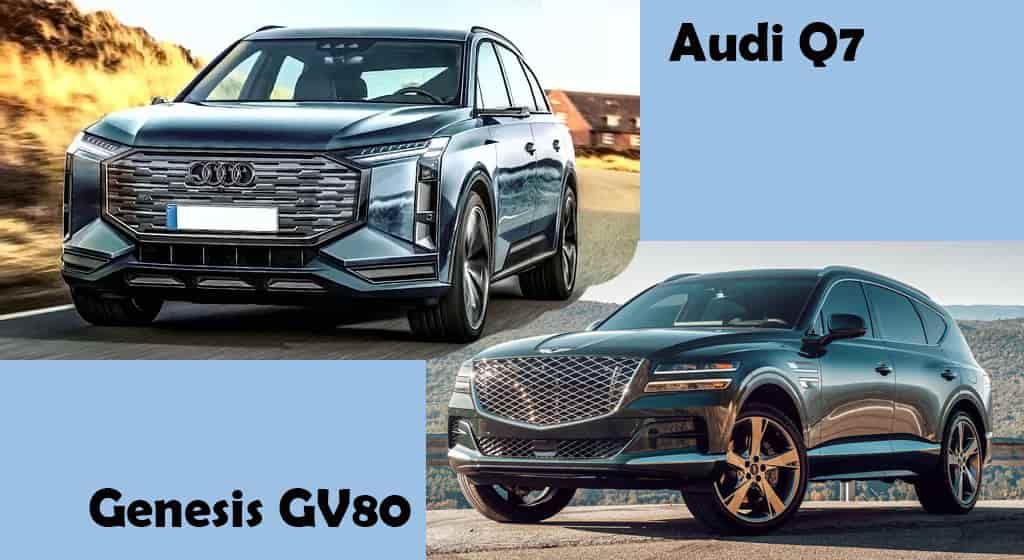 Genesis GV80: A premium SUV such as the Genesis is not a new concept in terms of its combination of high-end materials with an appealing interior design and cutting-edge technology. Established players like other luxury SUVs have been doing it for years.
Genesis achieved a noteworthy victory with the GV80 because it looks and feels like it should cost thousands more, but costs less or the same as other SUVs in its class. GV80 does offer a third row as an option on one trim level, but it is a very small option and leaves very little room behind it for cargo storage.
2024 Audi Q7 vs Genesis GV80 Exterior Design
Audi Q7: With its air suspension system, the Q7 has a much broader range of performance options. Its air springs are ride-height adjustable, focusing on terrain adaptability; its electromagnetic stability control system is detachable, and its technological package offers a much greater scope for off-road adventures.
There is a modicum of float in its air suspension system, but its bump compliance is superbly pliant, while it still maintains an adequate amount of damping to balance out the body's massive size and iron out its wobbles during acceleration.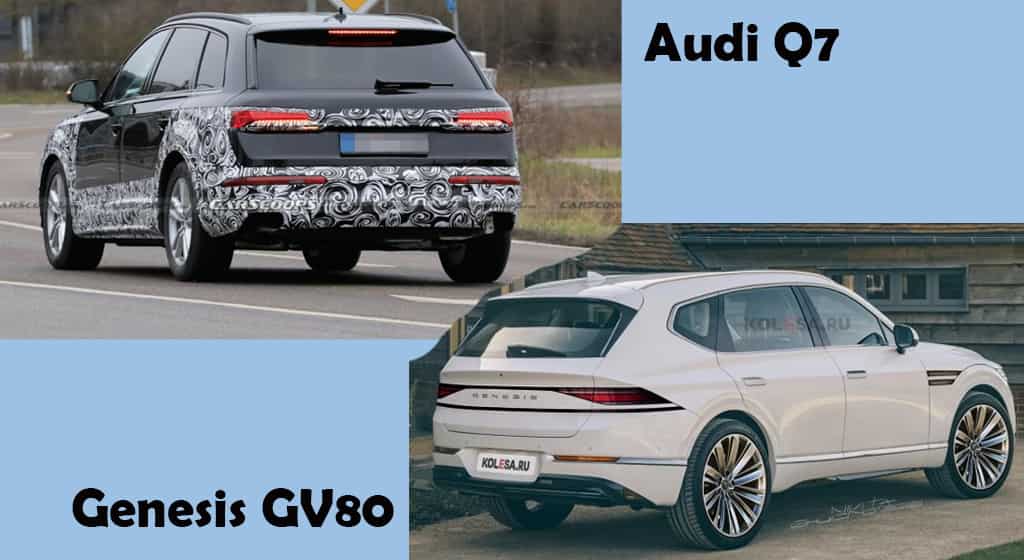 Genesis GV80: This model is one of the products that attract people's attention and makes them crane their heads to take a closer look, with its matte paint treatments and a very colorful palette of options available for the model. It's a model that people will want to take a closer look at.
The most notable aspect of the GV80 vehicle is its design of the quad lights that are mounted on the front and rear sides, as well as its aggressive front end that features G-Matrix's signature mesh grille, which looks like a crest and has a mesh finish. Its crest-shaped grille and quad light treatment give it a unique look that won't fail to catch people's attention.
2024 Audi Q7 vs Genesis GV80 Interior Design
Audi Q7: The Q7's interior is distinguished by beautiful materials and a stylish design as well as the intuitive layout of its controls and the comfortable seats that feature plenty of support and adjustability.
A number of safety features are included even in the base level Premium trim version of the Q7, which is well-equipped. The car also has a 3 zone climate control system and a dual-screen infotainment system that can be integrated with either Apple Car-Play or Android Auto.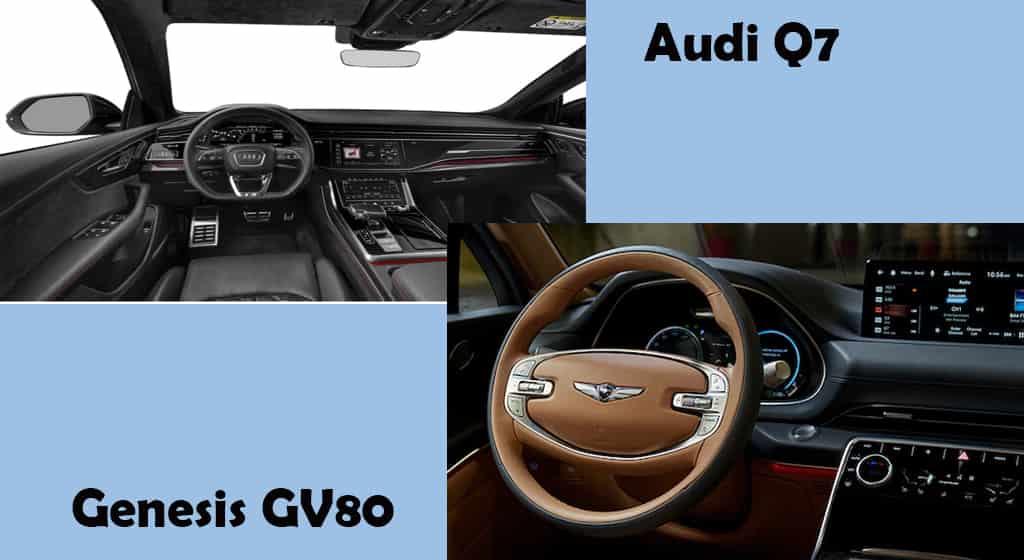 Audi Q7: Burled-wood trim, metal accents, and ambient lighting make the GV80's interior look upscale but uncluttered; an infotainment display in a slim shape keeps things streamlined. As well as Apple Car Play or Android Auto compatibility, the Genesis GV80 offers handwriting recognition and redundant controls on its 14.5-inch touch screen.
The car also has various safety and driver-assist systems, as well as a valet service and self-parking options. Don't be misled: the GV80 is designed primarily for five people.
2024 Audi Q7 vs Genesis GV80 Engine and Performance
Audi Q7: A turbo-diesel 3.0-liter V6 engine is available on all Q7 models, making it the same engine size across the range. In the base model of the car, the engine is rated at 160kW/500Nm. Getting up to the second spec will give you 200kW/600Nm, a bit more turbo boost, and some software tweaks to make it even more powerful. 
Genesis GV80: It offers a turbocharged 2.5 liter four cylinder engine that delivers 300 horses, while a twin-turbocharged 3.5 liter V-6 produces 375 horses and takes 5.3 seconds to reach 60 mph.
Price for 2024 Audi Q7 vs Genesis GV80
Audi Q7: There are three Audi Q7 models, excluding the V8 powered triple turbo SQ7, with a starting price of $97,800.
Genesis GV80: With a list price of $90,600, the GV80 2.5T will be the cheapest model in the range. It features five seats and rear wheel drive.