The Korean Automobile brand Genesis is already known in the market for making some of the best luxury cars in recent times. This also applies to the 2024 Genesis GV80 Prestige Matte 3.5T.
Overview of Genesis GV80 Prestige Matte 3.5T
Like all older Genesis cars, the Genesis GV80 Prestige Matte 3.5T suffers from some shortcomings due to its design language but shortcomings do not make the car a bad one. A long dash-to-axle ratio, split headlights and taillights, and carefully restrained details are all indicators of luxury. While the massive 22″ wheels on the top-line Prestige trim tend to beat you over the head a little, the GV80 makes its point subtly.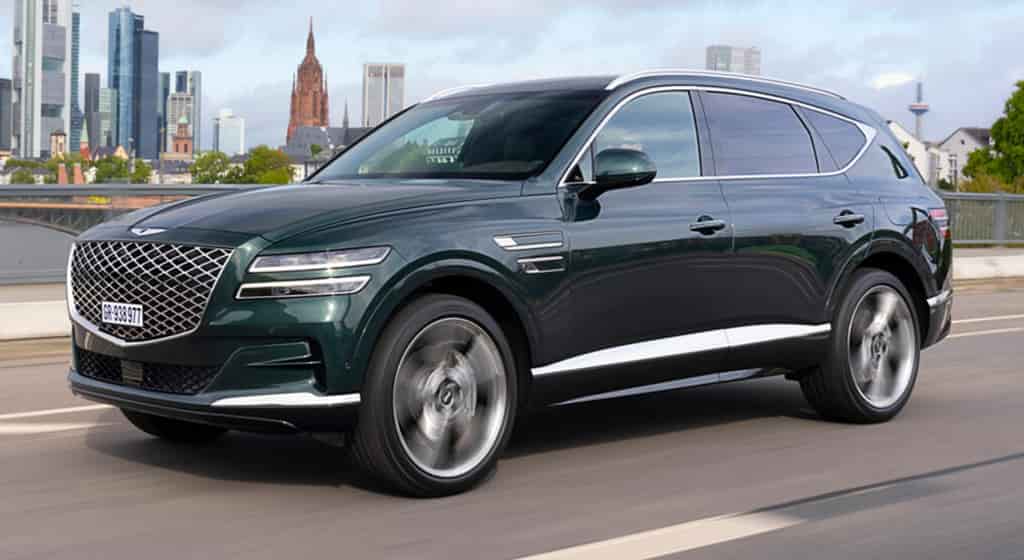 These are the visual characteristics that marketers hope their cars will have when they talk about premium cars. The controls are intuitive and the design is well-tailored. There are a lot of standard features available on the car.
Connectivity & Infotainment of Genesis GV80 Prestige Matte 3.5T
One of the GV80's many successes is its infotainment system. A rotary dial is present that allows for easy control, and the 14.5 inch touchscreen mounts high enough that a glance is required to use it. A blocky image of the vehicle the system is seeing is shown on the display, which instills confidence in it. In this area, the GV80 doesn't overpromise and underdeliver as there are more advanced systems available.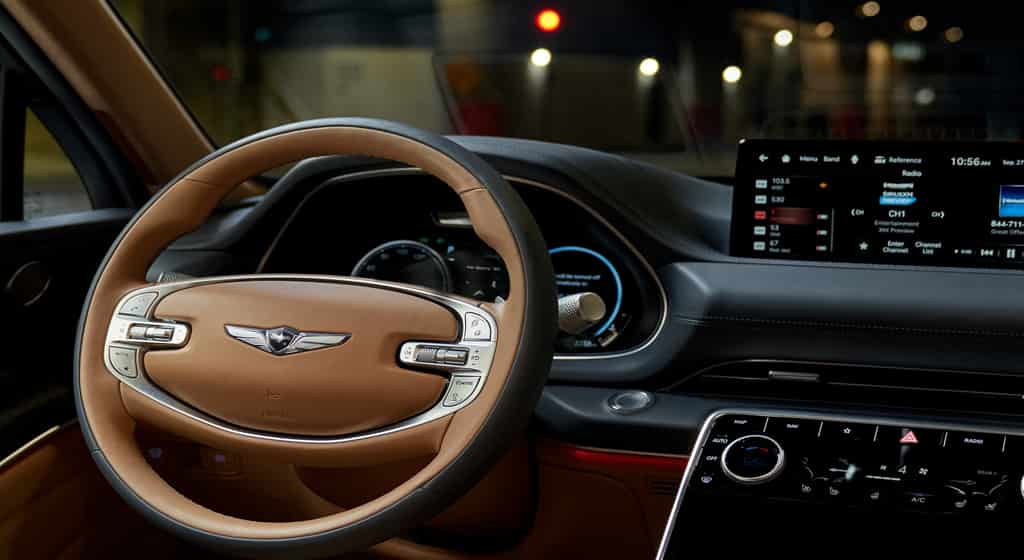 The Infotainment system also offers some unique easter eggs, for example, you can sit in your car's heated seats, and then if you want to listen to an ambient sound such as of a fireplace, then this is possible through its included 21 speaker premium stereos.
The Rotary dial/shifter acts as a transmission shifter and is placed right below the infotainment controls. When compared to push-button layouts, the rotary shifter actually adds a sense of de-cluttering to the interior compared to push-button layouts. Overall Genesis and Hyundai's in-car entertainment systems are easy to use either on their own or with Apple CarPlay and Android Auto.
Genesis GV80 Prestige Matte 3.5T Engine
The Genesis GV80 Prestige Matte 3.5T has a 3.5L dual turbocharged V6 engine. The highest horsepower of the car is rated for 375hp at 5,800 RPM. This engine delivers 390 lb-ft of torque at 1,300 rpm.  Driving the GV80 is not particularly exciting because of its engine.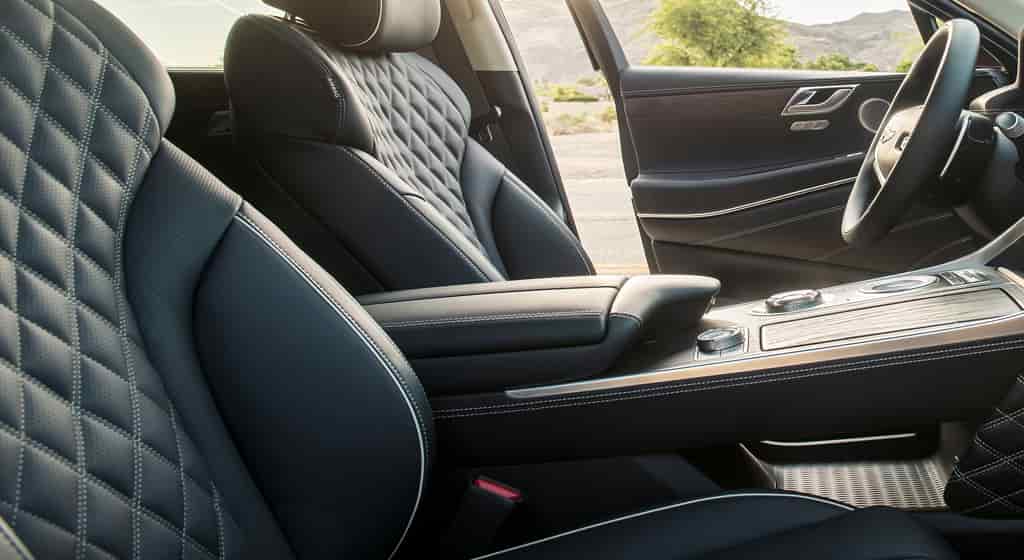 There is no question the GV80 can reach highway speeds in a hurry, but that is not the way it is intended to be driven regularly. There is control over body motions, and the eight-speed transmission downshifts quickly in response to a stimulus.
Exterior of Genesis GV80 Prestige Matte 3.5T
The GV80's suspension handled bumps well, which was impressive. This Prestige trim vehicle is fitted with 22-inch wagon wheels, The Genesis rides smoothly and untroubled. Fast sweeping turns are handled well by the GV80, as the steering effort is on the firm side. Despite occasional traffic snarls, it is an ideal highway tourer and luxurious enough at low speeds to handle them comfortably.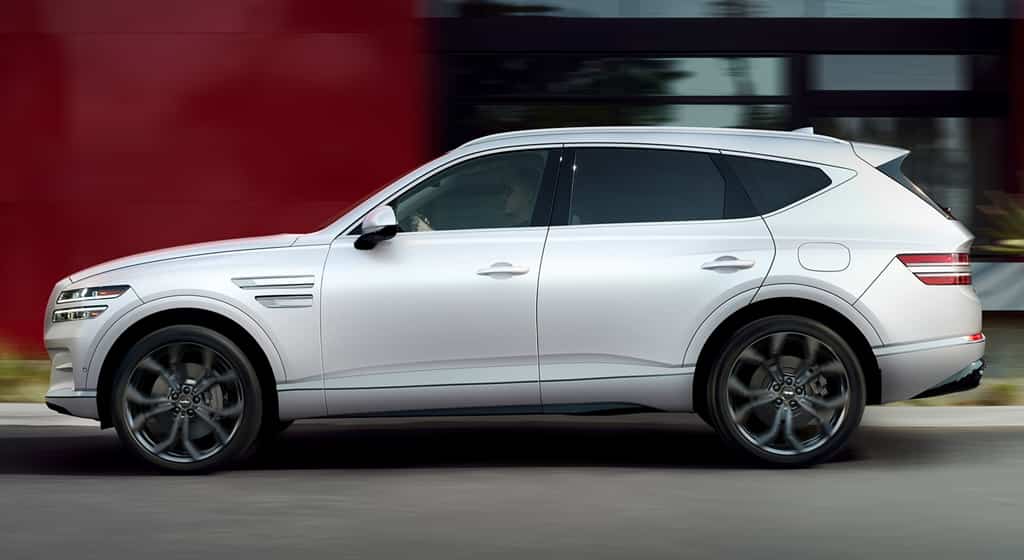 As far as driver assist functions such as automated cruise control and lane-keeping are concerned, the heads-up display does a good job of indicating when they are engaged.
Safety Features of Genesis GV80 Prestige Matte 3.5T
Standard features include a driver-assistance package that includes a semi-autonomous mode that mimics the owner's driving style. The vehicle has a number of safety features. Some of them are as follows:
A lane-departure warning system with lane-keeping assistance is standard
Semi-autonomous adaptive cruise control as standard
Automatic emergency braking with pedestrian detection as standard
Fuel Economy of Genesis GV80 Prestige Matte 3.5T
According to official ratings and reviews, the GV80 emits 11.8 liters per 100 kilometers mixed, and in practical use, it delivers just over 12 liters per 100 kilometers. A powertrain that is unobtrusive is something of a luxury feature in this car. Drivers will not be distracted, but neither will they be frustrated, leaving them to focus on other things.
Pricing of Genesis GV80 Prestige Matte 3.5T
You will have to pay $86,000 for the 2024 Genesis GV80 Prestige Matte 3.5T. The pricing is a bit on the higher side than some cars by rival brands, but for the features and the luxury that the car brings to the table, the price is somewhat justified.
Final Thoughts
Genesis is quite sure about what this car is going for with its given specifications. The car is a great luxury car and is one of the best Luxurious SUVs that you can currently buy. Genesis seems to have a clear vision of what its brand stands for in spite of being one of the newer players in the luxury market. This promise is fulfilled by the Genesis GV80 Prestige Matte 3.5T. The car could really stand out since it is good enough and distinct enough.