Let's talk about the battle between 2024 Genesis GV80 vs Volkswagen Touareg. Genesis' GV80 certainly has its place in the market for luxury large SUVs, and its design will help it set itself apart from the top tier competitors. Due to their eye catching appearance, these vehicles are only likely to increase their sales potential. You could also daydream of driving the 2024 Genesis GV80 painted with a mesmerizing interior design.
As a premium car, the Volkswagen badge on the grille is up to par with its opponents.  Safety, dynamics, and media have all been updated on the 2024 Volkswagen Touareg. Despite being a premium SUV around 10000 dollars the value equation stacks up, as it's beautifully built and ultra practical.
2024 Genesis GV80 vs Volkswagen Touareg Design
Genesis GV 80: GV80 boasts a variety of colors and matte finishes, ensuring a stylish look that makes people crane their necks in order to admire it. The G-Matrix mesh finish grille dominates the front end, while the quad light treatment front and rear really stands out.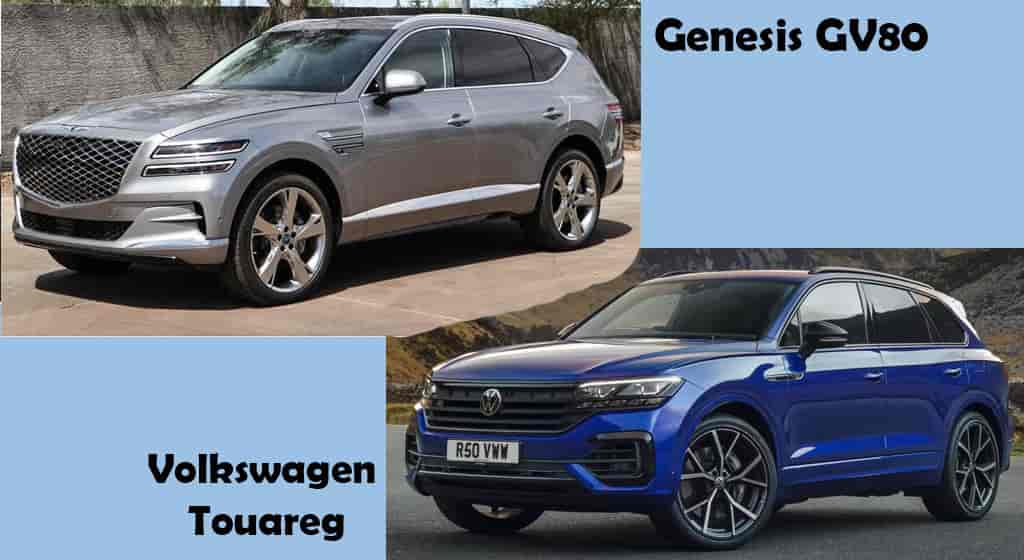 There are four lights attached to the front end, with Genesis calling it a parabolic line running along the length of the car to add a definitive edge to its width. As well as the power lines, which are not to be confused with real power lines, the wheels complement those arches nicely as well. There is a wide lower rear bumper, a low stance and a wide, low grille on the petrol models, and for the diesel models, the badge motif is displayed on the tailpipe tips.
Volkswagen Touareg: This large canvas has successfully been branded in Volkswagen's sleek and serious corporate style. There is no doubt that the Volkswagen touareg is conservative, refined, and well-balanced. The exterior design is dominated by strong, horizontal lines, and even though the car stands close to 1.7 meter high, its turret slopes gently towards the rear where bulbous wheel arches create a distinctive hipline.
In addition to the ordinary analog instrument cluster, the vehicle comes equipped with a 9.2 inch media screen and a 7 inch info screen. The bright finish air vent grills continue the horizontal theme, as do the ambient strip lights. Black surfaces on the console and brushed metallic highlights accentuate high quality soft touch materials around the dash and doors.
2024 Genesis GV80 vs Volkswagen Touareg Engine & Transmission
Genesis GV 80: Its entry level petrol engine produces 224kW at 5800 rpm and 422 Nm at 1650 to 4000 rpm and is a 2.5 liter unit. In addition to 2WD or RWD and AWD, it has an eight speed automatic transmission. It takes almost 7 seconds to accelerate from 0 to 100km per hour, whether it's in RWD or AWD.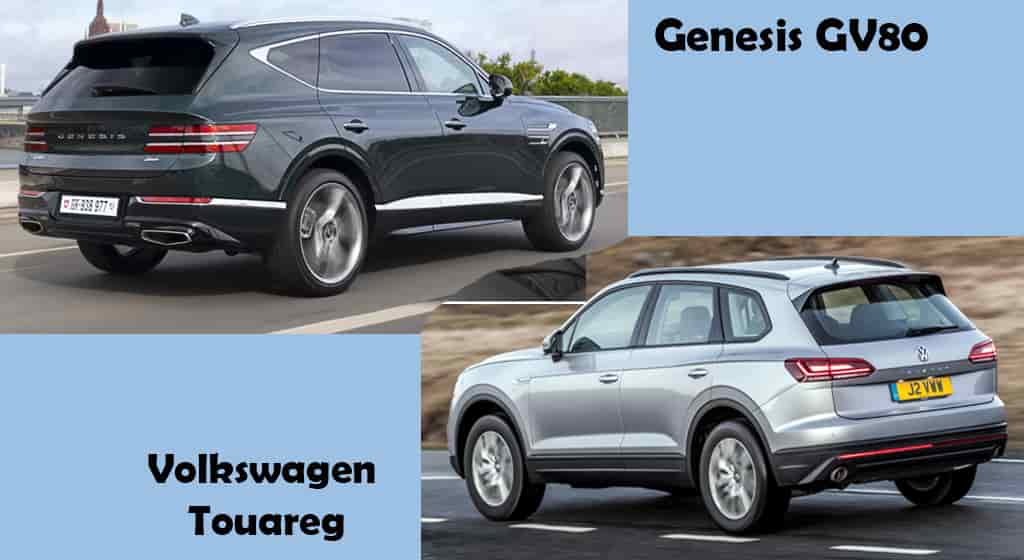 Volkswagen Touareg: The turbo diesel engine from the VW Group powers the 3.0-litre turbo diesel V6 under the bonnet. At 4000 rpm, this engine generates 190 kilo watt of peak power and 600 Nm of maximum torque, and has an iron block, alloy heads, and common rail direct injection.
A six speed manual transmission transmits power to all four wheels, with a center difference allowing 70 percent to be sent to the front wheels and 80 percent to the rear.
Fuel Economy for 2024 Genesis GV80 vs Volkswagen Touareg
Genesis GV 80: In the 2.5T, the all-wheel drive model claims 10.4 liters per 100 kilometers in combined cycle driving, while the rear wheel drive model claims 9.8 liters per 100 kilometers where the 3.5T's big six consumes 11.7L per 100km.
It is not surprising that the diesel six is the most efficient, with an EPA claimed consumption of 8.8 gallons per 100 kilometers. It is recommended that you use premium unleaded fuel for any petrol model. The diesel models have engine start-stop technology, while neither is required for petrol models. The four cylinder petrol models' displayed consumption was 11.8L per 100km for both RWD and AWD, while the six-cylinder petrol model was 12.2L per 100km. 
Volkswagen Touareg: A combined cycle can return 7.4 liters of fuel per 100 kilometers, with CO2 emissions reported at 194 grams per kilometer. There is a capacity of 75 liters of diesel in the tank, which corresponds to a range of 600 kilometers.
2024 Genesis GV80 vs Volkswagen Touareg Price
Genesis GV 80: The GV80 2.5T petrol model will open the range and is priced at $90,600. In addition to having all-wheel drive, the GV80 2.5T AWD provides seven seats as well. There is a $95,600 price tag on that model. There is a third GV80 model called the 3T AWD seven-seater, which has a six-cylinder turbo diesel engine with all-wheel drive that costs $103,600 and comes with additional equipment. It costs $108,600 for the seven seat 3.5T AWD with twin-turbo V6 petrol engine.
Volkswagen Touareg: It competes against a host of premium SUVs, including entry level versions of Audi A7 cousins, Mercedes-Benz GLE and Volvo XC90. You will have to pay $3000 for a giant panoramic glass sunroof. Paints with metallic or pearl effects cost at least $2000, and the glass fronted Innovation package costs another eight grand.