Lets talk about 5 exclusive features about Genesis GV60 vs Tesla Model Y. At first, the Tesla Model Y used to rule the market but the Genesis GV60 the first Electronic SUV from the company proved to be a solid competition. Both the Tesla Model Y and Genesis GV60 are some of the best electric Sports Utility vehicles that are currently available in the market.
The Tesla Model Y and Genesis GV60 are completely electric crossover sports vehicles with all-wheel drive. With their technology, range, performance, charging times, and distinctive features, they want to draw in both new and seasoned EV buyers. Both models come in a variety of setups to accommodate a wide range of consumer likes and preferences.
1# Cabin Space Comparison Genesis GV60 EV vs Tesla Model Y EV
Genesis GV60 EV cabin space: Front-seat passengers in the five-door GV60 have 39 inches of headroom and 42.3 inches of legroom. Look for headroom of 38.1 inches and legroom of 37.6 inches in the rear seats. GV60 occupants have 57.5 inches of shoulder room in the front and 55.9 inches in the rear.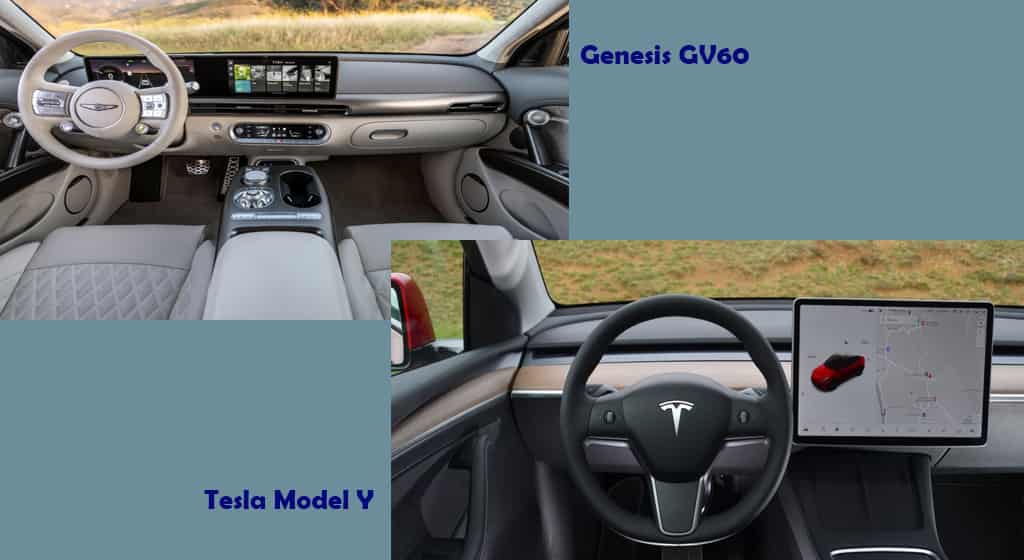 Tesla Model Y cabin space: The Tesla Model Y offers 40.9 inches of headroom and 41.9 inches of legroom for its drivers. Second-row seats in the Model Y provide 39.4 inches of headroom and 40.5 inches of legroom. There are 56.4 inches of shoulder room in the front of the Model Y and 54 inches in the back.
2# Powertrain Genesis GV60 EV vs Tesla Model Y
Genesis GV60 EV Power Train: The Genesis GV60 is available with a standard AWD system and a 314-horsepower engine. The vehicle is powered by two electric motors, one at the front and one at the rear, each acting directly on the wheels. Boost your power from the standard 314 horsepower to 429 horsepower in Performance AWD, and you can even reach 483 horsepower during short bursts in Boost Mode.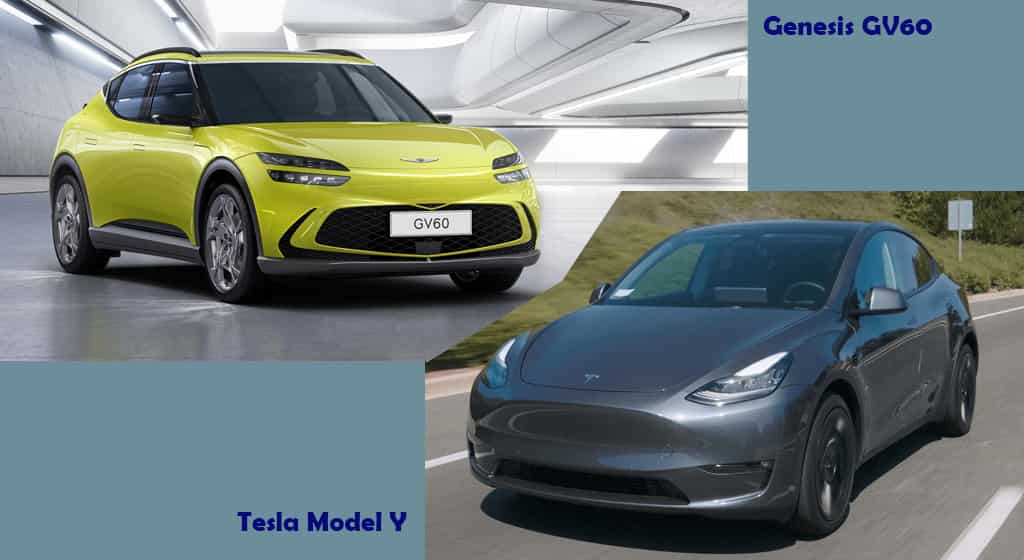 Tesla Model Y Power Train: The Tesla Model Y is available in both Long Range and Performance versions. Dual electric motors provide 384 horsepower for the Model Y long range with AWD. A Model Y Performance will deliver 480 horsepower and will allow you to go from 0 to 60 in just under four seconds.
91 kW motors are mounted up front and 200 kW motors are mounted at the rear in Long Range configuration. Front motors are 133 kW and rear motors are 179 kW in Performance grade.
3# Towing and Cargo Genesis GV60 vs Tesla Y
Genesis: In the Genesis GV60 EV Lifting the rear liftgate reveals folding rear seats on the Genesis GV60. A storage area of 24 cubic feet can be found behind these. Some models can tow 2,000 pounds, though North American models aren't listed on the manufacturer's website.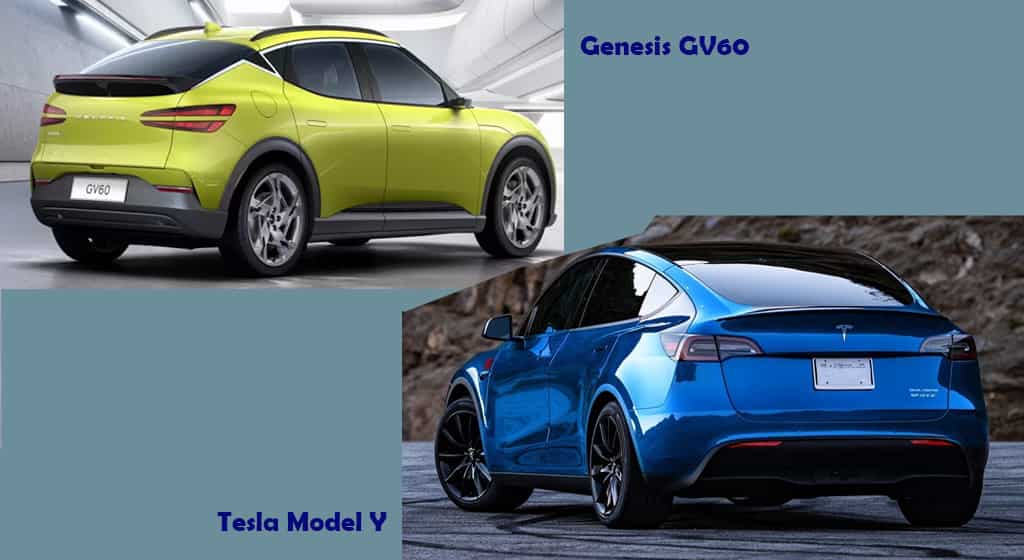 Tesla: A larger frunk and cargo space in the rear of the Model Y create 4.1 cubic feet of space for cargo. In the second row, you'll find 30.2 cubic feet of space. When the second row is folded, the volume increases to 72.1 cubic feet. There is a maximum towing capacity of 3,500 pounds with the right equipment.
4# Tech and Features
Genesis GV60: There are plenty of clever features and technology on board the Genesis GV60. Face recognition is available instead of a key in the GV60. Their doors can be unlocked and their engines
can be started with it. With the same camera tech that powers this system, the driver's seat and mirrors can also be adjusted automatically for optimum driving positions.
The start-up of motors can be secured with fingerprint authentication, eliminating the need to carry a key. White noise is used for active noise cancellation to make driving quieter. You can control the music in the cabin with the Bang and Olufsen stereo system. A power-extendable driver's seat cushion, Vehicle to Load charging, electronic suspension, and wireless smart-phone charging are also included.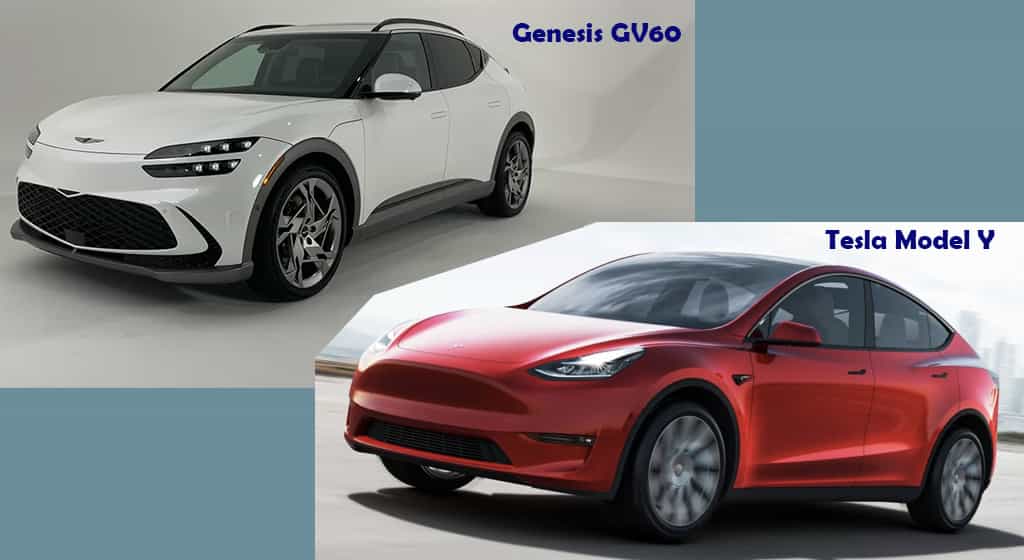 Tesla: Drivers can monitor and control many vehicle functions on Tesla's signature touch-screen interface, located up front. An open and connected feel is created by wireless charging pads and a glass roof. It is possible to update the Model Y's software over the air, which can automatically enhance the vehicle's performance and functionality. Breathing easy is made easier by HEPA filtration included in the car.
Smart Summon, Autopark, and Auto Lane Change are all included in the enhanced Autopilot package of the car. It is also possible to add Tesla's full self-driving capability. Power-adjustable steering and a heated and motorized driver's seat make finding the right driving position easy. A high-resolution display and advanced camera system help you park with ease.
5# Pricing for GV60 EV vs Tesla Model Y
Genesis: There is a $1,095 freight charge included in the price of the GV60, which starts at $58,890. The premium version of the GV60 Performance AWD delivers 483 horsepower for a price of $67,890
Tesla Model Y: With the Long Range configuration, Tesla Model Y starts at $67,440, while the Performance configuration starts at $71,440.
Conclusion
Despite the superior range, power output, energy efficiency and interior volume of the Model Y, the Genesis GV60 might be one of today's best luxury electric SUV deals. Both the cars have many strengths and few weaknesses, both models make excellent electric luxury SUVs for the money.