Are looking to buy a Genesis car and not able to select the difference between Genesis GV70 vs GV80? Continuing to grow its SUV line-up, Genesis will continue to offer new SUVs to drivers in the area. You can find a luxury SUV that meets your needs in the Genesis GV70 and Genesis GV80 as both SUVs provide you with a premium driving experience.
GV70 and GV80 both share similar positive qualities, and both have a few benefits over the other that are easily balanced out by the others. The best way to determine which one is for you is to take them both for a test drive at Genesis workshop.
In addition to offering two impressive SUV models for your consideration, Genesis has become synonymous with excellence and refinement. Here, we explain the differences between the Genesis GV70 and GV80, so you can choose the best one for your needs.
Key Differences Genesis GV70 Vs. GV80
Interior Key Difference Genesis GV70 Vs. GV80
In comparison with the GV70, the GV80 has a significantly larger interior. The GV80 has a maximum cargo volume of 84 cubic feet, which makes it a great option if you regularly carry a lot of cargo while the GV70 has a maximum cargo volume of 56.9 cubic feet, which makes it a great option if you regularly ship large items.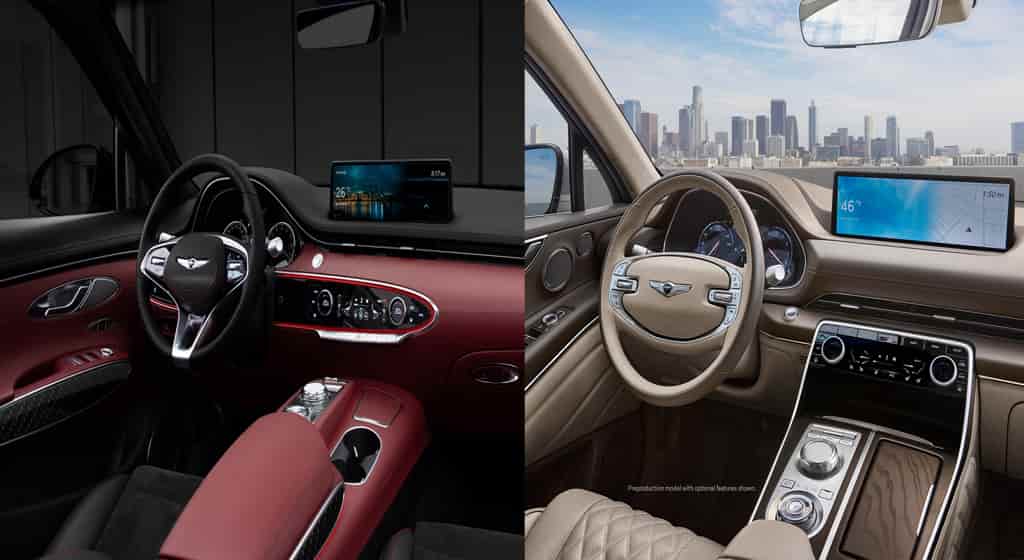 Genesis GV70 Vs. GV80 Size Comparison
A quick glance side by side reveals the main difference between the two SUVs is their size. A compact SUV with two rows of seating and seating for five people, the GV70 has two rows of seating. However, the GV80 is a midsize sedan with a bigger wheelbase and is 9 inches longer and 3 inches taller than the GV70.
Engine Difference for Genesis GV70 Vs. GV80
In spite of the fact that Genesis could have easily shrunk the big GV80, they didn't. Although all powertrain options were maintained between the two models, the GV70's smaller and lighter size should make it more enjoyable to drive than the big boy. 
Dimensions & Space for Genesis GV70 Vs. GV80
Compared to the Genesis GV70, the 2021 Genesis GV80 measures 194.7 inches long and 77.8 inches wide, resulting in 108.7 cubic feet of interior passenger space. The Genesis GV70 is smaller than the Genesis GV80 in 2022. It measures 185.6 inches in length and 75.2 inches in width.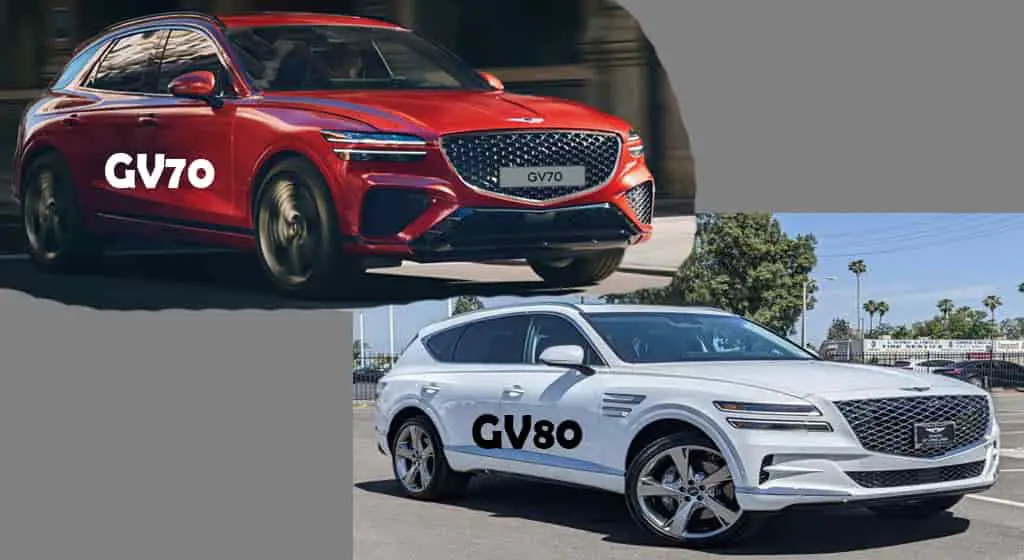 If the third row isn't installed, the larger GV80 offers just a little more interior room. No matter where you sit, a mid size SUV offers more headroom and legroom.
Safety Features
Both the GV70 and GV80 offer several essential standard safety features, including adaptive cruise control, lane keep assist, blind spot monitoring, front and rear automatic braking, and side cross traffic alerts.
Performance comparison for GV70 & GV80
Each of the GV70 and GV80 models features a 2.5 liter four cylinder engine with 300 horsepower and 311 pound-feet of torque. A four wheel drive system is standard on the GV70. All wheel drive is available on all trim levels above the base GV80 and comes with rear wheel drive as standard. It can be much easier to commute to work in the winter while you have an all wheel drive.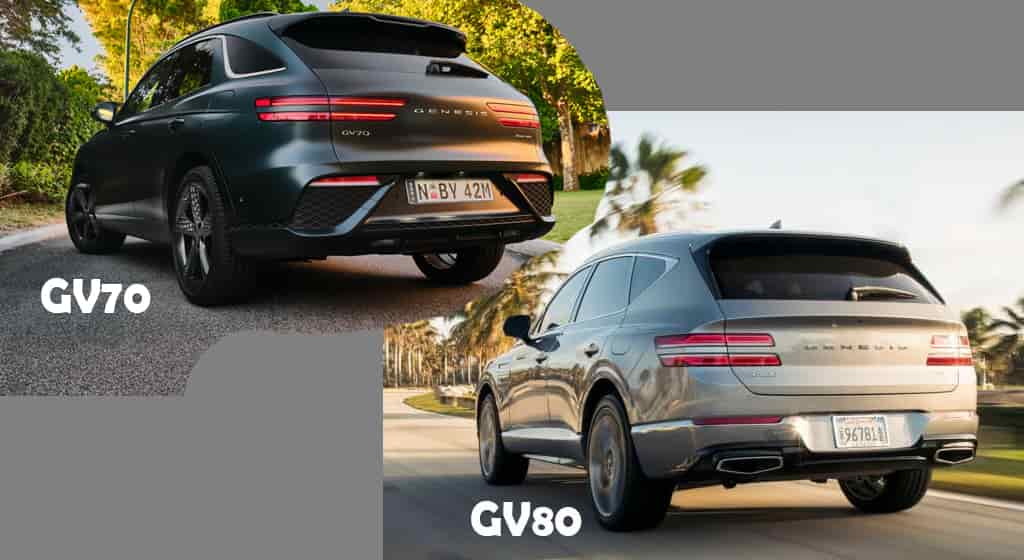 Repairing & Maintenance
Once you decide which Genesis GV70 or GV80 trim model best meets your needs, decide on a lease deal, and sign your lease agreement, make sure to maintain your vehicle with oil changes and tune ups.
It is crucial to follow the factory maintenance schedule to ensure the longevity and performance of your new Genesis SUV. Any specialists will handle anything from brake pad replacement to wiper blade installation to keep your Genesis lease running smoothly for as many miles as possible.
Technical Features
As standard on both the GV70 and GV80, is a 14.5 inch touch screen infotainment system with a head up display, 3D digital gauges, and Lexicon Premium Audio System. GV70 and GV80 come with wireless device chargers as standard features.
Similarities for Genesis GV70 Vs. GV80
Power & Performance Similarity for GV70 Vs. GV80
In addition, both SUVs share many other similarities as well. There is no difference between the engines. You can drive with confidence and beyond luxury with this 2.5 liter turbocharged option, which produces 300 horsepower.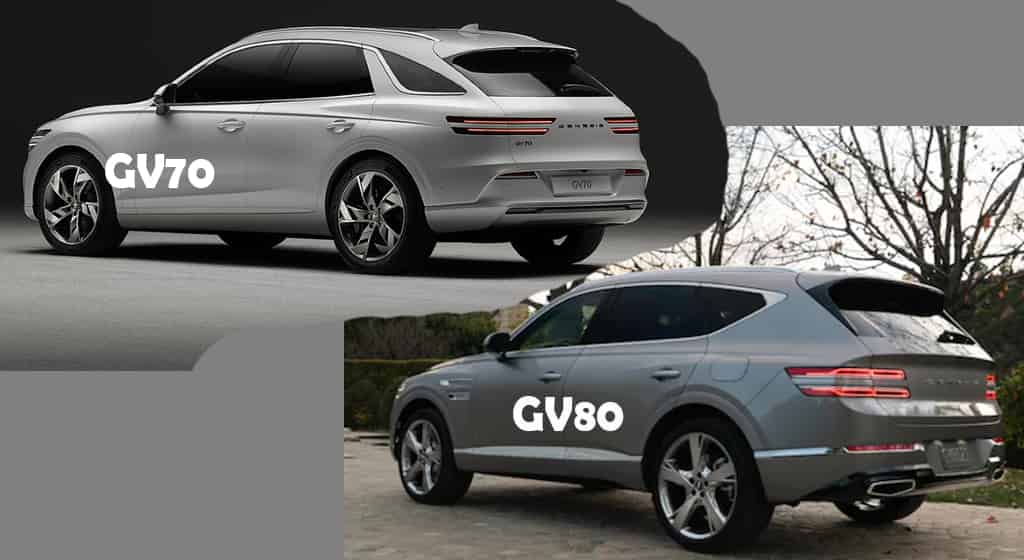 Design Similarity for GV70 Vs. GV80
There are a variety of different seating finishes in the cabin, including leather and quilted seating. These come in a variety of colors, so you can choose the feel that's right for you & they come with ambient lighting as well.
Also included is an Android Auto compatible widescreen touch display. Wi-Fi and 4G LTE are available onboard, and all of this can be connected via Android Auto or Apple Car-Play. Several different driver assistance and safety systems will ensure you are safe on the road, including premium sound systems.
Warranty Similarity for GV70 Vs. GV80
The warranty coverage on both Genesis (GV 70 & GV 80) is unmatched by other luxury brands. Powertrain Limited Warranty covers the vehicle for ten years or 100,000 miles, along with a five year or 60,000 mile warranty on new vehicles. Moreover, both SUVs have complimentary scheduled maintenance for three years or 36,000 miles.