Let's see the battle between Genesis GV80 vs Mercedes GLE 450. The Korean car manufacturer, Genesis, and the German car manufacturer Mercedes are both known to make premium and luxurious cars. Some of the best cars currently available in the market by these manufacturers are the Genesis GV80 and the Mercedes GLE 450. Both of these cars are Full sized SUVs and both offer some solid features Here in this article, we are going to compare the different features of both cars.
Genesis GV80 vs Mercedes GLE 450 Engine, Transmission & Performance
Genesis GV80: G80 sedan underpinnings also serve as the basis for this midsize luxury crossover. There are four engine choices, including a turbocharged 2.5-liter four-cylinder with 300 horsepower and a twin-turbocharged 3.5 liter V-6 with 375 horsepower, which took 5.3 seconds to reach 60 mph at our test track. When equipped with the turbo four, the GV80 achieved 60 mph in 6.1 seconds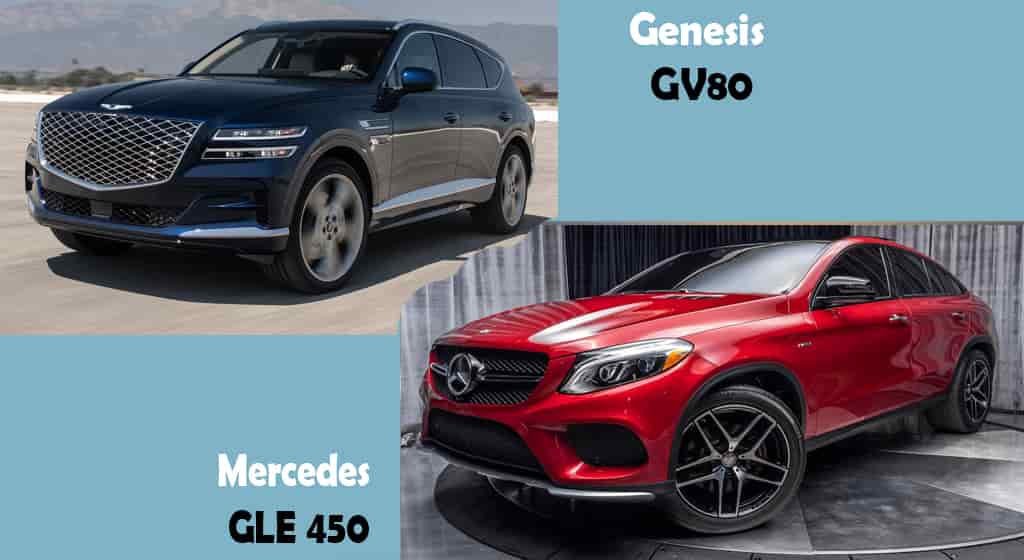 Mercedes GLE 450: There is an automatic transmission with nine gears and all-wheel drive as standard on the GLE 450. An electrical system powered by 48 volts powers the vehicle's electric supercharger. In conjunction with the SUV's turbocharged inline-six engine, the GLE 450 produces 429 horsepower and 384 pound feet of torque. The GLE 450 Coupe can reach 60 mph in 4.7 seconds & can cover the quarter-mile in 13.4 seconds at 103 mph with that setup.
Cargo, Comfort, and Interior of Genesis GV80 vs Mercedes GLE 450
Genesis GV80: A large slim-shaped infotainment display keeps things upscale but uncluttered; burled-wood trim and metal accents provide a nice finishing touch. Although the interior design uses fancy materials, it feels elegant in person because it provides a sense of minimalism. Besides being comfortable and supportive, the front seats are equipped with a massage function that provides a truly relaxing experience.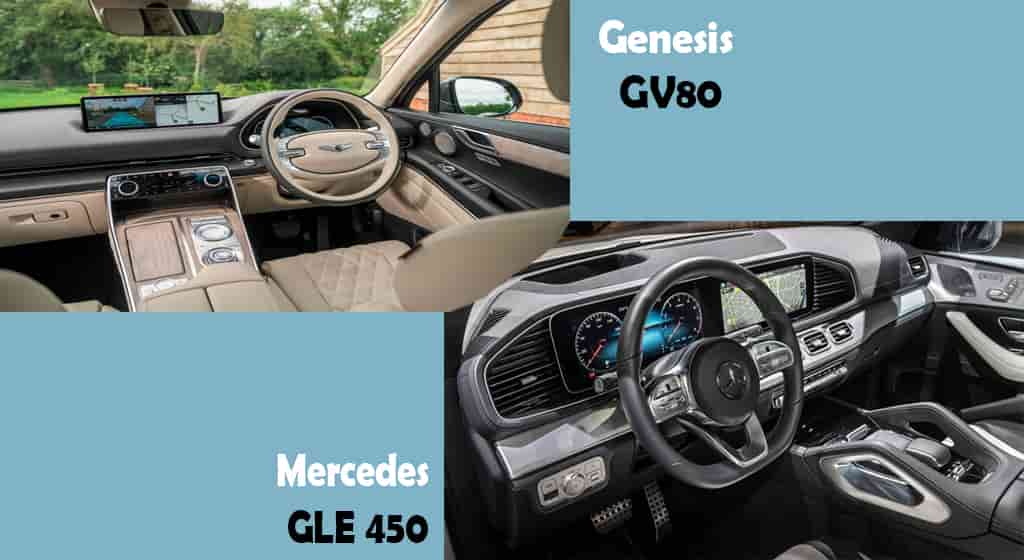 In the second row of seats, there is a three-across bench that can accommodate five passengers, and the third row can accommodate seven passengers, but is limited in space and should only be used by children. The GV80 has a space of 28 carry on suitcases with the second row folded down and 13 behind the second row. The design of the Genesis gives out a much more traditional look.
Mercedes GLE 450: With its 12.3 inch digital instrument panel and touch-screen center display, the GLE gets Mercedes' one-generation-old screen layout. An interesting nacelle surrounds all that with horizontal accents that resemble vents.
Throughout the cabin, matte finished wood trim accents the center console, which recalls both the ML and the G-Class' off road heritage. As for comfort, the Mercedes GLE is an excellent SUV with a pleasant drive and plenty of room for four adults and their belongings – in fact, rear passengers have more legroom than front passengers.
This vehicle's ride is exceptionally smooth, thanks in part to the optional Airmatic suspension. While the GLE feels float and bobbing over undulating pavement, it still feels composed and comfortable despite the air suspension setup. Also included in the $1,100 Acoustic Comfort package was better sound insulation.
Genesis GV80 vs Mercedes GLE 450 Safety Features
Genesis GV80: Genesis GV80 variants meet 2020 crash test safety requirements, although EuroNCAP and ANCAP have not yet tested the vehicles.
From 10km/h to 200km/h, the auto emergency braking (AEB) works, and pedestrian and cyclist detection work from 10km/h to 85km/h. In addition to adaptive cruise control with stop-and-go capability, the vehicle has lane keeping assistance, as well as the clever lane following assist, in which the vehicle can follow a lane from 0 to 200 km/h.
Mercedes GLE 450: A five-star safety rating has been awarded to the Mercedes-Benz GLE under the stricter ANCAP 2019 safety criteria.  Child occupant safety was given the highest score ever for the GLE. A number of safety technologies and equipment are installed in the GLE.
Aside from auto emergency braking, it also has lane departure warnings, lane keeping assistance active lane assist it merges into the next lane when you indicate, blind spot monitoring, cross-traffic alerts at the rear and front, adaptive cruise control, a 360-degree camera, a reversing camera, parking sensors on both sides, semi-autonomous parking, and driver fatigue detection.
Genesis GV80 vs Mercedes GLE 450 Infotainment and Connectivity
Genesis GV80: A thin, 14.5-inch infotainment touch-screen for the Genesis spans the center of the GV80's custom dashboard. The touch-sensitive nature of the screen will probably allow the front-seat passenger to control the navigation system or change the radio station.
Mercedes GLE 450: Even three years after its introduction, the GLE's MBUX infotainment system is still among the best in the business. The central infotainment display is simple to use owing to logical menus and a snappy touch-screen, while the reconfigurable digital gauge cluster, which is standard, gives lots of information and customizability.
Genesis GV80 vs Mercedes GLE 450 Pricing
When it comes to pricing the Mercedes GLE 2022 is priced at $56,150 and in some markets, the average price is $57,745, on the other hand, the 2023 Genesis GV80 is priced at $55,550, and in some markets, the average price is around $56,700.