What's happening to 2024 Lincoln Navigator? Lincoln and their Navigator may be a bit late when it comes to electrifying their vehicles, but they do have bold plans for their upcoming productions (for catching up). This luxury label from Ford plans of having at least 5 electric vehicles by 2026, which means that they need to start soon. And they are going to unveil their first electric ride soon enough. It's in fact scheduled to happen close to the end of 2022, which should be electric Aviator that would be twinned with electric Explorer (from Ford, of course).
The 2024 Lincoln Navigator represents the epitome of luxury and performance in the realm of SUVs. This exceptional vehicle combines elegant design, advanced technology, and powerful capabilities to deliver an unparalleled driving experience. With its commanding presence on the road, the Navigator exudes sophistication and refinement. Equipped with a robust engine and intelligent suspension, the Navigator delivers impressive power and a smooth, comfortable ride. Its spacious interior provides ample room for passengers and cargo, ensuring a comfortable journey for all occupants. The Navigator's attention to detail is evident in its meticulously crafted cabin, which showcases high-quality materials and exquisite craftsmanship.
The 2024 Navigator embraces cutting-edge technology, offering a range of innovative features. From an intuitive infotainment system to advanced driver-assistance technologies, this SUV is designed to enhance convenience, connectivity, and safety. With its blend of luxury, performance, and advanced features, the 2024 Lincoln Navigator is a true embodiment of automotive excellence, catering to those seeking the pinnacle of refinement and capability in their SUV choice.
2024 Lincoln Navigator: Redesign, Update & it's Journey
The 2024 Lincoln Navigator has created quite a buzz with its anticipated redesign and updates. This luxurious SUV has long been recognized for its exceptional performance, comfort, and style. Let's delve into the details of the upcoming model and discover the exciting journey it has ahead.
Redesign: The 2024 Lincoln Navigator is expected to undergo a significant redesign, enhancing its already captivating aesthetic. With sleek lines and refined contours, the new Navigator is set to make a bold statement on the road. Anticipate a refreshed front grille, redesigned headlights, and a more streamlined silhouette that exudes elegance and modernity.
Updated Features: Inside the 2024 Navigator, drivers and passengers can expect a range of updated features designed to elevate their experience. From advanced infotainment systems and cutting-edge driver-assistance technologies to luxurious interior materials and spacious seating arrangements, every detail is meticulously crafted to provide comfort, convenience, and sophistication.
The Journey Ahead: The 2024 Lincoln Navigator's journey is bound to be an exciting one. With its striking redesign, updated features, and enhanced performance, it is poised to captivate luxury SUV enthusiasts and set new standards in its segment. As it navigates the roads, this iconic vehicle will continue to represent the epitome of luxury, blending style, innovation, and comfort seamlessly.
2023 Lincoln Navigator Spy Photos or Shots
Lets see a glimpse of spy photo for Lincoln Navigator 2024 models.
2024 Lincoln Navigator: Interior Design and Comfort
The 2024 Lincoln Navigator sets a new standard for luxury SUVs with its impeccable interior design and unmatched comfort. Crafted with meticulous attention to detail, the Navigator's interior exudes elegance, sophistication, and a harmonious blend of form and function. From the moment you step inside, you are enveloped in a world of refined opulence and tranquillity.
Exquisite Materials and Fine Craftsmanship: Every element of the Navigator's interior is thoughtfully designed and meticulously executed. Premium materials such as hand-stitched leather, authentic wood accents, and brushed metal trims adorn the cabin, creating an atmosphere of refined luxury. The seats, expertly crafted and ergonomically designed, provide exceptional comfort and support during long journeys.
Spaciousness and Versatility: The 2024 Navigator offers an abundance of space, ensuring ample legroom and headroom for all occupants. With its three-row seating configuration, this SUV comfortably accommodates up to eight passengers. The second-row seats can be equipped with an available power-reclining feature, allowing passengers to find their perfect position. Additionally, the third-row seats can be easily folded flat to provide a generous amount of cargo space.
Unparalleled Comfort and Serenity: Noise-reducing technologies and acoustic laminated glass contribute to a serene cabin environment, shielding passengers from external disturbances. The Navigator's adaptive suspension system ensures a smooth and comfortable ride, effortlessly gliding over any road surface. The available Perfect Position seats offer customizable comfort settings, including massage and heating/cooling features, allowing occupants to indulge in personalized luxury.
2024 Lincoln Navigator: Exterior Design
The 2024 Lincoln Navigator, a true epitome of luxury and sophistication, showcases a mesmerizing exterior design that captures attention and exudes elegance. With meticulous attention to detail, Lincoln has crafted a vehicle that combines power, style, and functionality in a harmonious package. Let's delve into the remarkable exterior design elements of the 2024 Lincoln Navigator.
Striking Front Fascia: The front fascia of the 2024 Lincoln Navigator emanates authority and grace. The bold Lincoln signature grille, adorned with intricate detailing, demands attention while symbolizing the brand's heritage. LED headlights, seamlessly integrated into the sculpted body, provide a striking visual appeal and exceptional illumination.
Sleek Profile: The Navigator's sleek profile showcases fluid lines and aerodynamic curves, giving it a sense of motion even when stationary. A seamless roofline, elegant chrome accents, and tasteful side mirrors enhance the vehicle's aesthetic appeal, creating a sophisticated and commanding presence on the road.
Refined Rear Design: At the rear, the 2024 Navigator presents a blend of luxury and functionality. Distinctive LED taillights span across the width of the vehicle, leaving a lasting impression. A hands-free power liftgate adds convenience, allowing easy access to the spacious cargo area, while the chrome-tipped exhaust outlets hint at the Navigator's power beneath the refined exterior.
Personalization Options: Lincoln understands the importance of personal expression. With a wide range of exterior color choices and available wheel designs, owners can customize their Navigator to reflect their individual style and preferences, ensuring a truly unique and personalized ownership experience.
Upcoming Construction and Model 2024 Lincoln Navigator
Both of these electric vehicles would be constructed on a completely new platform for EV. It would be created for unibody midsize rides. Reports say that production time would start somewhere in 2024 (quite likely late in that year), which means that both of them may be released as the 2025 model. However, other sources state that it's always possible for Ford to have early production timeline, which means that having the 2024 model is possible. But then again, we can't really be sure about it until the company makes an official confirmation about their upcoming production.
2024 Lincoln Navigator: Engine, Transmission, Acceleration & Power
With its impressive engine, advanced transmission system, and remarkable acceleration capabilities, the Navigator delivers an exhilarating driving experience. Let's delve into the key features that make the 2024 Lincoln Navigator a standout in its class.

Engine: At the heart of the 2024 Lincoln Navigator is a robust and high-performing engine. The Navigator is equipped with a twin-turbocharged 3.5-liter V6. This powerplant delivers seamless power and exceptional responsiveness, ensuring a smooth and thrilling ride.
Transmission: The 2024 Navigator employs a sophisticated 10-speed automatic transmission, designed to optimize gear shifts for maximum efficiency and performance. The transmission offers seamless transitions between gears, enhancing acceleration and fuel efficiency. Whether cruising on the highway or manoeuvring through city streets, the Navigator's transmission provides a seamless and dynamic driving experience.
Acceleration: With its potent engine and advanced transmission, the 2024 Navigator showcases impressive acceleration capabilities. 2024 Lincoln Navigator sprints from 0 to 60 mph in just 5.5 seconds. The Navigator effortlessly merges into traffic and confidently overtakes, ensuring a commanding presence on the road.
Power and Capability: Beyond its speed, the 2024 Lincoln Navigator exhibits exceptional towing capabilities. With a maximum towing capacity of up to 8,700 pounds when properly equipped.
2024 Lincoln Navigator: Wheels, Tires & Brakes
One of the critical aspects contributing to its outstanding performance is its wheels, tires, and brakes. In this article, we will delve into the features and specifications of the Navigator's wheels, tires, and brakes, highlighting their importance in ensuring a safe and enjoyable driving experience.

Wheels: The 2024 Lincoln Navigator comes equipped with stylish and robust wheels that enhance both aesthetics and functionality. These wheels are available in various sizes and designs, allowing owners to personalize their Navigator to suit their preferences. Made from high-quality materials, the wheels are not only visually appealing but also durable, ensuring longevity even under demanding driving conditions.
Tires: The Navigator's tires are specifically selected to complement its performance capabilities. These tires offer excellent grip on different road surfaces, providing stability and enhanced traction. With advanced tread patterns and innovative technologies, the tires effectively disperse water, reducing the risk of hydroplaning and enhancing braking performance. Additionally, they contribute to a smooth and comfortable ride, minimizing road noise and vibrations.
Brakes: The braking system of the 2024 Lincoln Navigator is designed to provide precise and reliable stopping power. Equipped with advanced braking technologies, such as anti-lock brakes (ABS) and electronic brake-force distribution (EBD), the Navigator ensures optimal braking performance under varying conditions. The large brake discs and calipers efficiently dissipate heat, allowing for consistent braking performance and minimizing brake fade.
Production Plans for 2024 Lincoln Navigator
The original plan for Ford is to construct both vehicles at their Cuautitlan manufacturing plant in Mexico, but there is a change of plan. The plant doesn't have enough production capacity because the company is focusing on producing Mustang Mach-E and they have never thought that demands would be stronger than they have expected. So, the Lincoln and Explorer would have to be built elsewhere. It's possible that they are moving production to their Oakville plant in Ontario, which is currently the home to Lincoln Nautilus and Ford Edge.
Lincoln Next Production of 2024 Lincoln Navigator
As it was mentioned before, Lincoln
has more plans about producing more electric vehicles as they want to catch up to other rivals. Aside the first electric Aviator, Lincoln has prepared (and confirmed) their plans for more EVs to be launched within the decade. By 2026, they will have more additional EVs (four of them). Those of the electric versions would include Nautilus, Corsair, and Navigator. Another one isn't known. Its identity is somewhat a mystery, but it's predicted to be the smaller crossover (even smaller than the Corsair). It's also possible that the last one would be coming on MEB platform (from VW Group). Ford has planned to incorporate the MEB platform for their compact crossover for the European market.
The Production Timeline of 2024 Lincoln Navigator
Wait, if the first electric vehicle would be the Aviator, what's going to happen to 2024 Lincoln Navigator? If we are following the company's timeline, it means that Nautilus and Corsair may likely start production in 2025 (taking place in Oakville). If there is late production, it's even possible that it will start production in 2026. They would be constructed on the dedicated EV platform used by Mustang Mach-E, but the updated version one.
It means that the electric Navigator may start production in 2026, which makes it possible to be set as the 2027 model. It's likely that it would be coming on a (dedicated) EV platform for body on frame construction, which has been used by the redesigned Ford F-150.
Is it possible that there would be a regular 2024 Navigator? Although it's possible, it doesn't seem likely. The company is focusing on their upcoming electric technology. With their plans of releasing 5 EVs by 2026, they don't seem having the power and the resources to produce both regular and electric types. But then again, we can never know what their plan is. For now, they haven't said a word about the regular Navigator as they only talk about electrifying the upcoming lineups. We should learn more about 2024 Lincoln Navigator once the information is available – whether it's electric or not.
2024 Lincoln Navigator: Performance and Handling
The 2024 Lincoln Navigator sets new standards for performance and handling in the luxury SUV segment. With its powerful engine, advanced technology, and refined driving dynamics, this vehicle offers an unparalleled driving experience.
Under the hood, the 2024 Navigator is equipped with a robust 3.5-liter twin-turbocharged V6 engine, delivering an impressive 450 horsepower. This potent powertrain ensures effortless acceleration and remarkable towing capabilities, making it a perfect choice for those seeking both power and versatility.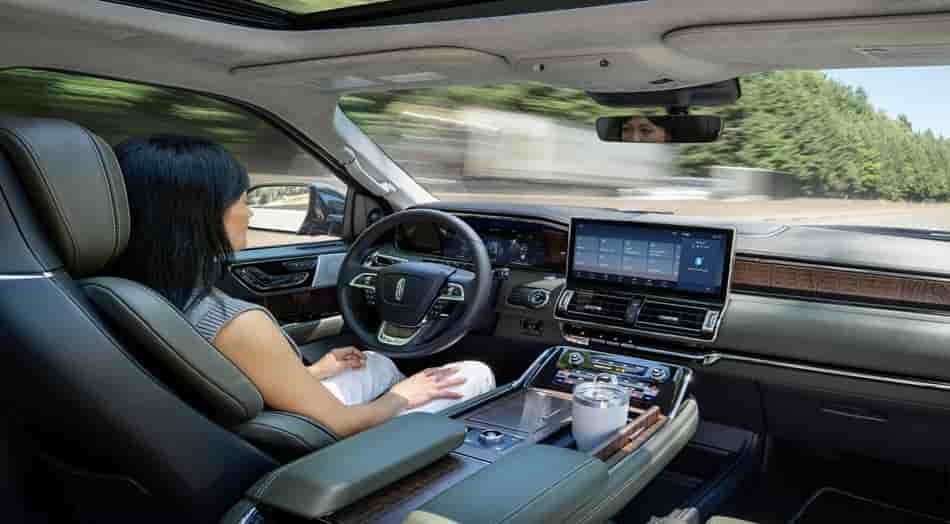 In addition to its powerful engine, the Navigator features advanced handling technologies that enhance its overall performance. The available adaptive suspension system constantly adjusts to road conditions, providing a smooth and comfortable ride, even on uneven surfaces. Furthermore, the intelligent all-wheel drive system enhances traction and stability, ensuring confident handling in various weather conditions.
The 2024 Navigator also incorporates cutting-edge technology to further elevate the driving experience. Lincoln's Co-Pilot360™ suite of safety features provides peace of mind on the road, with features like adaptive cruise control, lane-keeping assist, and automatic emergency braking. The intuitive infotainment system, with its large touchscreen display and smartphone integration, keeps drivers connected and entertained throughout their journey.
2024 Lincoln Navigator: Trim Levels
The 2024 Lincoln Navigator continues to make a bold statement in the luxury SUV segment with its impeccable design, advanced technology, and superior performance. This iconic vehicle offers a range of trim levels that cater to various preferences and demands. Whether you seek ultimate comfort, enhanced performance, or cutting-edge features, the 2024 Navigator has a trim level to suit your needs. Let's delve into the enticing trim options available for the 2024 Lincoln Navigator.
Standard: The base model of the 2024 Navigator still boasts a remarkable set of features. It includes a powerful 3.5-liter V6 engine, a spacious cabin with premium leather upholstery, and a plethora of advanced safety systems. The Standard trim provides an excellent entry point into the world of luxury and sophistication.
Reserve: Stepping up to the Reserve trim elevates your driving experience with additional features and enhancements. Revel in the indulgence of 30-way power-adjustable seats, genuine wood accents, and a panoramic sunroof. The Reserve trim exemplifies refinement and elegance.
Black Label: For those who desire the epitome of luxury, the Black Label trim delivers an unparalleled level of opulence. This top-tier trim offers exclusive interior themes crafted by Lincoln's master artisans, such as the Chalet, Destination, and Flight themes. Indulge in the ultimate comfort and exclusivity that only the Black Label trim can provide.
2024 Lincoln Navigator: Security Characteristics
The 2024 Lincoln Navigator sets a new standard for luxury SUVs, offering not only unparalleled comfort and performance but also an array of advanced security features. With a steadfast commitment to passenger safety, Lincoln has equipped the Navigator with cutting-edge technologies that provide peace of mind on every journey.
Enhanced Active Park Assist: The Navigator's Enhanced Active Park Assist takes the stress out of parking in tight spaces. This intelligent system uses sensors and cameras to identify suitable parking spots and guides the vehicle into place with precision, reducing the risk of accidental collisions.
Lane-Keeping System: Safety is a top priority in the 2024 Navigator, and the Lane-Keeping System ensures that drivers stay on the right track. By monitoring lane markings, this system alerts drivers if they unintentionally drift out of their lane, helping prevent accidents caused by drowsiness or distraction.
Blind Spot Detection: Changing lanes becomes safer and more convenient with the Navigator's Blind Spot Detection feature. Using radar sensors, it monitors the vehicle's blind spots and alerts the driver of any approaching vehicles, reducing the chances of potential side-impact collisions.
Adaptive Cruise Control with Stop-and-Go: Long drives are made easier with the Adaptive Cruise Control feature, which maintains a set distance from the vehicle ahead. The system automatically adjusts the speed to match traffic conditions, including coming to a complete stop when necessary. This advanced functionality reduces driver fatigue and enhances safety during congested commutes.
Pre-Collision Assist with Automatic Emergency Braking: The Navigator prioritizes proactive safety with its Pre-Collision Assist system. Using sensors and cameras, it scans the road ahead, alerting the driver to potential collisions. In critical situations, it can automatically apply the brakes to mitigate or avoid accidents, providing an additional layer of protection.
2024 Lincoln Navigator: Advantages & Disadvantages
Pros
Striking Design: The 2024 Lincoln Navigator boasts a sleek and sophisticated exterior design, exuding a sense of luxury and presence on the road
Spacious Interior: With its generous seating capacity and ample cargo space, the Navigator offers a comfortable and versatile environment for passengers and their belongings
Powerful Performance: Equipped with a robust engine and advanced suspension, the Navigator delivers impressive power and a smooth, refined driving experience
Cutting-Edge Technology: The SUV is packed with innovative features, including a user-friendly infotainment system, advanced driver-assistance systems, and luxurious amenities that enhance convenience and entertainment
Cons
Fuel Efficiency: Due to its large size and powerful engine, the Navigator's fuel efficiency may be lower compared to smaller, more compact vehicles
Manoeuvrability: The Navigator's size can make it challenging to navigate through tight spaces or congested urban areas, requiring extra caution and attention from the driver
Price Tag: As a high-end luxury SUV, the Navigator comes with a higher price tag compared to its competitors, making it less accessible for budget-conscious buyers
Conclusion
The 2024 Lincoln Navigator represents the pinnacle of luxury SUVs, offering a combination of style, comfort, and advanced features. With its striking design, spacious interior, and powerful performance, the Navigator stands out in its class.
The Navigator's attention to detail is evident throughout its refined cabin, providing a haven of luxury for both driver and passengers. From premium materials to cutting-edge technology, every aspect of the interior exudes sophistication and comfort. The SUV's performance is equally impressive, thanks to its powerful engine and advanced suspension system. Whether cruising on the highway or tackling off-road terrain, the Navigator delivers a smooth and responsive driving experience.
In conclusion, the 2024 Lincoln Navigator sets a new standard for luxury and sophistication in the SUV market. With its exceptional design, spacious interior, powerful performance, and advanced safety features, the Navigator delivers an unmatched driving experience that caters to discerning individuals who value both style and substance.
FAQ
What is the seating capacity of the 2024 Lincoln Navigator?
The 2024 Lincoln Navigator offers seating for up to seven passengers, providing ample space for both family and friends.
What is the towing capacity of the Navigator?
The 2024 Navigator has an impressive towing capacity of up to 8,700 pounds, making it capable of handling various towing needs.
Does the Navigator come with advanced safety features?
Yes, the 2024 Navigator is equipped with advanced safety technologies, including collision warning systems, blind spot detection, and adaptive cruise control.
What is the fuel efficiency of the Navigator?
The Navigator's fuel efficiency may vary depending on driving conditions and engine choice, but it typically ranges from around 16 to 21 MPG combined.
Does the Navigator offer a hybrid option?
As of the 2024 model year, the Lincoln Navigator does not offer a hybrid powertrain option. However, it comes with a powerful gasoline engine for optimal performance.
What are some notable luxury features in the Navigator?
The Navigator boasts luxurious amenities such as premium leather upholstery, a panoramic sunroof, a high-end audio system, and customizable seating configurations.