Let's explore 2024 Infiniti QX60 vs Genesis GV80 along this explanation whether $15000 is worth or not! The 2024 Infiniti QX60 and the Genesis GV80 are both some of the most popular and feature rich cars by their respective companies. Both the respective cars flaunt high-quality interiors and nice features, and both of these sport utility vehicles score highly in safety tests.
Comparison between 2024 Infiniti QX60 vs Genesis GV80 Features
Infiniti QX60: Several great features come standard on the 2022 Infiniti QX60. An LED headlight, a panoramic moonroof, and a power lift gate are among the features of this vehicle. Leather seats are also available in the first and second rows, as well as heated seats in the front and a heated steering wheel in the middle. A 12.3 inch touch screen infotainment system is included with the Infiniti QX as well as Apple Car-Play and Android Auto compatibility.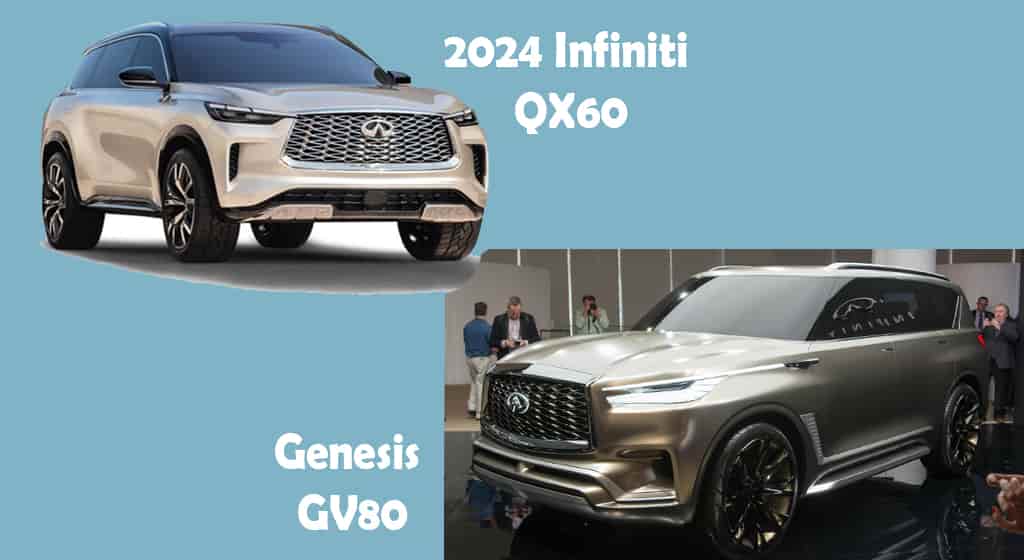 The vehicle also has a lane departure warning, blind-spot monitoring, and forward collision warning, among many other safety features. A rear automatic braking system and rear cross traffic alert are also available on the Infiniti QX60.
Genesis GV80: The GV80 also has many unique features. The car has a power lift-gate, heated front seats with simulated leather upholstery, and 19 inch wheels are standard on the 2.5T Standard RWD. In addition, the infotainment system has a 14.5-inch touchscreen with navigation and a 12-speaker audio system that supports Apple CarPlay and Android Auto. Furthermore, it features a panoramic sunroof, heated seats, and a ventilated steering wheel.
2024 Infiniti QX60 vs Genesis GV80 Specifications and Engine
Specifications and Engine of the Infiniti QX60: It is equipped with a 9 speed automatic and a 295 horsepower V-6 engine in 2024. There is an option to drive the new Infinity QX60 with all wheel drive, but it comes with front l-wheel drive as standard. In comparison to the previous generation, the QX60 offers a towing capacity of 6000 pounds, an increase of 1000 pounds.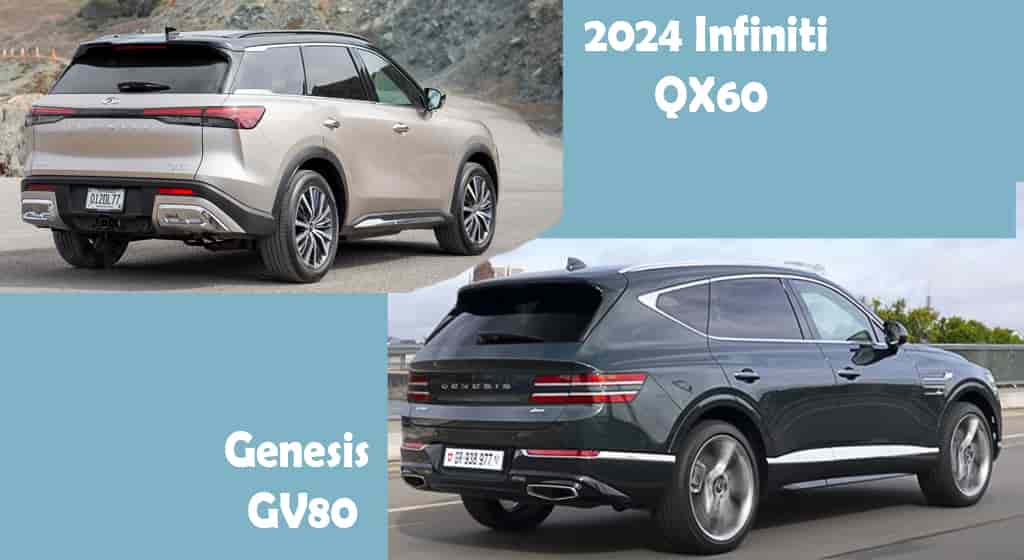 The 3.5 liter V6 engines are the only engines available for the QX60. With 295 horsepower and 270 pounds feet of torque, the system has a maximum output of 295 horsepower. A comparison with other luxury SUVs from the same class, especially high-end options from German manufacturers, is not appropriate. It is not impressive in terms of handling and rides with its price range.
Infiniti's 2024 QX60 Hybrid might improve the image. It is necessary to increase the SUV's power, which will result in crisper acceleration. Gas mileage is also going to get a big boost, and the QX60 hybrid will probably hit 30 mpg.
Specifications and Engine of the Genesis GV80: The G80 luxury crossover has the same underpinnings as the G80 sedan and is available with all-wheel drive as standard. The car features a turbocharged 2.5 liter four cylinder engine
that delivers 300 horsepower and a twin-turbo 3.5-liter V-6 that delivers 375 horsepower and a 5.3-second 60 mph time. The GV80's turbo four delivered a 60 mph time of 6.1 seconds,
It is estimated that Genesis GV80s with the four-cylinder engine should deliver 21 mpg in the city and 25 mpg on the highway; with the V-6, those numbers drop to 18 mpg and 23 mpg, respectively.
2024 Infiniti QX60 vs Genesis GV80 Cost
Infiniti QX60 price: how much does it cost?
Infiniti's base model QX60 starts at $49,045 for the PURE trim level. Engine power comes from a 3.5-liter V6 engine rated at 295 horsepower and 270 pounds-feet of torque. The front-wheel-drive vehicle is mated to a nine-speed automatic transmission. There are more features on higher trim levels, of course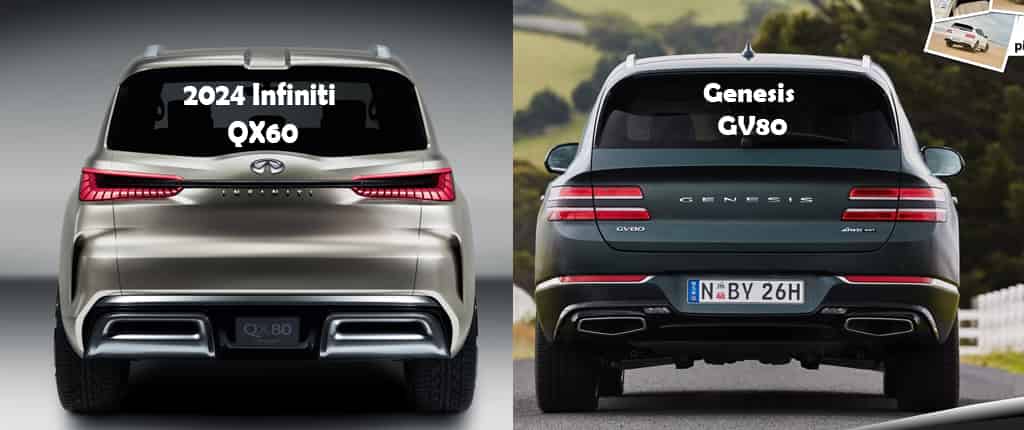 Genesis GV80 price: how much does it cost?
There is a price range of $49,700 to $75,200 for the Genesis GV80. The car is powered by a 2.5 liter four cylinder engine that produces 300 horsepower and 311 lb-ft of torque.
Would You rather Drive More Affordable Infiniti QX60 or More Expensive Genesis GV80?
There are significant price differences between these two luxury SUV models when you reach the higher trim levels. Compared to the top trim of the Infiniti QX60, is the Genesis GV80's top model worth an additional $22,000.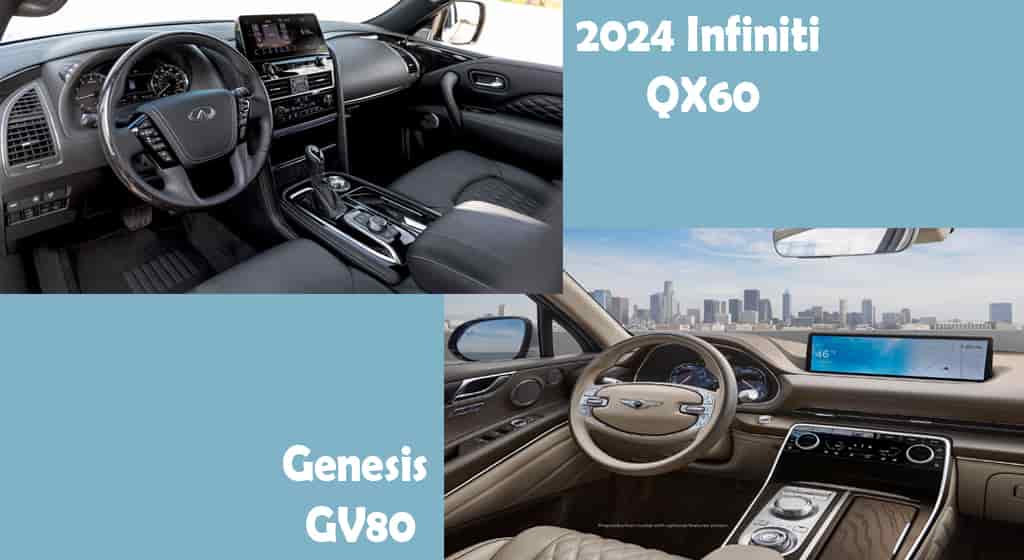 There is more power and luxury in the Genesis GV80, and smoother shifting, and better handling in the Infiniti QX60. It is possible that the improved power of the GV80 will be enough to satisfy your driving needs. Neither power-train under the Genesis SUV's hood is as powerful as that found under the QX60.
There is no easy decision when picking between the 2022 Genesis GV80 and the 2022 Infiniti QX60. Every QX60 trim has a third row of seats, except the top GV80 trim, which does not. In terms of power and opulence, the GV80 Prestige Signature is the luxury SUV you should drive. It is up to you to decide whether those things justify the higher price or whether the Infiniti QX60 is a better choice. Whichever way you choose, you will have an impressive luxury SUV to show off to your loved ones.