Let's explore key difference between Tesla Model Y vs Genesis GV60 with respect to their performance, selection etc. Both automobile companies, Tesla and Genesis are known to make some of the most popular and most innovative cars of this current generation. Two such cars from these companies are the Tesla Model Y and the Genesis GV60.
Differences between Tesla Model Y vs Genesis GV60
Despite not being the fastest SUV on the market, the Tesla Model Y is fast for an SUV. There is no doubt that this is one of the slowest Tesla models among the models that form the top of the line.  There are a number of faster crossovers on the market today, including the all new Genesis GV60, which impresses with its acceleration.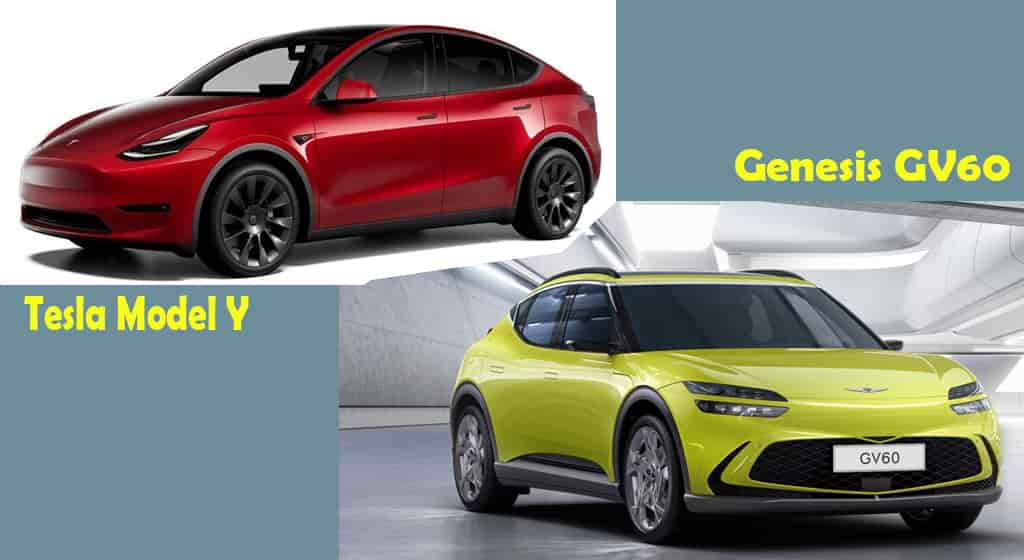 The Model Y Long Range is said to be able to accelerate from 0 to 60 mph in 4.8 seconds based on Tesla's official specs. However, it has been seen that it is capable of doing it faster. A top speed of 135 miles per hour is the maximum speed it can reach.
There is currently only one model of the Tesla Model Y available in the US that can be purchased at a really low price, which is the dual motor all wheel drive Long Range. A Model Y Performance can be purchased for $4,000 more if you want to get a little more zip. This model is capable of reaching 60 miles per hour in 3.5 seconds.
The brand new electric SUV from Genesis called the GV60 shares a platform with both the Hyundai Ioniq 5 and Kia EV6 as well as the Hyundai Ioniq 5. It is important to note that the base GV60 is a rear-wheel drive crossover with a single motor.
There are, however, only two versions of the Genesis SUV available in the US, at least for now. With a starting price of $59,290, the entry level version of the GV60 offers an all-wheel-drive system composed of two motors, much like the one found in the Model Y. Taking it from zero to 60 mph takes it just 5.3 seconds.
There is also a top of the line GV60 Performance model that is powered by the same electric motors that allow the SUV to reach 60 mph in 4 seconds flat, although the SUV can do it in about 3.7 seconds in Boost Mode. Those who want the Performace model will have to pay $68,290, which is about the same price as for the Model Y Performance ($69,990), which is in between the Long Range and Performance Model Y
What are the reasons to buy a Tesla Model Y in 2022 rather than a Genesis GV60?
Genesis GV60 has a limited cargo capacity
With its longer, wider, and taller dimensions than the GV60, the Tesla Model Y is larger and more spacious interior-wise. In addition to having more passenger space, the vehicle also appears to have a larger cargo space.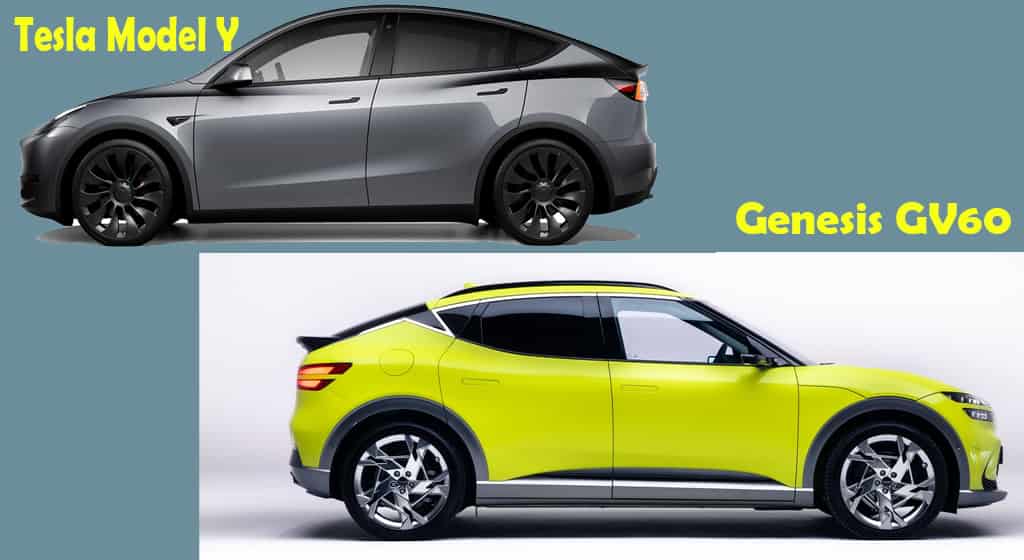 GV60 has 24.7 cubic feet of space behind the second row. A total of 54.7 cubic feet becomes available after removing the second row of seats. Model Y offers 34.3 cu.ft of cargo space without folding the seats, but if there are no rear passengers, the total cargo space can reach 76.2 cu.ft.
Better fuel economy is offered by Tesla's Model Y
Due to its fuel efficiency, the Model Y can get so much use out of its battery. EPA estimated city fuel economy is 127 MPGe in the Long Range variant, while highway fuel economy is 117 MPGe. In other words, the EPA translates this into 122 miles per gallon equivalent. Due to its fuel efficiency, it's one of the most popular EVs.
Despite the Advanced trim's less performance-oriented nature, the GV60 still achieves significantly lower fuel efficiency. As a result of 86 MPGe on the highway and 103 MPGe in the city, this variant achieves an average energy efficiency of 95 MPGe.
What are the reasons to buy a Genesis GV60 in 2022 rather than a Tesla Model Y?
A better warranty is offered by the Genesis GV60
There are three main parts to the Genesis GV60's warranty. It is available for three years or 36,000 miles in the complimentary maintenance cover, which is the shortest cover for buyers. Lastly, the powertrain warranty covers 100,000 miles/10 years and comes with a five-year, 60,000-mile limited warranty.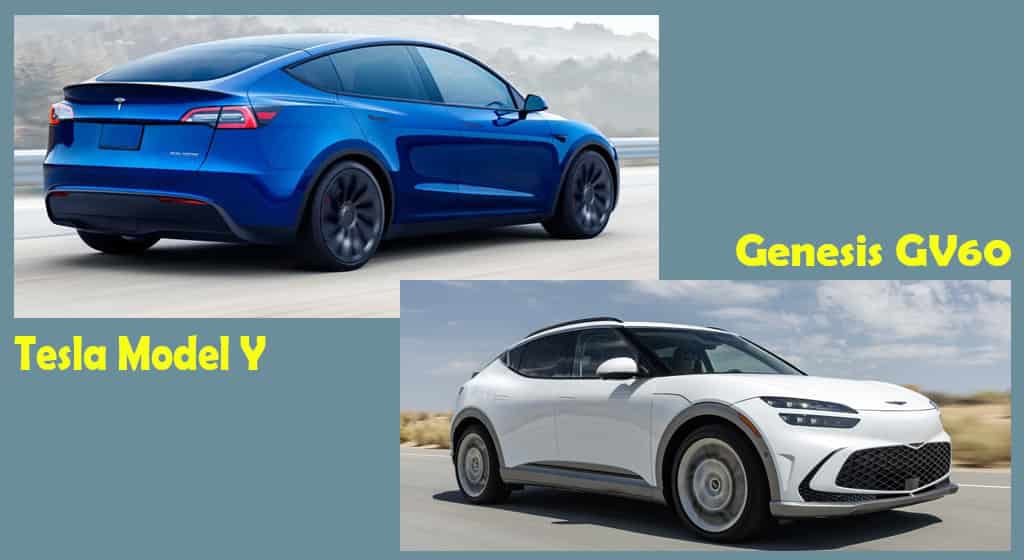 The warranty for the 2022 Tesla Model Y isn't quite as impressive, lasting four years or 50,000 miles, whichever comes first. Seat belts and airbags are covered for five years along with corrosion or rust protection, just like on the GV60.
Starting prices for Genesis GV60 are lower
With most of its electric vehicles costing a premium, Tesla is known for its luxury EV offerings. This applies to the base model of the 2022 Tesla Model Y Long Range, which starts at $62,990.
The Tesla Model Y is a minimum of Four Thousand Dollars more than the Genisis GV60. For $58,890, you can get the Genesis GV60's base model. With the higher variants, there seems to be a narrowing of the price gap. A starting price of $67,990 is the starting price for the Tesla Model Y Performance, which has a higher power output from its motors for faster acceleration. There is also a performance and acceleration upgrade to the Genesis GV60's top variant motors, with a start price of $67,890.
Gallery of Tesla Model Y vs Genesis GV60 Performance: Which Moves Faster?