Have you seen 2024 4Runner Spy Photos by any chance! The upcoming 2024 4Runner or 2024 Toyota 4Runner 6th Gen would be redesigned because its current design is considered outdated, here, we have captured all details with 6th Gen spy photos, redesign & all expected features. Being the fifth generation and outdated performance (aged V6 unit with 4.0 liter capacity and 5 speed transmission), the current 4Runner is considered in crucial need for a redesigned work. Hopefully, Toyota would be smart enough with their upcoming updates.
The new upcoming SUV 2024 Toyota 4Runner is expected to come in March 2024, although the release date has not been confirmed so far. We have already seen that earlier models are most attractive, strong, sturdy, safe and stylish and obviously the new new model 4Runner will come with new featured technology better than old models.
New Toyota 2024 4Runner 6th Gen Redesign: Fantastic SUV with Spy Photos
The 4Runner has been considered a fantastic and impressive midsize SUV, but the obsolete technology puts the vehicle behind. First launching in 2009, the car starts showing a decade-worth of aged features and abilities. For the 2024 model would include the TRD Pro and also hybrid offering. For the 2024 model, the 4Runner is set as the sixth generation of the 4Runner.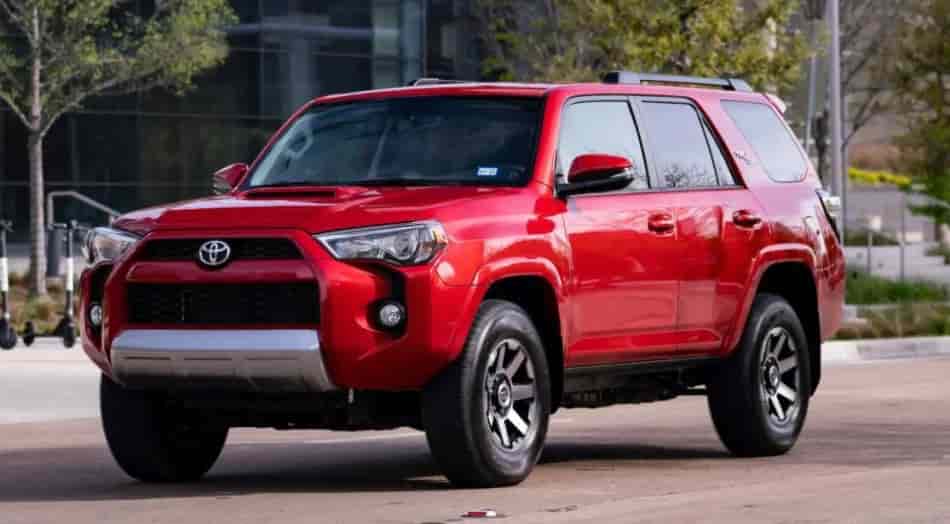 Let's see the overview of 4Runner, how it is evolved in the history:
First Generation: Started in 1983 as 1st generation of Toyota. First model released in Japan as 1984 model.
Second Gen: Redesigned in 1989 as 2nd Generation and continues up to 1995.
Third Gen: 3rd Generation started in 1995 for 1996 model up to 2002.
Fourth Gen: Again redesigned in 2002 as 4th Gen.
Fifth Gen: Redesigned in 2009 as 5th Gen.
Sixth Gen: Redesigned in 2023 as 6th Gen and now 2024 model will boom the market.
Toyota 2024 4Runner Spy Photos or Spy Shots & Images 6th Gen
Before going to discuss about the features, interior, exterior, price or release of Toyota 2024 4Runner, spy photos can be looked for brief visualization. We are sure that you may be wondering to see the spy photos of 2024 Toyota 4Runner right away, we have got a few one below:
2024 Toyota 4Runner Price, Release Date & Sale
2024 Toyota 4Runner 6th Gen Expected Price
The price is expected to start from around $40,000, which would put the vehicle in competition with Ford Bronco and Jeep Wrangler. It seems just right with the updated performance and redesigned project. Models like the Jeep Wrangler and Ford Bronco will continue to be the main competitors in the market. Let us see a tentative price for 2024 4Runner models, as below:
| | |
| --- | --- |
| Trim Levels | Expected Price |
| 2024 4runner SR5 | $40,000 |
| 2024 4runner TRD Sport | $43,150 |
| 2024 4runner Trail Special Edition | $42,275 |
| 2024 4runner SR5 Premium | $43,715 |
| 2024 4runner TRD Off-Road | $44,135 |
| 2024 4runner TRD Off-Road Premium | $47,080 |
| 2024 4runner Limited | $49,890 |
| 2024 4runner TRD Pro | $55,120 |
2024 Toyota 4Runner Expected Price
What is the Release Date of 2024 4Runner 6th Gen or When Will Be Ready for Sale?
The release date may take place in around March 2024, although the date is unclear, so, we will keep you updated once we get any information about this beast.
A Nice Video from Toyota USA
Exterior Design of Toyota 2024 4Runner (with 6th Gen Spy Photos)
Since the launch in 2009, there has only been one update happening. It means that 2024 4 Runner Toyota has been using the same style for years – up to 7 or even 8 years. Even with the redesigned project, the overall style would stay. It means that the exterior would still be 'old-school' but with better capability and rugged styling.
2024 Toyota 4Runner redesign will likely include a number of changes. Although the general design strategy is anticipated to stay the same, as we just indicated, we are confident that the new model will receive a new platform. That will definitely be the brand-new TNGA-F platform, which is already the base for cars like the Tundra and Sequoia.
TRD Pro upgrade: The TRD Pro would include extra upgrades, like Fox shock absorbers, TRD shock absorbers, and TRD front springs. There would also a special TRD Pro roof rack and also improved skid boards. There would be unique color picks and also grid design.
Size Adjustment & Wheelbase: While the ride quality will significantly improve because of the new platform, we don't anticipate any significant size adjustments. Additionally, the new vehicle should have a wheelbase of about 110 inches.
Off-road capabilities: The SUV will maintain its great off-road capabilities in this fashion. When it comes to off-road capability, we anticipate that all models will be well-equipped. Most likely, the rear locking differential and 4WD will come standard.
Suspension: The TRD Pro example, on the different writing, will likely have locking differentials on both axles, enhanced suspension, and other features.
Interior Design of Toyota 2024 4Runner 6th Gen (Spy Photos Included)
For the interior cabin, the hard plastic seriously needs to go. If you take a peek to the current design, it's obvious that 2024 Toyota 4Runner has shown its age. The control panel is outdated. Although the interior is still durable with excellent quality of construction, the 4Runner is in need of improvements. Cabin may not be overly attractive, but it is roomy and also functional.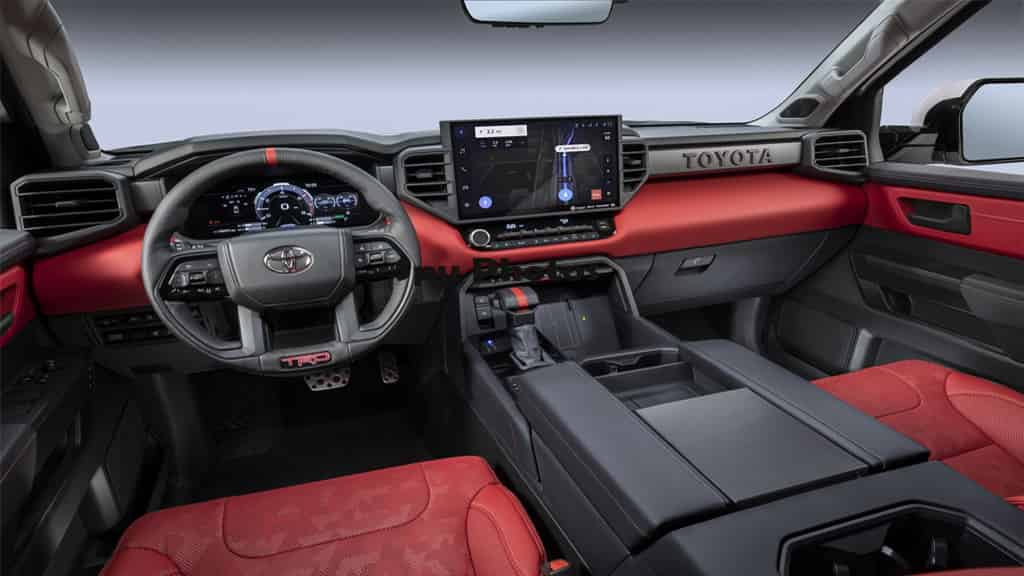 There is nothing grandeur or much, but it should be enough. But Toyota
needs to be serious about 2024 4Runner's redesign & update because it is definitely behind some of the worthy competitors, including Nissan Murano. It is able to add extra luxurious features without affecting the price.
Seating capacity: The standard model alone is able to carry 5 people, while there is always an optional pick for a third row. The driving position is accommodative and high, offering perfect visibility for all directions.
Interior Features: Expect new features like dual zone AC, power seats, power windows, and infotainment system among some of the improved features.
New cabin design & materials: One of the greatest concerns about the current model relates to the outmoded interior decor. That should arrive as no wonder, given that not much has changed since 2009. The basic cabin design hasn't changed, and the updated tech features don't seem all that cutting-edge either. With the redesign of the Toyota 4Runner in 2024, all of this will change. An entirely new cabin will be revealed, one that uses finer materials and has superior construction overall.
Infotainment system: It will also appear much more attractive. We rely on the most recent infotainment features as well.
Updated and Improved Transmission for 2024 4Runner
The current 4Runner is using auto 5 speed transmission, which isn't impressive at all. For the 2024 4Runner, the redesigned project would include the improved transmission. There would be auto 8 speed transmission. It would be best if there can be manual 10 speed transmission (like the one incorporated by Ford Bronco). With better transmission, fuel economy would be better and lower emission can be expected.
2024 4Runner 6th Gen TRD Pro Return
The TRD Pro has been designed as Toyota's off-road performance. It's a good thing that Toyota offers TRD Pro as one of the available trim. It would join Sequoia and Tundra. The TRO Pro would include upgraded skid plates, suspension, wheels, and others.
Toyota 4Runner 2024 Engine, Powertrain & Performance
The powertrain of the latest generation has another flaw. Despite being incredibly dependable and moderately capable, the modern 4.0-liter V6 engine is rather thirsty and only produces 270 horsepower
. The 5-speed automatic also appears to be fairly antiquated. Let's see what things are coming with the 4runner models: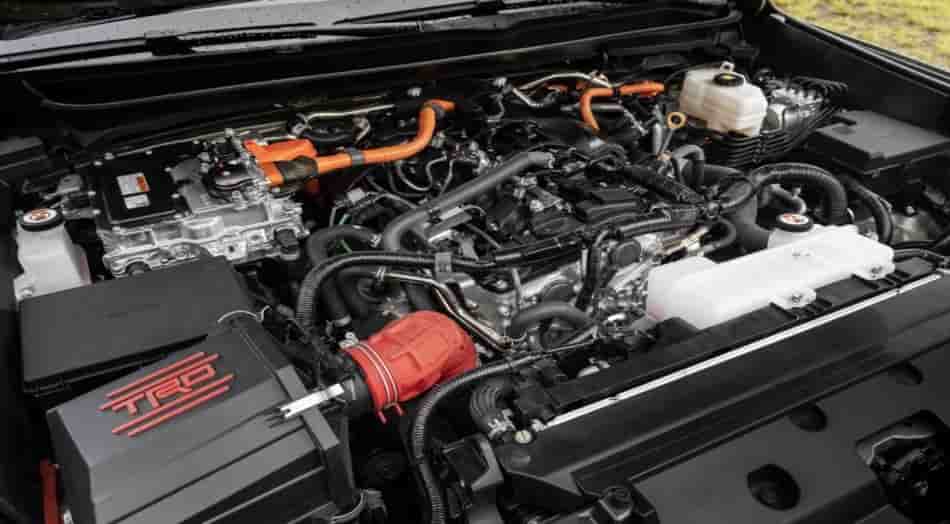 Engine & Powertrain: Thankfully, everything will change in 2024 4Runner models. A new engine and transmission will be seen. Most likely, a new 2.4-liter turbo-four engine will power the new 2024 Toyota 4Runner. This one has a power output of about 275 horsepower and 309 pound-feet of torque, though we may add a little bit of power for this situation.
Transmission & Performance: We anticipate a new 10-speed automatic transmission to go along with the new engine, which should greatly enhance performance and ride comfort. There is even talk of a hybrid version in certain publications. This variation allegedly also makes use of a 2.4-liter turbo-four, but in conjunction with electric motors. The 10-speed automatic transmission would also be an option, and the overall output would probably be at around 350 horsepower.
2024 4Runner 6th Gen Cargo Space & Towing Capacity
Toyota 4Runner is spacious in terms of cargo space as well and the current model has 47.2 cubic feet cargo space which is more than sufficient. It's rear seat is foldable and with folding it's seat will increase the capacity of cargo again. This new model will have a god towing capacity about 5,000 pounds.
| | |
| --- | --- |
| Description | Value |
| Cargo space without folding rear seat | 47.2 ft3 |
| Cargo space with folding rear seat | 89.7 ft3 |
| Towing capacity | 5,000 pounds |
2024 4Runner Cargo Space & Towing Capacity
2024 4Runner 6th Gen Fuel Efficiency & Mileage MPG
The mileage of current 4Runner is very poor for the segment, coming in at around 16 mpg in the city and 22 mpg on the interstate. However, Toyota is improving its fuel efficiency a little bit, although exact data is yet to get from the authority:
| | |
| --- | --- |
| Description | Mileage (Expected) |
| Mileage in City | 18 MPG |
| Mileage in Highways | 22 MPG |
| Mileage in Average | 20 MPG |
2024 4Runner Fuel Efficiency & Mileage MPG
4Runner Full Technical Specs or Specification
The full specification of the 2024 Toyota 4Runner & its redesign is yet to be released or informed, however, based on rumor, the following specification data has been assumed:
2024 4Runner Overview
| | |
| --- | --- |
| Description | Data |
| Name of the car | Toyota 4Runner |
| Model | 2024 |
| Manufacturer's Location | Japan |
| Type of Car | SUV |
| Door | 4-door   |
| Official website | www.toyota.com |
2024 4Runner Overview
2024 4Runner Engine, Power & Transmission
| | |
| --- | --- |
| Description | Data |
| Type of Engine | V6 |
| Nos. of cylinders | 6 |
| Capacity | 4.0 liter |
| Power | 270 hp |
| Torque | 278 lb-ft @ 4400 rpm |
| Type of transmission | 8 speed automatic |
| Type of drive | Rear wheel/4 wheel drive |
Engine, Power & Transmission
2024 4Runner Fuel Efficiency & Mileage
| | |
| --- | --- |
| Description | Data |
| Fuel tank capacity | 23 gal |
| Type of fuel | Gasoline |
| Mileage in city/highways/average | 18 /22 / 20 MPG (expected) |
| Range (Full Tank Range)  | 391 miles |
Fuel Efficiency & Mileage
2024 4Runner Brake
| | |
| --- | --- |
| Front brake | Disc |
| Rear brake | Disc |
Brake
2024 4Runner Top Speed & Range
| | |
| --- | --- |
| Description | Data |
| 0-60 MPH | 5.9 sec |
| Top-Speed | 120 – 125 mph |
Top Speed & Range
2024 Toyota 4Runner Exterior Dimensions
| | |
| --- | --- |
| Exterior Length | 190.2 In. |
| Exterior Width | 75.8 In. |
| Exterior Height | 71.5 In. |
| Wheelbase | 109.8 In. |
| Ground-Clearance | 9.6 In. |
2024 4Runner Exterior Dimensions
2024 Toyota 4Runner Interior Dimensions
| | |
| --- | --- |
| Head-Room (1st/2nd/3rd) | 39.3/38.6/34.3 Inch |
| Leg-Room (1st/2nd/3rd) | 41.7/32.9/29.3 Inch |
| Shoulder-Room (1st/2nd/3rd) | 57.8/57.8/57.7 Inch |
| Hip-Room (1st/2nd/3rd) | 56.5/55.7/43.3 Inch |
| Cargo-Volume (Behind 1st/ 2nd/ 3rd Row) | 88.8/46.3/9.0 cu ft. |
| Passenger Volume | 128 cu ft. |
2024 4Runner Interior Dimensions
2024 4Runner Colors: Exterior & Interior
2024 4Runner may have multiple exterior and interior colors almost same with earlier models, however, Toyota may add a couple of new colors as well. The colors are tabulated as below:
Location
Name of Colors
Exterior of 4Runner
Solar Octane
Blizzard Pearl
Classic Silver Metallic
Lime Rush
Lunar Rock
Ice Cap
Magnetic Gray Metallic
Barcelona Red Metallic
Midnight Black Metallic
Nautical Blue Metallic
Interior of 4Runner
Black
Graphite
Sand Beige
2024 4Runner Exterior & Interior Colors
2024 4Runner Pros & Cons
| | |
| --- | --- |
| Pros | Cons |
| Strong engine | Less fuel efficiency |
| Very rigid and sturdy | High cost |
| Safe to drive | |
| Very good off-road Capability | |
| Larger space inside | |
| Many configurations | |
| Large cargo area | |
| Slide out floor | |
| Lot of air bags | |
| Lot of safety features | |
| Good ground clearance | |
Pros & Cons
2024 4Runner Safety Features
The safety features of 2024 4Runner is not known so far, however, as this is one of the powerful cars, it is expected that all modern safety as well as security features will be there:
Electronic Stability Control (ESC) system shall be there to make the car stable in case of traction or skidding.
Traction Control System (TCS) shall be there to increase the traction by reducing wheel RPM on slippery surfaces.
Multiple Airbags shall be provided on the multiple locations to protect the occupants in the event of accidents.  
ABS system is very common for all modern cars and it is naturally expected that the same will be considered in 2024 4Runner.
Blind Spot Monitoring (BSM) helps to understand the blind spot of warn the driver in case of any objects appearing in that zone.  
Rear-view Camera shall be there as its common for all car now a days to see back side during parking.
Tire Pressure Monitoring System (TPMS) shall be there for monitors tire pressure and warns the driver in case it is crosses its maximum & minimum limits.
Forward Collision Warning (FCW) helps to warns the driver of a potential front-end accident/collision
Automatic Emergency Braking (AEB) helps to employ brakes if required to avert a front-end collision.
Lane Departure Warning (LDW) shall be there as it helps to warn the driver if the vehicle leaves the lane without using signals.
Adaptive Cruise Control (ACC) is most common and it will be in the 2024 4Runner as well to have a set maximum speed.
FAQs on 2024 Toyota 4Runner 6th Gen Redesign
Will there be a new 4Runner in 2024?
Yes, there will be a new powerful hybrid 4Runner in 2024. Just be ready!
Will the 2024 Toyota 4Runner be a hybrid?
Yes, 2024 4Runner will be a hybrid.
Should you wait for the 2024 4Runner?
Although it will be released in late 2023 or 2024, however, based on the new generations as well as upgraded car design, it is worth waiting for 4Runner.
Is Toyota ending the 4Runner?
Toyota will not discontinue all 4Runner models, only Army Green on Toyota 4Runner will be discontinued from 2023.
Will 4Runner last 300,000 miles?
With proper maintenance, it can reach 300,000 miles but it is better to expect closer to 200,000 miles.
How many miles per gallon does a 2024 4Runner get?
2024 4Runner is coming in at around 16 mpg in the city and 22 mpg on the interstate/highways. Approximately, you can drive 391 miles for one full tank fuel, if the road is smooth for driving.
When will the 2024 Toyota 4runner be available?
Tentatively, 2024 Toyota 4runner will be released around March 2024.
When 2024 toyota 4runner for sale?
Tentatively, 2024 Toyota 4runner will be started to sale from March 2024.
When does the 2024 toyota 4runner come out
March 2024, approximately.
What is the value of 2024 toyota 4runner towing capacity?
The towing capacity of 2024 4Runner shall be about 5,000 pounds.
Is 2024 4runner spy photos Release on the market?
Yes, 2024 4runner spy photos are already on the marked as it was spied on the road.
Conclusion
Hence, we have got a basic idea about this special car for which we can wait long based on its value. Whatever, info we are able to gather here for its engine, power, release date, expected price, interior & exterior design, we have captured. Once we came to know more info, we will keep you updated. I hope you have enjoyed the spy photos of 2024 4Runner as well. Would you like to know about its competitors like Jeep Wrangler and Ford Bronco? Stay blessed & keep visiting us. Any question on 4runner or Toyota 2024 4Runner spy photos, redesign, please don't forget to comment!